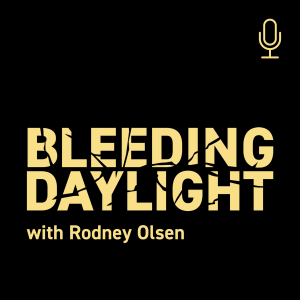 Monday Mar 22, 2021
Caris Snider - Anxiety Elephants
Depression, anxiety, fear, pain, shame, failure, feeling not enough, even wanting to leave this world. These are all things that Caris Snider has experienced. Whether you've encountered any of these feelings, or you're wanting to know how to help someone who has, you'll find hope and encouragement in today's episode of Bleeding Daylight.
https://www.facebook.com/conversationswithcaris/
https://www.instagram.com/carissnider/
https://www.youtube.com/channel/UCntkMeezDEUqspk3UEkW-5A
https://www.pinterest.com/carissnider/
https://twitter.com/caris_snider
(This transcript is intended as a guide only. It may not be 100% correct.)
Emily Olsen 
Wherever there are shadows, there are people ready to kick out the darkness until it bleeds daylight. This is Bleeding Daylight with your host Rodney Olsen.
Rodney Olsen 
Depression, anxiety, fear, pain, shame, failure, feeling not enough, even wanting to leave this world. These are all things that today's guest has experienced. Whether you've encountered any of these feelings, or you're wanting to know how to help someone you know, you'll find hope and encouragement in today's episode.
Please remember to share this story with others and connect with Bleeding Daylight on Facebook, Instagram and Twitter. Please follow Bleeding Daylight wherever you listen to podcasts. It's free and it'll ensure you never miss an episode.

If we're honest, most of us have some kind of disconnect between our personal inner world and the person that the world sees. But for today's guest, it was like a gaping chasm. Caris Snider seemed to have it all together. She was a wife, mum, friend and worship leader. Unfortunately, below the surface, things were quite different. Caris was hiding a secret, even from those closest to her and today we'll lift the lid on that secret and discover the turnaround that not only helped her, but that has allowed her to help others. Caris is the author of the book Anxiety Elephants and I'm very pleased that she's joining us today on Bleeding Daylight. Thank you for your time.
Caris Snider 
Thank you, Rodney, for having me today.
Rodney Olsen 
I want to explore the anxiety elephants that you referenced in the title to your book. But first, let's go back to before the elephants arrived, what did life look like for you?
Caris Snider 
Well, life appeared to be wonderful for me, my husband and I, we were business owners, we had a daughter at the time who was two years old, and everything appeared to be great for us. We had lots of friends around us. And he even thought that I was this strong, Wonder Woman, if you will type woman. And I was terrified to show people what I was dealing with inside.
Rodney Olsen 
And what were some of the things that you were dealing with in your inner world,
Caris Snider 
I was dealing with this need to be perfect, if you will, I was terrified that if people knew that I wasn't perfect, that I didn't have it all together, that I was a failure, that I was terrified of failure, and that I had lived with fear and rejection for much of my life. I was scared if I let them into those real pieces of who I was that they would no longer accept me that I would no longer be needed in my church that that even God wouldn't want to use me anymore because I wasn't this perfect person that I was portraying and I really just felt broken. I felt ashamedn and I just felt less than, really,
Rodney Olsen 
Where do you believe these feelings started to come from? Obviously, this is something that started way back before this supposedly perfect looking life. Where did all that begin for you?
Caris Snider 
Yeah, Rodney, that is a great question. And I honestly believe this all started for me when I was a child, I can go back and I can remember being in school in first grade for me. And I remember, a little boy who lived in my neighborhood with his family lived there. My twin brother and I, we all lived in this neighborhood. We all went to church together. It was a very small, close knit town. And one day he gathered our entire first grade class around me. And he began to make fun of me because I was born with a mild form of cerebral palsy in my left side, and I had no idea until that day that my body was physically different from everyone else. My my parents didn't treat me any different. None of my extended family looked at me differently. They they loved me. And they never called out to me that my arm was held up all the time or that I walked with a lamp. I didn't know until I was six years old. And this little boy gathered our class around us and he looked at me and he said Caris, why do you look like that? Why do you look like a bunny rabbit. And he held both of his arms up the way that I held my left arm up. And I'm in my 30s. And I can still picture this moment. And he began to hop around me like a bunny rabbit. And the entire class was laughing with him and laughing at me, and to choke the tears back to choke back the hurt and the pain that he caused. I laughed with them and I remember going home that day and I did something that I began to do throughout the rest of my life until I dealt with anxiety and depression. And what I did was, I told no one, I hid it. I didn't tell my parents, I didn't tell my teacher. I didn't tell my brothers because I was scared of what would come out of me sharing this rejection sharing this pain. So early on in my life, the way I learned to cope with the pain and hurt and rejection was to hide it to push it down and to become the master of the mask to find ways to hide my weaknesses to find ways to not be called out in the crowd again, because that moment, that rejection felt awful. It was just a terrible feeling. And it all began for me as a young child.
Rodney Olsen 
So there's this one instance that you remember very clearly, in that that place playground did that teasing go on from there was this a case of once this boy has highlighted it to the rest of the class that they was teasing that continue to go on from that point,
Caris Snider 
He did not tease me from that point. But throughout the rest of my grade school years, they were the other boys and other girls who would bring up different things to call out different weaknesses that they would be able to find, you know, we all can run into people that bring those things out to us in different ways. And so in those moments, I can remember even in fifth grade, a boy would make fun of the way that I talked, and he just like to pick on me and I began to have symptoms of anxiety, my heart would be racing, my breathing would feel very breathless, I would have migraines. And we had no idea what was going on in my body. Because in that time, in those years, we really didn't talk about anxiety, often, and we didn't really put a name to it. So I didn't know what was going on. And then, you know, as teenagers, we all deal with different moments in our teenage years. So I had those different moments that were kind of markers, I like to say, throughout my young adult life, my childhood life that kind of created these coping skills of not coping these skills of hide it, the whole, fake it till you make it thing,
Rodney Olsen 
Then we fast forward. And you've mentioned that you're married. And at this stage, you also have a daughter, and wondering about even in those courting days with your husband, and we know what that's like, where we express our love for each other. And I'm sure that your husband is saying, You're beautiful. Was there something inside you thinking? Yeah, but only if you knew?
Caris Snider 
Yes, there really was because I was terrified. If you know, if you know, the fears that I have, if you know these weaknesses, that I have, will you love me for who I am? Will you accept me, for who I am, it was funny, actually, when we met, Rodney, he was in a Christian boy band. And so they danced around and they sang, and he had all these girls that love to follow him and, and wanted his autograph and, and oftentimes I can remember I would find my way, kind of shrinking in the background, because I just didn't feel like I was as good as they were, I didn't feel worthy of his love, if you will. And so I can remember having those moments throughout our, our dating Season of Our relationship before we did get engaged and get married. But I would I would lie in the bed at night and wonder what is it about me, you know, if he would really love the real me, if I if I let him see that. Even after we got married, I was still this strong woman who, who went for it, who strove, you know, for, for perfection and to be the best of the best. Because, you know, all these other instances in my life where I had rejection, I thought if I show him, this part of me, will he reject me, as well.
Rodney Olsen 
So at the same time, as you're getting involved in something that's quite wonderful, there's this fear in the back of your mind that it's all on a precipice, and it could tip over at any moment,
Caris Snider 
At any moment. And that is so much pressure and young person's life, I think about even young people right now the pressure that they're under, you know, and I remember that with work and with family and, and these new relationships, and that pressure was mounting. And I had convinced myself that no one can know, no one can know about this pressure, no one can know about these weaknesses. And that I had to keep it all to myself, keep all the burden, all the pain, all the broken pieces, try to carry that in my own hands, and my own arms all by myself.
Rodney Olsen 
Did you have any inkling that there is this kind of disconnect to a smaller or larger degree in most people's lives? Or was this just something that because you were stuffing it down? You felt I'm the only one on alone in this?
Caris Snider 
Yeah, that you You said it, I truly believed that I was the only person dealing with all of these broken things because I looked at everyone else. I saw everyone else smiling. I saw everyone else laughing and having a good time. And it never clicked to me that maybe they're struggling too. Maybe they are going through a hard time too. And I will be honest with you and tell you that I grew up in even into my college years thinking that anxiety and depression that those things were not real. I honestly thought that if you said you dealt with anxiety and depression, that you were feeling sorry for yourself that you were just wanting attention, and that these things were just made up. And I really did not realize how real and how much of a burden those things Until I began to deal with those things, and I would even have people come to me and ask me for advice and for encouragement or, or asked me to pray for them, you know, to ask God to help them deal with with what they're going through mentally. And I would tell them, unfortunately, I would say to them things like, well, you just need to try harder. You just need to pray harder, you just need to trust God more. And I had no idea that I was causing more hurt. And I was causing more shame and pain, to fill their hearts and minds when I was telling them those things because it was not responding to them with the compassion that Jesus would have responded with.
Rodney Olsen 
And at the same time, as you're telling them to try harder to pray harder, that these things don't really exist. you're experiencing this yourself but not realizing it.
Caris Snider 
That's exactly right. I remember when I began to experience for me personally, it was anxiety first. And I remember that I began to have these panic attacks, but I didn't know it was panic attacks, what it felt like to me is that my heart was beating out of my chest, and it would not stop and it felt like these elephants were sitting on my chest, and the harder I pushed to get these elephants off to get this pain off, the harder my heart would be, and then my breathing, I would feel breathless, and I would feel dizzy. And I had no idea that this was an anxiety attack, I was having a thought I was dying. And I would do I dealt with this for several months, I again, I'm still operating under these coping skills of don't tell anybody. And I sat on my couch one day in my house, and my daughter was playing with her toys. And it was just her and I at home, and my heart begin to race like I had never felt before. And I was terrified. I was paralyzed in fear. And my heart was beating, I couldn't breathe, I felt dizzy. And the only thing that I needed to do in that moment was to call my mother and she was a safe person for me a safe place for me, I called my mother. And she told me, Caris, you need to go to the doctor right now. I think you're having an anxiety attack, you need to go to the doctor. And I wanted to argue with my mother, but I knew even then you don't argue with your mother. I did what she asked me to do. And I took my daughter with me. And I remember in that moment, that brokenness and that anxiety, it just kind of overwhelmed me. And I would I looked at the nurses as they hooked me up to these machines, to check my heart and to make sure that everything was okay. And I looked at them, and I began to say to them, I'm sorry, I'm sorry, you're having to deal with this, I'm sorry, I'm, I'm causing you to have to work this extra hard, you know, your day, I'm sorry, that I'm a burden that began to come out of my mouth. And, you know, those nurses reminded me that they were there to help me, that was kind of the first seed of allowing people in to help and, and they begin to help me and the doctor came in and, and he said, Caris, you know, your heart is fine, you're having an anxiety attack. And I was still in this denial stage of his anxiety really real, you know, and I kind of wanted to argue with a doctor, but I told him, You know, I was good, I was fine, I was gonna be okay. And I left that day, not allowing him to help me not, you know, taking medication, not talking to a counselor, trying to still figure it out on my own, and then doing that, for me, the anxiety now moved into depression.
Rodney Olsen 
Tell us about some of the steps that you were taking at this stage, you say that you want it to be perfect. You You want it to present, this amazing woman that you didn't really feel that you were, what were some of the things that you were doing to try and project that image? And how are you dealing with that within your own body?
Caris Snider 
Some things that I was doing to project this image of perfection is I was focusing on the outside, what can I do to my physical appearance to make people think that I was okay and that I had it all together. And so what I did is I begin to exercise a lot. I exercise at least two hours every day, I was lifting weights that I had no business lifting, it was probably upwards of 10 pound weights. And I was eating less than 1000 calories a day. So I was not eating very much because I was again just trying to make my body look perfect. I was drinking three to four gallons of water a day, way too much water and I was starving myself. I was doing it to show this image of perfection but I was also doing it trying to starve the pain of the anxiety and the depression and the shame that I felt, and in doing that my body dropped down to almost 100 pounds. I looked like a skeleton because this weight of perfection, this need to, to have it all together was just beginning to to wear wear me down and wear me out. And at this time,
Rodney Olsen 
Were there any warning bells for your husband as he's seeing this? Or was he just believing that you wanting to be fit, and that you are wanting to get into the shape that you want it to be?
Caris Snider 
There were some warning bells for him, he noticed that I would go away into our bedroom and just, that's where I would work out and I would disappear for hours. You know, I wasn't with him or with my daughter very much. I was isolating myself away. I was isolating myself away from church from our friends. Whenever we would lead worship, I would always find a reason to have to leave quickly, to not stay and be around people. So then I wouldn't have to talk to anyone about what I was dealing with. He began to notice that and even we were going to the beach. This was my daughter's very first trip to the beach as a toddler and I cried, I cried the whole way there. I cried while we were there. Because these these thoughts, these what ifs that anxiety was plaguing me with. What if she drowns? What if we have a wreck? What if something happens to our house while we're going I was just played with these irrational fears? And he began to ask me, you know, Caris, are you okay? Curious What's wrong, I can remember telling him that I really didn't know what was wrong. But I remember asking him, please don't give up on me. I know that. This is not like me, I know that this is things that we've never gone through. But please don't give up on me. And he really didn't know how to respond. But he knew that in that moment, I just needed him to be there for me, he didn't have to have all the answers. He didn't have to know how to fix it. I just needed to know that in that moment. As this truth were being revealed as these things that I was dealing with this anxiety and depression, as I begin to talk to him about it slowly reveal it to him, that he wasn't going to leave me that he wasn't going to turn his back on me. And that was the biggest thing. So he did notice that I was isolating, he did notice that I was very particular and what I would eat, I would only eat certain things that I made, that I didn't want to go eat at restaurants anymore. And he just began to kind of see these red flags, he didn't really quite know what to do. So he didn't try to do anything, he just wanted to make sure that I knew that he was there. And that, that there was no way that he was going to leave me behind
Rodney Olsen 
The fears, the doubts, the anxiety, has stopped just being about you. You're projecting that onto others. Now you're thinking, what happens if my daughter drowns at the beach? What happens if the car's in a wreck. So it's starting to explode at this stage, isn't it?
Caris Snider 
it was exploding and that depression began to turn into dread, dread to get up and face the day dread of what if I caused, you know, hurt or pain on my daughter or my husband, you know, I'm beginning to think these things that depression tells you that you're a burden, that you're worthless, hopeless, useless and purposeless. And, and this would just begin to just wear on me day after day after day. And in the midst of all of this hurt, all this pain, all of the shame, we find out that I'm pregnant, and we could not believe that I was pregnant. And so I remember going to my doctor and and she was checking everything out. And she was you know, she's heard the baby's heartbeat and, and she said, you know, cares, the baby right now is healthy, but but for the sake of the baby, and for the sake of your health, you know, you need to eat, it's okay, if you eat cake, or you eat sweets or donuts for breakfast, lunch and dinner, we just need you to eat to put something into your body. And so that was something that did trigger in me to help me Stop starving myself. Because I knew for the sake of that baby, I needed to eat something. So that did help help me in doing that in over a course of about eight weeks. I gained six pounds, which was a huge deal for me that was a big victory because I was not eating very much before that. But also at the end of that eight weeks I lost that baby. And that was the rock bottom for me having that miscarriage and seeing that little life disappear. And so now I'm beginning to hear you see what you did see how you You brought hurt onto that child onto that life. You know, you're not needed here. This world will be better off without you. So now I am pushing down deeper into these thoughts of, well, maybe I do need to leave this earth and suicide, suicidal thoughts began to become real. And that scared me to see myself go that far but to realize how real anxiety and depression and shame and suicide is and how so many people are out there struggling with that thinking just like idea that they're alone and that there's no hope,
Rodney Olsen 
All this time you're you're heading towards this moment where you finally must admit that you need help. But you are living within a faith community, you're part of a church. And obviously, part of the teaching of the Scriptures is that were accepted no matter who we are, and what we like, why do you think it's so difficult for many, even within the church, to take those sort of scriptures to heart? Why is there such a difficulty for us to assimilate what we read about this God who loves us unconditionally? With who we are? Why is there that disconnect?
Caris Snider 
I have been asking that question for a while now. And I think it's a really powerful one. I think sometimes, you know, and I know, this is my opinion, I think sometimes we as the church and in the faith community, sometimes when we don't know how to deal with things, we just pretend like they're not there. And we, for a while there has been this disconnect between faith and mental health. And like you said, the scriptures tells us, you know, how God loves us. And he came, you know, he sent his son for the sick, and the hurting. And the scriptures even tell us that in this world, you will have trouble. And I think sometimes we get this thought in our head that that means everyone but us. And in actuality, it doesn't. It includes us. And what I found is in that moment, and that rock bottom moment for me, God was there. He was there with me in that pit. And just as he says, You know, I will never leave you, I will never forsake you. And in that moment, it was a two questions were there it was a you can look up, or you can give up. And it was like, God just kind of helped lift my head. And when I looked up, he helped me to see that they were helpers there that the church, the body of Christ was there to help me. And not only was my church there, my fame, my church family there, but he had a counselor there for me, who worked within faith and worked within the scriptures to help me. He had my doctor there who was helping bring those hormones and those things that were in my body out of balance, putting it back in, and my family was there. And my friends that I went to church with, they were there, and they loved me and they cared for me and all this time thinking, you know, if you tell, they're going to turn their back on you, that was revealed to be a lie. And you know, Galatians 6:2 tells us that we are to bear one another's burdens, and so fulfill the law of Christ. And so God's word began to be real in my life. And I began to see Wait a minute, there is Grace is is real. And when Christ died for us, it was with grace that he came knowing that we couldn't get through this life without him there was going to be no way. And that began to lift this need for perfection off and allowed God's true grace to come in. And I'll never forget, as I was beginning to learn what grace really was, and to learn about bearing one another's burdens and taking off this mask of this need to have it all together. I was sitting with a friend and our daughters were playing. And she asked me how I was doing. And I told her, I said, you know what I'm not. Today is not a good day, I've been battling with depression and anxiety. And I'm working through that. And my friend looked at me, and I could see relief, kind of feel her shoulders, and she just relaxed a little bit. And she looked at me and she said, You too? And I looked at her and we both had tears in her eyes. And I said, Yes, me too. And, and in that moment, it was as if God was showing me this is what what this is about. This is what I want. My Church. This is what I want the body of Christ to do share one another's burdens. And in doing that, it allows his hope to begin to come in because we realize we don't have to be perfect. to work together. We don't have to be perfect to go out and be used by God because He works through our weaknesses. When we're weak, then that is when he can be strong and that was in a moment a shifting for me. When God began to restore me and help me to see that in my weaknesses that's where the world can see his hope.
Rodney Olsen 
I'm interested in the difference between, that scary time of having to admit, I need help. And the time just after that, once you finally told others, this is what I'm going through and the relief that must have come from that. Can you contrast those for us?
Caris Snider 
Yes, I can think back on that when I had to admit and acknowledge that I had a problem. And I needed help. And I remember in that moment, I did that with my head held down, not wanting to look anyone in the eyes, not wanting to see if they really were going to walk away. And you know, even in that moment, having my heart practically beat out of my chest. And it was a moment filled with beer kind of a moment that I was faced with, will the lies be real? Or will they proved to not be true. And it was a moment where those lies were proved not to be true. And I just needed that one moment to admit my struggle to admit my problem. And to face it. And once I face that fear, and realized that they were still there, that they loved me, it began to become easier. As I shared with my friend and talk with her, it was kind of like a aha moment, when not when we talked about it. As a more people need this more people need to know that there's freedom, in being vulnerable, there's freedom in telling what's going on inside of you. And in doing that, that's when God could begin to really bring that restoration in that healing into my life, because he couldn't heal any of that, if I wasn't willing to admit that I needed that healing. And so as I began to talk to my friends, and even share with others, it allowed us to kind of go through that journey together. And to truly realize, hey, we're not alone. We're not alone in this, there's actually millions of us going through this right now. And the more that we share our stories with each other, and the more we can say, hey, me, too, not only can we have that moment in our struggle in our pain, but we can have that moment together in our healing. And in our restoration, and in living our life in a new way.
Rodney Olsen 
What did it do for your relationships, when you were finally able to bring the real up to the table? I'm interested, especially for you and your husband, how did that start to grow your relationship,
Caris Snider 
It allowed us to, to laugh more, to enjoy life more, it helped me to see that I didn't have to be perfect around him that it was okay for me to mess up. And it was okay for him to mess up, you know, I could take that, that need of perfection off of everyone else. So it really kind of brought relief around our household, it brought relief into our marriage. And it allowed us in our ministry, to really work together more in a way where where it was God's grace operating, you know, that gift of not needing to be perfect, allowing him him to work through us. And so, you know, I can remember that, that we could now go out on dates, and we could laugh, or we could be silly, or we could talk about things that I had questions about that I didn't know if they were true or not. And we could have good honest conversation. And it was like we kind of got to know each other in a brand new way, if you will.
Rodney Olsen 
I'm interested in the journey from there, you're talking about going through this healing process. And I'm sure that there are still good days and bad days. But what was some of the steps that you actually talk to get into a healthier place?
Caris Snider 
Right. So those steps, I like to call them. action steps were very important for me, a couple of those things, first of all, was seeking help from a counselor and going and talking to a counselor, which was something that I struggled with for a little while. And I didn't understand how a counselor could be so helpful. But in doing that it allowed me to talk about things that I was dealing with, it allowed me to go back to my childhood and see that that was kind of where the root of everything began for me. So having that counselor to allow me to share freely, with no judgment, and to just kind of explore and discover these things. That was a big action step for me receiving help from my doctor. That was really important as well. You know, she posed the question to me if you had heart disease, and I offered medication to you to help you with a heart disease, would you take it? And I told her Yes, I absolutely would. And so, and needing that medication to get my brain and those hormones back in order. That's what she was trying to help me to see this medication is helping your brain just like medication would for your heart if you had heart disease, and so that was an important step to take that into into help me get out of that fog and get back in balance. Some other things that were helpful was being around community, being around friends no longer isolating myself no longer living in loneliness. And so I would allow women into my life where we could be real and honest with each other and have that community that we were meant to have to bear one another's burdens my family, letting you know, again, leaning on my husband letting him be that supporter for me, knowing that I didn't have to be this strong and mighty person that he loved me even in my weaknesses and to know that our weaknesses partner together and allowed us to have our marriage and work together. That was important. Also, I think what was really important for me was really diving into God's word and seeing Okay, okay, God, what do you say about fear? What do you say, about anxiety? What do you say about different things that I was dealing with in my life and to really get in the Scripture, and to write it down, and to begin to hide his word in my heart, you know, and to know that he was with me. And in doing that, I even found Psalm 94:19. When anxiety is great within me, your comfort, brings me joy. So claiming to scriptures like that, that was important. Also, I began to journal and write down my thoughts, write down those negative things that was in my mind to get them out. And then I would replace it, I would take those thoughts captive and replace those thoughts, with like, giving thoughts with Scripture or with, you know, positive affirmations about myself. And then even having an attitude of gratitude. I even heard on a snippet of your podcast with Terry Nightingale, how he was talking about gratitude, when we give that thanks to God, right, it allows the Holy Spirit to invade that space. So I began to learn that power of gratitude and thanking God for every good thing in my life, knowing that all those good things came from him and that began to help me to not focus on the negative things and help me to keep my eyes focused on those positive things that I had around me. And that was huge. And finally, helping others realizing that there were other women, there were other men, there were other children, and young people who needed help, who needed to know you are not alone. And there is hope. And that hope is worth fighting for So beginning to pour into others and help others who were where I was, that was a big moment for me as well.
Rodney Olsen 
And you've mentioned there that you started to reach out and help others. And you've continued to do that through your website. And tell me a little about that book. I mean, fascinating title. And we've already heard where the idea of the elephants come from, what was the thinking behind that book?
Caris Snider 
Right. So like you said, the idea of the elephants came from the description of describing anxiety as elephants sitting on my chest, I knew that that many people were dealing with anxiety, and they didn't know what it was. So giving them that description helped them to understand better. And then there were some that, that were not dealing with anxiety, but they had family members in their life who were and so that helped them to understand what that anxiety really felt like for them. And so in writing the devotional, honestly, I had never really wanted to be a writer that was not on my bucket list, I guess you could say, but but God just kind of began to do a work in me and show me you know, that that was something he wanted me to do. So I began to just kind of write and look for scriptures. And what I wanted to do was offer a tool, a tool to help people to know, okay, these are daily action steps that I can take, because when you're in the middle of that anxiety, you want to take action, but you don't really know what action to take. So in the book, there is a scripture for every day, there's 31 days and, and then we kind of in the text, we talk about that scripture and I share about different stories and parts of my my life. And then at the end of that there is an action step for the reader to take. And then after that there's a prayer they can pray. And there's a journaling page, or they can write down what did they learn? How are they going to take that action step for that day. So it's short reading, but it's power packed to really help people see you can overcome these anxiety elephants, you can get back to not just surviving in your life, but you can truly thrive and the purpose that God has for you.
Rodney Olsen 
I imagine that for someone who's experiencing anxiety, experiencing depression, the last thing they want is reading through volumes of information. So those short, power packed devotionals are probably going to be the best thing for them to say. There is someone on my side. And I can just read that even through my mind fog at the moment.
Caris Snider 
Yeah, I love how you said that, that there is someone on my side. And I remember that's what I needed. I couldn't really process Going through those moments really in depth deep, you know, long reading, but I just needed someone to say take this one small action today. And that's a victory. And that began to help me to see that I didn't have to focus on what I was not doing, just focus on the small things that I could do each day. And so that's why I wanted to really write the devotional in that way, so that it would give people momentum every day to build on something new to say, Hey, I took this one small step. Now, what small steps can I take today?
Rodney Olsen 
It's been almost a decade since all of this came to a head. And you had to reach out and say, I need help in that decade, since we'd all like to believe that we can get an instant cure. But what has that journey been? Like? Is it an ongoing journey for you?
Caris Snider 
It is, I would love to tell people that I no longer battle anxiety or depression. But that would be a lie, that would not be true, I still have days, I still have moments where I struggle, where I wonder where I asked those what ifs. But now, I don't stay down in the struggle. And it doesn't keep me wrapped up. Now I have these tools. And I know what I can do to fight back. Now I may have a day where it knocks me out completely. But I can get up the next day and know these are the things that I know to do. I also know that God's grace is sufficient, and that he loves me that he is not mad at me. If I go back into those struggles, and I know that my purpose is still there for me, even when I struggle, and so I'm learning in this process over these years that the struggles allow me to lean in on God and to trust in Him. And that it's okay. To not be okay.
Rodney Olsen 
It must be wonderful to know that there are now more good days than bad days. What does the family life look like for you today?
Caris Snider 
Yes. So now today, actually, we have two daughters, we have a daughter who's 12 and a daughter who's eight. And so family life today looks for us, we have a lot of honest conversations, I want my daughters to know that they can share the good, the bad and the ugly, they will not get in trouble. So we make sure that we leave space for that space for that honesty. The days now are filled, you know, as best as they can with conversations with friends. Those conversations may be you know, Hey, how are you today. And if they need to share a struggle, there is space to do that. And then I also now have a tribe of people around me, that allows me to share allows me to open up and so the days are filled with leaving that freedom, for whatever may happen to happen. And to know that in that it could be something good, it could be something that that's hard, but God will use it for good. He'll use it in a way that'll bring honor and glory to Him. And so these days are filled with much more laughter much more freedom than where I was 10 years ago. And I am just truly grateful for that.
Rodney Olsen 
As you said, one of the things that you want to do now is to reach out to provide that help for others. And you do that through the book anxiety elephants, also through blog posts and various other things that people will find on your website. What is the easiest way for people to discover you or find you online?
Caris Snider 
Right, so they can go to my website that is carissnider.com. And there you can find more information about the book, you can find my social media where I hang out for social media, and like you said, different blog posts and other videos that I've done. So I feel like the website would be the easiest way for people to discover
Rodney Olsen 
Caris. It has been wonderful to talk to you to hear some of your story, which sounds like there's some very difficult things that you've been through. But amongst that there is some incredible hope. And we thank you for bringing that hope, because I'm sure that there are many people that are experiencing that both for themselves. But also, as you've mentioned, knowing that loved ones are going through difficult times and wondering how can I help them so thank you for what you've brought to our conversation today. And thank you for spending some time on bleeding daylight.
Caris Snider 
Yeah, thank you Rodney for allowing me to be on and thank you for having this this space to offer help to the world.
Emily Olsen 
Thank you for listening to Bleeding Daylight. Please help us to shine more light into the darkness by sharing this episode with others. For further details and more episodes, please visit bleedingdaylight.net