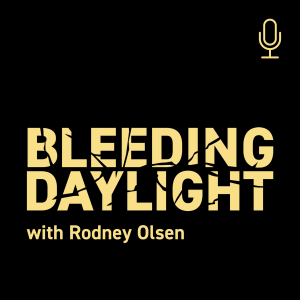 Monday May 17, 2021
Craig Brown - Stop Hiding Start Healing
If you're battling addiction, or know someone who is, today's episode is not only the story of Craig Brown and his recovery, there are some really practical steps to move towards healing and wholeness.
Craig Brown's life became marred by pain, shame and distraction. Now in his book, Stop Hiding, Start Healing, he uses his own experience and talks about more than 20 years of helping others discover how to be free from the pain and shame of their past.
https://www.stophidingstarthealingbook.com/
https://www.amazon.com/Stop-Hiding-Start-Healing-Discover/dp/B08PJPWLGT
https://www.facebook.com/craigbrownstophidingstarthealing 
https://www.facebook.com/craig.brown2
(This transcript is intended as a guide only. It may not be 100% correct.)
Emily Olsen 
Wherever there are shadows, there are people ready to kick out the darkness until it bleeds daylight. This is Bleeding Daylight with your host Rodney Olsen.
Rodney Olsen 
Thanks for listening. You can follow Bleeding Daylight and connect to our social media channels by following the links at bleedingdaylight.net Please share Bleeding Daylight episodes and leave a rating and review wherever you listen to podcasts.
If you're battling addiction, or know someone who is, today's episode is not only the story of my guest and his recovery, there are some really practical steps to move towards healing and wholeness.
He was the son of a minister, but he struggled to connect with his father. Instead, Craig Brown's life became marred by pain, shame and distraction. Now in his book, Stop Hiding, Start Healing, he uses his own experience and talks about more than 20 years of helping others discover how to be free from the pain and shame of their past. It's my honor to welcome him to bleeding daylight. Craig, thank you so much for your time.
Craig Brown 
Rodney, thank you great being with you.
Rodney Olsen 
That early search for identity is often so vital in setting us up for success in life. And your search was difficult. Tell me about those early years for you.
Craig Brown 
I grew up in the church, my father was a minister. I have two older sisters. And the three of us always had to be on we had to make Father Brown looked at. I'm sure you've heard about preachers, kids and their reputations depending on the denomination. But I lived up to mine, it was a very difficult role. For me to play starting in my again, when I was born, all the way up through my youth and young adult life and into my adult life. Everything about our family was about making our father look good. What I saw from the pulpit was not what I experienced behind closed doors. My dad had his own demons that he had to struggle with, we saw a lot of anger. My parents marriage was never, we never really witnessed true nurturing love between the two of them. And as a youngster, when we would be blamed for a lot of things that were not our fault, our Father tended to rage out and take it out on myself and my sisters. And as a result, yeah, as we all do, when we're younger, we develop coping mechanisms and coping skills to deal with the hurt, the shame, the pain, the abandonment and I developed those early on. I mean, when the pain and the shame presented itself, and I, you know, I found that escape route. I kept that for most of my life, until I became honest and took responsibility and started dealing with that later on in life. My mother was the typical pastor's wife enable her, make her husband look good, make sure the family was on. And that was just unfair pressure put on young people that you know, like, like us, as a result that was just searching, you know, my father, and I didn't really have a relationship, I can count on one hand, the number of things he and I did father and son, and I'd have fingers leftover, he just didn't seem to be invested in my life or interested in my life. My identity was their identity, his identity, and I didn't have one till much later on in life. And as a result, I just suffered from that, instead of buckling down and proving that I could do something with my life, I took the easy route. And that is searching for, you know, something that would accept me and something I could participate in. Unfortunately, I made very, very poor decisions, and ended up in the drug world and the drug life and a life of destruction.
Rodney Olsen 
So your father is effectively teaching you about this double life, because you're seeing him one way in the church and a different way at home. And you're learning that too, because you're you're trying to deal with what's going on at home. But at church, you're the perfect little saint. So this must cause conflict right from the beginning within yourself. It did.
Craig Brown 
Oh, yeah, it's very confusing. Now, I must say, the life of the church was I loved it, dealing with, you know, with all the adults and getting the attention. I really, truly enjoyed growing up that environment. And that's one thing. But, you know, from a spiritual discipline, and finding out about, you know, God's love, Grace, mercy, I'm sure it was there, and the seeds were planted. It wasn't till much later in life, that that fruit began to bloom and I became, you know, a much different person. I just look back at that. And, you know, it's easy for me to say on this end, that I wouldn't change a thing. And I wouldn't, because it's what you know, everything I am today is a result of that pain, my deepest pain. You're right, it was trying to find that identity and trying to find that mission, trying to find that purpose. And it was hard to do in that dysfunctional environment. And I deal with this all the time in ministry, and that is when we're growing up, we think our families, the perfect family, we don't know any better, until well, afterwards, we look back and realize, Wow, man, how did I survive that? And that's essentially what I the attitude I had.
Rodney Olsen 
And I've spoken to a lot of my guests about this. In our growing up years. We just know what we know. We know that family life, and it's a matter of eventually realizing this isn't normal. So when did that Penny drop for you that The the way you grew up was not normal.
Craig Brown 
I would say it certainly wasn't in the midst of my pit of hell experience because that's I was totally in bondage to that. I would say it was well after that, when I had a major epiphany and life change, and I began to inventory my past and embrace my past and deal with my past, that I was able to kind of the scales coming off my eyes, and I realized what I experienced was not normal. As a result, I've got to process that I've got to do with my my father in his role, my mother, her role, our family role, and what that meant to me and the effect it had on me.
Rodney Olsen 
You mentioned that you ended up in the world of drugs, and you certainly did very heavily. But I'm wondering how this church boy ends up there, because it doesn't happen all at once. What was the road that took you from being this well behaved child at church and trying to do that at home, even though you weren't getting that connection you were seeking? How did you start that slippery slope towards where it ended up?
The party welcomes everybody, you don't need a membership card, you know, to show ID, you know, it just welcomes everybody in generally, it's those that have no self control, no self discipline, very lack of self worth, low self esteem, just looking to search and searching to fill the void. That is in our life. You see if our family if our family structure if our relationships, if we're if there's not that nurturing, love, support, care, identity, we're going to find it somewhere else, we will find it somewhere. For me, I had a lot of pain and a lot of loss. And I just wanted to medicate that. And as a result, entering into the drug world, it was wide open, and I walked in. It wasn't like I was like, you know, I think I'll go do drugs today. Or I think you know, I just think I'll make a mess of my life today. It's not like that. It's just a progression. And it's one step after the after another. Rodney, here's the thing about addiction, or here's, or drug use, or anything that we use to hide or medicate the pain, we make a decision to. Right, we make a decision. We get so deep into it, that we can't make a decision not to do it. It sounds very simple. But it truly It begins with that first choice. And mine multiplied and I ended up there. But here's the thing, Rodney. Yeah, I look at as I'm in the pit of hell, based on what I my youth and what I am, where I grew up, and how I grew up. Sure. I was looking around going what am I doing here? What am I How did I end up here. But at the same time, it's so engrained in my life and says, and has such a bondage on my life, that I knew no better. And I just continued on that lifestyle until I got to that defining moment in my life where I realized that I can't do this anymore.
Rodney Olsen 
And of course, it's not just drugs that can hold us down. There's a whole range of issues. And I want to talk about some of those in a little while too. But you didn't just get involved in drugs in in taking them but you went a lot further into that drug culture, didn't you?
I did. I started drinking in high school just to parties and things like that. And right now is a really good athlete. I should have played college basketball, but I had very little or low self confidence. Everybody else was telling me how good I was. But I didn't believe it. And I really didn't have any support from home. I can count on maybe after four years of playing varsity basketball. My parents, I think came to two games. I mean, I just didn't I had nothing at home. So I should have I should have gone on to play college basketball, but I didn't. But I graduated from high school and I went to college. And it was at college where here's the thing, Rodney, when we're suffering in that family environment, we cannot wait to get out. We cannot wait to be set free. And I did I walked out of the house and I went off to that campus and I rarely went to class I drank I got involved and you know, just that lifestyle. I dropped out of college and came back home. And I started working and the bar business bar and restaurant. And I took a job at a bar in Washington DC and unbeknownst to me, it was owned by the largest cocaine dealer on the east coast  and he was working that drug trade out of that establishment as a 19 or 20 year old Rodney, I've died and gone to heaven. This is just amazing. Cocaine I'm sure you're aware, and the 80s in Washington, DC and all throughout the area and and the country for that matter. Cocaine was everywhere dominated every party scene is dominated every scene where alcohol and everything else is involved, and everybody had it. I wasn't a heavy user before then. But I sure was once I got there. And then I did low level drunk stuff on on the side and stuff like that. His drug business, that was just a major operation, all the who's who would come into this establishment, there was music people, local television, people, athletes, when you have no direction, or mission or purpose in life, and your whole life is the party was just in that in a place. And I operated in that environment. For years. That whole lifestyle dominated my life. And again, as I mentioned earlier, and as you referenced, Rodney, I'm looking, I'm in the middle of this mess, this just pit of hell. And I'm just, you know, I'm asking, I'm partying, but at the same time, I'm saying, How in the world that I get here, because I was in such depression, darkness, denial, pain, shame, guilt, and I just medicated it. I just kept medicating it instead, and I hid.
Rodney Olsen 
How was it that you actually came to the point where you decided I'm not going to try and medicate anymore? This is not where life should be going.
Craig Brown 
At that time, I did exactly what was the title of my book, stop hiding, start healing. I got to a point, Rodney, and the first chapter of my book is when the pain is greater than your fear. My pain level was at such an elevated level. Again, it was around 1985, I had this epiphany. And here's the kicker of it. From a spiritual standpoint, what we don't realize is that God's hand is on us at all times, at all times. And I didn't realize it at the time, even though I grew up at the church, because I had no relationship with God I, I was so far from it. The pain in my life was so great that I got to a point where I was no longer afraid to make some life changes. And I said to myself, Craig, you're either going to end up dead, Rodney, I had car accidents, I was in the hospital for throwing up blood, you would have thought one of these situations would have gotten my attention. And it didn't. But it led up to this defining moment, where all of that was multiplied. And the pain level was so great, that I realized that if I didn't stop, I was going to end up dead, or continue on this life of destruction, depression, and darkness. And I just made a decision to extricate myself from that pit of hell, from using drugs and alcohol to medicate my pain. And over the course of weeks and months, I was able to stop using drugs and stop drinking. You know, as they say, in recovery, I got clean, I got sober. And my whole life began to change, everything began to change. Honestly, honesty crept in, responsibility crept in. And I was able to change that pit of hell lifestyle, and enter into a period of my life, where I was able to live a healthier lifestyle. But I was still miserable.
Rodney Olsen 
So it started with a decision. And we need to start here with that decision. But I imagine for people who have an addiction of some sort, whatever it may be, it's very hard for you to make a decision and then to hold to it, because the addiction keeps calling to you and dragging you back in all the time.
Craig Brown 
Yes, yes. Now, I've invested 22 years of my life, serving in Christ centered recovery, helping people and serving and caring for people who experienced or are experiencing exactly what I went through. And it is difficult, but here's the thing. It can happen in your life. Those who are struggling, those who are dealing with addiction, those who are dealing with pornography, shame, guilt, drugs, alcohol, food, codependency, divorce, abortion, whatever it is, that is wreaking havoc on your life, and causing that pain and that shame and that guilt. The good news is You can be set free, when the pain is greater than your fear. folks that are dealing with struggles and issues and life struggles, it's hard to make that decision, it's hard to step out and admit, it's hard to step out and be honest about the struggle because of a number of different things. One, embarrassment, the shame. I mentioned shame a lot, Rodney, because shame comes from the parallel. And it is meant to keep really good people from finding the resources to get well and be set free. Shame is number one, guilt and pain and all the other categories, all the other issues and struggles are there as well. But shame is number one. If the person can get to the point where that pain is greater than the fear, that shame will begin to lessen. They'll enter into an environment where you find safe people, you find people you trust, because people that struggle generally have dysfunctional people, surrounding them, and people that are trying to fix them. And that's not healthy. And it's not what they need. They need people with empathy, people that will listen, people that have been to the pit of hell and back that are there to care for them. Now that can be in a number of different forums, Rodney, whether it's rehab or Christ centered recovery or recovery or AA, find that place where people understand you. And that'll be your first step, you have to admit, first, this My life is unmanageable. And I cannot do this anymore. And I've got to be set free. And that's the defining moment that happened in my life. And it can be the defining moment for your listeners as well.
Rodney Olsen 
I'm really interested in you coming back to Faith. Because in your early years, your experience of faith was that you live one way in front of people and a different way behind the scenes. And you must have had those doubts that can this even be real, because my dad's a minister, he's meant to have it all together when it comes to these things of faith. And yet, I don't experience that. So how did your walk back to Faith actually happen?
I'm never Rodney going to discount my experience in the church at my youth, because the Bible is very clear that seeds are planted. And they may sit there for a very long time, before they come to life. Even though I didn't take it in, even though I didn't comprehend it. The denomination I grew up in, it was really tradition. It was more, you know, tradition in the prayer book, this and that. I never ever experienced or learned about a personal relationship with God through Jesus, his son, nothing was really explained to me about that the Bible tells us the only way to the Father is through Jesus, his son. I never knew anything about that, you know, I operated in that church environment, you know, at a very young age. And I do I believe the seeds were planted. As I mentioned earlier, God's hand is on all of us. It's there. And it's a matter of us opening up our heart and saying, God, come in and take over my life, heal me and set me free. And that's essentially what I did. But it wasn't until I was clean for about six or seven years. I hadn't been using drugs I hadn't been drinking. But as I mentioned, I was still miserable. There's a couple of defining moments that I've, I've shared, but the the defining moment was when I received that phone call. My sister called and said, dad's dying, and we need to get to the hospital. Here's a man that I had very little relationship. Now. I loved him. He's my dad. Right? But I had a very challenging relationship with Him. And we weren't the closest. So I am led to his bedside in the intensive care unit, and my father is dying. Here I am. I've been in the pinna, hell, I've made nothing of my life. I felt like a complete failure. And I'm standing there and my whole life came right before my eyes, and I'm looking at my dad struggling to breathe. And I'm sitting here as his son, and I've done nothing with my life. And it just was a reminder to me of how powerless I am and what a failure were the decisions I've made in my life. That led me up to that day. And Rodney that The defining moment in my life, and that is this, when the pain is greater than your fear, you have an opportunity to be set free and change. I realized that here, this man is going to die. And neither of us were able to have the relationship that I longed for. And so the very next day, Rodney, I just cried out to God, I say, God, I've heard of you, I know what you can do. Because I've heard about the testimonies of what you've done in people's lives. I need you to come in and take over my life, because my pain is greater than my fear, I am miserable, take over my life, come in and set me free. From everything I've done in my life, forgive me. And Rodney, it was a miraculous experience, because that lasted for about an hour. And then when I got up, after crying out and praying, which I'd never been instructed to do, and know me, nobody told me how, my life was completely different from that second.
Rodney Olsen 
Tell me how it became different. What was that feeling? Because a lot of people will say that they come to that point of accepting Christ and they don't necessarily feel different, but they know that something has changed. And yet other people have an experience by the sounds of it like you have had where there is something physically that is happening, there is something tangible, tell me about that.
The Bible is very clear about when you do you say, God, Jesus, come into my life and take over my life. Now, again, it you've heard it, it's been shared many different ways. Be my Lord and Savior, take over be your lead my life Forgive me, offering forgiveness, confessing. It's very simple. It's so simple. But we make it so complicated. You know, the Bible is very clear, Jesus, come, come set me free. Come take over my life. Be Lord over my life, my pain, my shame, my guilt, my past, my purpose, my mission, all of it, Lord, take it and he did. And so yes, for me, a lot of people think that they make that decision, oh, life's just great. Now, you have to begin to do the work. And what does that mean? It just means you now have the power, the same power that rose Jesus from the grave, you have now received, and it's called the Holy Spirit. So the Spirit begins to live in your soul. The spirit is in your life, your heart, and he wanted to take over your mind. For me. It was miraculous. When I stood up after that hour. My whole perspective on life changed the burden, Rodney, the burden of the pit of hell drug life, the pit of hell pain, the youth of abandonment, the use of blame and shame, everything the burden was lifted immediately. It was miraculous, I don't have enough time to be your guest today to share how deep my pain was. Okay? That was absolutely instantaneous. I, at that moment, began to be honest with myself, I began to confess everything that I had, and believe me, Rodney, this is not a one way thing, where I'm the victim, I was not a victim. I made poor decisions and poor choices. Okay, that led me to where I was, I began to be honest with myself. I then devoured scripture, that day was when my recovery started. And that's when I began to immerse myself in every single principle that God has in this life manual called a Bible, and I apply them to my life. I've been doing that for now, Rodney, for 28 years, my life continues to be on track. Now, I've had some major challenges. Since that day, I've had major, major challenges that I've had to work through that day. But the difference is, I have a power and a strength and a different mindset to get me through it now, versus what I had in the old me.
Rodney Olsen 
And what I find interesting is that you say at this stage, you had stopped taking drugs for quite some years. And so you're completely clean for some years, but still miserable. And you say this is the day that your recovery started, the world will often see recovery as being free of drugs. And yet we know that that's not always the case in your recovery started on this day on wondering how soon after you were set free and started that recovering, did you start helping others?
Let me touch on that for a minute Rodney, and that's recovery versus Christ centered recovery, there is a difference. And that is this Rodney recovery began, like AA began back in the 1930s 40s. And it was faith based, they made no apology for the fact that God has a higher power. Now that's been watered down some over the years. But Rodney, there's only one that can fix, he'll change and restore. And that is the Lord God the Father, he's the only one that is able to do that in our life. And so a lot of people enter into recovery with a myopic track to get clean and sober. And that's good. Now there's nothing that that's absolutely should be the goal. But it's not. The end goal is see sobriety and abstinence are the byproduct of doing the work. That's recovery. Now the difference between recovery and Christ centered recovery, and that is this. And this is where relapse, this happens. Often slips happen, often it happens in in all life. Don't get me wrong. Oftentimes, people get into recovery to get clean and sober. And that's but they neglect the catalyst for what got them there. The pain, the shame, the guilt, the the abandonment, the abuse, maybe there was trauma, or physical sexual abuse, emotional abuse that they experienced. And yes, they're clean and sober. But yet, they're still miserable. And that's what happened to me. I was seven years out, great, I was off, no drugs, no drinking of any kind. I was living a healthy lifestyle, but there was something missing. And I was still miserable. So I get to the place where I realized, why am I still miserable? Well, in recovery, it's all about especially Christ centered recovery, it's all going back to discover the root of my sadness, the root of my grief, my shame, my guilt, my pain. And the Bible's very, very clear about that in Scripture, search my heart of God, change my mind, Oh, God. And when you change the mind and the thinking, and then it relates to the heart and healing the heart, you can be on a track of recovery, sobriety, abstinence, and what I call freedom, and be set free, and avoids slips relapse, when you have worked the steps and the principles and apply the principles to your life. And the other thing about recovery is, it's all about developing self awareness. And that's what recovery is all about self awareness, but also not avoiding the warning signs. And also being able to identify the triggers in your life. All of us are triggered every single day, they're everywhere, right. And for people in recovery, you've got to know what they are. If you're struggling with pornography, well, you got you know very well that if you click on that ad, or click on that link, or click it, that's a trigger, that's going to take you that's going to take you right back if you're not careful, or I can just have one drink, or I can just smoke that dope or whatever, you've got to be extremely mindful of your warning signs and triggers in your life. And you're able to do that in recovery, recovery, especially Christ centered recovery is able to uncover, pull back the layers, deal with the things deal with the challenges and the painful things in our life. And once you're able to embrace that and do that, you have a guide and a power, and God that's able to help you.
Rodney Olsen 
And you've been helping other people to break free from a whole range of issues. You've touched on a few there. It's not just drugs, as you say. There's a whole range of issues that we can be freed from that cause pain, and misery and especially shame within our lives. Tell me, what's the experience, like when you see someone else come out the other side and be released and become free from whatever it is that's been holding them?
Craig Brown  
Oh Rodney, it's amazing. I've been serving for 22 years and Christ centered recovery. Our ministry has helped 1000s of people. And Rodney there are 1000s of testimonies of people. And now people that come to our ministry. They're either Christian believers and non believers or they're, you know, all different walks of life. It's not that you have to have to subscribe to that. I mean, it's totally your choice. God gave us a choice accept me or don't you know, it's dope. Yeah, it's your choice. But anybody can come all are welcome. All are loved unconditionally, all are supported and accepted for who they are, no matter who they are. And they come in there and they sit in that environment where the Scripture and the gospel is being shared and the 12 steps of recovery. It's just absolutely powerful to see someone come in. First of all, it takes a ton of courage, Rodney for some of the steps into a Recovery Environment. That's where I say if the pain is greater than your fear of being known, if the pain is greater than your fear of embarrassment, you're ready to come in. And a lot of people walk through that door with a lot of courage on that first night. And, and I'm a firm believer that healing takes place, and circles. And we offer a lot of small groups, where men can be with other men and women can be with other women, in a safe environment, where nothing, there's no condemnation, what is shared there stays there, fellowship is developed, relationships are developed, accountability is established. And healing begins to take place over weeks and the coming months. So I see Rodney firsthand, the life change, and just going from dysfunction, going from brokenness, to wholeness and brokenness, to happiness. And it's just, it's just what's keep it keeps me going. And it's, it's wonderful to see people be set free, and marriages heal relationships with show their kids healed, relationships, restored, amends being made, hearts being healed, it's just miraculous. It's wonderful to see. And it, it's what keeps me going,
Rodney Olsen 
I'm sure that there are people that are going through their own moments of hell, who are thinking, I wish I could be a part of a group like that. But obviously, we're talking to people all around the world. How do we actually find a group like that for ourselves? If, if we're in that situation, how do we find that group of loving people to surround ourselves with to go through this kind of Christ centered recovery,
Our society, as you know, Rodney, it doesn't take it takes seconds to go to Google or some other search engine and put in Christ centered recovery in the search bar, or recovery near me or find a recovery meeting. Now, just a word of caution. Again, I can only speak for the ministry I've been a part of, and I am confident that we're recovery, your shared recovery is done to help others and the motivation is to help other people. But I also tell people to have a really good filter, and very good discernment as to where you are going to go. First of all, there's no perfect church, and there's no perfect environment. But there are environments and churches that have really good structure that have really good guidelines and accountability, and have a really good platform and an offering and a place and a beacon of hope. I don't know if you're familiar with Celebrate Recovery. But that's the ministry that we started 22 years ago at our church and the ministry we've been a part of, and there are celebrate recoveries all over the world. And all you could all you need to do is go on the website, and you can put in Celebrate Recovery, and your listeners could find one, hopefully near them. There's another organization I'm really support. And that's new life ministries, new life ministries, and that's led by Steve Arterburn, a pioneer in Christ centered recovery here in the United States. And he has ministries and networks all over the world as well, your local church or you know, again, a meetings, other meetings that could be that are nearby, it's taking that first step. And you may have to visit a few places, your listeners may have to visit a few places to find that there may be state offerings or resources or county resources or other resources. But there's also Christian counselors and therapists that are available as well. It's about research. And but here's the thing, Rodney, I am more than happy to be a resource for your listeners, if they have any questions whatsoever. They have an open invitation to reach out to me through email or on my Facebook page to send me a direct message or through your website if you'd like it, I would be more than happy and honored to help anybody that was searching, if I could be of a resource to them.
Rodney Olsen 
And of course, it brings us full circle to talking about your book as well. Stop Hiding, Start Healing and we're not just here to sell a book. But when you have a resource like that that's available that is going to help to bring healing. We can't help but recommend it to people and so where can people find this book that you've written.
One, you just go to Amazon in the search bar put in Stop Hiding, Start Healing. Put in Craig Brown, Stop Hiding Start Healing  so you can go directly to Amazon or you can go to my website, stophidingstarthealingbook.com, you can purchase the book at either of those.
Rodney Olsen 
I know, we've mainly been talking to people who may be going through their own difficulty, their own shame. But I'm also aware that there will be people listening right now who have loved ones who are going through difficult times, whether it be addiction or whatever it might be. How do we actually come alongside those that we love? When they're not ready to make the step? How do we love them? How do we bring them to that point?
Craig Brown 
That's a great question. No, I'm so glad you brought that up. Because it's one of the areas of my ministry that brings most heartbreak at times, because you look in the eyes of a mother or father, or a spouse, or a family member or a friend, and you just see the sadness and the grief, because they have tried and tried and tried to get their loved one to get help. But Rodney, it's so important to realize, and parents especially and family members, you must realize that it's not your fault, that that individual who is struggling, made a decision on their own, to put their life in that situation. So many times parents want to take that role of a rescuer. First of all, we have to admit that person is dealing with a very, very troubling lifestyle. And as much as we want to rescue because as parents or loved ones, we all want to rescue, we all want to help. And unfortunately, the hardest part, you have to allow that person to suffer, you have to allow them to get to the point where they realize that their pain is greater than their fear, and they have to get out, or their life is completely unmanageable. And they have to get help, that can be done in a number of different ways. There are organizations and other resources that can help families with intervention. And oftentimes, it takes the average person that is struggling to be confronted something like 57 times before they get agree to go get help. It's just an arduous process for family members and loved ones to help someone that struggling. A lot of times I have to tell people just to get out of the way, get out of the way. They're on a track, right now they are so in denial, they won't listen to anybody. They'll blame family, they'll blame everybody, for their troubles I did years ago, families need to find the right resources that are available. But it's up to that person to have to make the decision to want to go get help. If they don't think they need help. There's nothing anyone can do other than pray for them, support them, encourage them, and be there for them. until they get to that point where they realize they have to go get well.
Rodney Olsen 
We're a long way away from that young boy who had such a difficult lifestyle growing up and that difficult relationship with his father. What is life really like for you now for you and for your family? What is your relationship like with your own sons?
Craig Brown 
That's a great question. Great, great question. First of all, I've got an amazing wife, we are will be celebrating 28 years of marriage next month. I'm so grateful that I got over that I extricate myself from that total mess of a life before I met my wife and I didn't bring it into the marriage or into my family. We have three sons that are absolutely amazing. I made it a point early on that my relationship with them would be in stark contrast to what I experienced myself with my dad. But I have been brutally honest with my sons. I shared with them. my testimony I shared with them, the struggles that I went through, I shared with them. My being brutally transparent, not sharing details per se, but sharing my pain, shame, guilt, everything that I went through as a catalyst to be there for them as their mentor and their guide and their father who absolutely adores them, who always has their back. You know, I am there to support them in every endeavor. I'm also there to hold them accountable and to be a spiritual leader for them. You know that it started with them. My role as a spiritual leader and I been there for that, Rodney, I still have a bunch of defects I continue to work on, I still, you know, continue in my own recovery, I still continue to work extremely hard to getting better at who I am. And as a result, they know my defects and they're very and, you know, I am not perfect as an I've told them that my dad apologized to me once in my entire life. Like I've lost count of the number of times where I have had to confess, or share or ask forgiveness from my son's for my attitude or approach or what have you. But like for me, right now I am in an amazing season of life, Rodney, and it's all due to the grace of God, it truly, truly is. If you knew me, back then Rodney, and saw me today, you would be absolutely amazed. It's such a difference that the Lord has made in my life and will continue until I'm all used up to care, be there love guide others that have been where I've been. And I'll do that until the last day,
Rodney Olsen 
Craig, what I love about your story is that it's not just your story. But it's the story of 1000s that you've been able to help with God's help, obviously. And that's part of the story that is in Stop Hiding Start Healing  the book that you've written, and that's going to be a help for many, many more people, I'm sure it's going to be a help for those who are going through their own difficulties as well as those who love those who are caught in addiction or, or whatever it may be. So if people want to get a hold of that you mentioned before where they can find it, I will put links in the show notes at bleeding daylight dotnet, so that people can find the book, but also connect with you, Craig, it has been a delight to talk to you. Thank you so much for being so open and honest in sharing your story.
Craig Brown 
Rodney, thank you, I just want to commend you. You have a wonderful, wonderful platform. And it's such a beacon of hope to others. And I just pray the Lord's blessings over you and your mission and purpose and all you're doing to help others that may be struggling. And I just encourage your listeners if they are in a tough place in their life, to speak out. Find the right help. And again, allow the Lord in should you so choose to set you free. Thank you my friend. I really enjoyed being with you today. Thank you
Emily Olsen 
Thank you for listening to Bleeding Daylight. Please help us to shine more light into the darkness by sharing this episode with others. For further details and more episodes, please visit bleedingdaylight.net