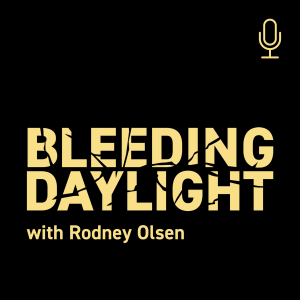 Monday May 31, 2021
Damon Covert - Pursuing Purity
After reaching rock-bottom, Damon Covert knew something had to change. This is his story of how change happened and how he's helping others find healthy life change. Everywhere we look, sexualized images that once would have been hidden from view and now are readily available online, whether we want to see them or not. Damon allowed society's take on sex and sexuality to shape who he was. It almost destroyed him. His story is now one of hope.
https://www.principle8ministries.org    
https://www.facebook.com/Principle8
https://www.instagram.com/damoncovert/
(This transcript is intended as a guide only. It may not be 100% correct.)
Emily Olsen 
Wherever there are shadows, there are people ready to kick out the darkness until it bleeds daylight. This is Bleeding Daylight with your host Rodney Olsen.
Rodney Olsen 
Thanks for listening. You can follow Bleeding Daylight and connect to our social media channels by following the links at bleedingdaylight.net If you've been encouraged by episodes of Bleeding Daylight, please encourage others by sharing episodes and leave a rating and review wherever you listen to podcasts.
After reaching rock-bottom, today's guest knew something had to change. Today we'll hear the story of how change happened for him and how he's helping others find healthy life change.
It's everywhere we look. Sexualized images that once would have been hidden from view and now are readily available online, whether we want to see them or not. More than that they're on our televisions, on billboards, in advertising in our shopping malls, and so many other places that we've become desensitized to how much something that was once private, is being pushed into the public sphere. Damon Covert is someone who allowed society's new take on sex and sexuality to shape who he was. It almost destroyed him. He's my guest on Bleeding Daylight today, and together, we'll explore a very different kind of addiction. Damon, welcome to Bleeding Daylight.
Damon Covert 
Thank you, Rodney, it's a pleasure to be here.
Rodney Olsen 
You describe yourself as a grateful recovering addict and that immediately makes us think of drink or drugs but your addiction was very different. Tell me what it was that gripped you.
Damon Covert 
I was introduced to pornography when I was only about eight or nine years old. Now this is BC This is before computers before cell phones, at least before personal computers. And I grew up or rather got older in the 80s. And so you know, if you wanted pornography, you had to go out and find it. I wasn't even actively looking. I was just with some friends. And again, it was after a Cub Scout meeting of all things, which was, which was kind of crazy. Because, you know, in scouting, they teach about, you know, morality, and being gentlemanly, and so forth. And there was nothing gentlemanly about what I was introduced to in that attic that night. You know, I didn't even fully understand what I was looking at. as a as a child of only eight or nine, these magazines were actually fairly explicit. They were not, you know, this wasn't just nudity there were there was a bit more graphic nature to it. And I didn't have an immediate craving for more of that, that would that would come later in my adolescence. And my exposure to pornography actually was was kind of it wasn't terribly overwhelming until I got into my my adolescence, my teen years, when, you know, friends were exploring this sort of thing. And it developed slowly at first. But the introduction was very early. At an impressionable age,
Rodney Olsen 
We hear more and more especially in this digital age, that the time that young people are introduced to pornography, or at least first see pornography is getting younger and younger, that it seems that it was pretty much the case back then and maybe not as widespread. But for you as an eight or nine year old, you're starting to see things that you really don't understand. So what was it that brought you back to it? Or was it something that well, that's what I've seen, and, and I'll move away from it. And you were drawn back in your adolescence,
Damon Covert 
I think it was just like any addiction. I think this is why it's so easy for people to get hooked on anything. It could be shopping, gambling, it could be video games, I think it was just a way for me to medicate my emotional pain. You know, I really didn't understand what I was looking at. But it did, it did create a certain reaction to my brain. And and actually, we've come to understand, since that the science behind pornography is virtually identical. In terms of what it does in your brain, to drug addiction. I've seen brain scans of people who have just taken heroin. And compare those with a brain scan of someone who's viewing pornography, the same areas, the same pleasure centers of your brain are lit up when you're when those two activities are going on. So it is it is a biochemical thing. But you know, again, it's it's just interesting that you don't have to actually physically take a drug to get that same high in your brain. I was not necessarily the most popular kid in school, I wanted to be well liked. I wanted to be thought of as as a fun person to be around. I typically didn't feel like I fit in very well. And we're also hearing that a lot these days with younger people, you know, where they don't feel like they fit in. So they start to assume certain things about their, their identity and so forth. And it was just a way to medicate my emotional pain.
Rodney Olsen 
So that emotional pain, what was going on for you at the time? Was it just those struggles that we all face through adolescence and wanting to be liked by people as we go through those high school years? Or was there more to it at that stage?
Damon Covert 
I think there was much more to it. And I do think that a lot of addiction is rooted in early trauma. I think it had to do mostly with my family of origin. I had a loving family. I grew up in a nominally Christian home and we really didn't go to church a lot, maybe on Easter. You know, my mom sent my brother and myself to vacation Bible school to get us out of the house for a couple weeks during the summer. And you know, that really was it. I didn't have a great foundation spiritually. But my home life was a little tense. I learned to walk on eggshells because I never really could fully predict what side of the bed my mom might wake up on. And so I learned to kind of toe the line, I knew my parents loved me. But I couldn't always feel like I deserve that love. And that sort of shaped my my view of God to growing up, I wanted to have a little more control over my life didn't feel like I could have that openly. So I think it was channeled into addictive behavior. And when I think we see this with with other addictions, as well, but it certainly was, was just a way of exercising a degree of control, or at least the feeling that I was in some kind of control over some aspect of my life. And so I think it was more to do with the the early trauma of dealing with parental anger and so forth. You know, I was never physically abused, I have no recollection of being sexually abused, although many people that are addicted to pornography and struggle with sexual addiction are, in fact, emotionally, physically and or sexually abused. To, interestingly enough, the emotional abuse is, is a higher incidence, it's over 90% of people that struggle with sexual addiction, are dealing with some sort of emotional abuse, versus 70, or 80%, of physical or sexual abuse,
Rodney Olsen 
You're talking there about having some kind of control in your life, being able to control something because everything else seemed out of control. I'm interested in the whole idea of addiction in this sexual addiction that you found yourself in, along with addiction to drugs or alcohol, that they seem to start as being a way of someone having some kind of control. But how quickly did that start to control you? How quickly did the tables turn for you?
Damon Covert 
Yeah, that's a great question, Rodney. And I think it probably happened a lot earlier than I realized. And I think that's how it knew that is in the addict mind, is that we tend to think that it's all under control. It's not a problem, until it's a problem, it's not a problem until somebody finds out or you get caught. So I think it very quickly, especially me, in my adolescence, it very quickly escalated, daily need to partake of this, this addiction. Again, it wasn't like you could just pick up your phone these days, I actually feel sorry, for a lot of the you know, a lot of people that struggle with this, because it is so easy to access this material these days, you don't even need to go by anything, you will probably already have the phone, and you probably already have an internet connection. And so it's just a matter of grabbing that piece of technology and beaming this stuff into your brain. But even if I wasn't able to seek out and physically find pornography to look at, again, this is the early 80s, there were no personal computers hooked up to an internet, my friend had a Commodore 64. And that was, you know, the hot computer at that time. There was also the the physical gratification that goes along with that was something that quickly took over my life, we're told it's kind of a normal thing for for adolescents to do. I prefer the word common, I think we use the word normal far too often. I think that, you know, it quickly spiraled for me, where I was, you know, I was acting out in some way, shape or form almost every day, and unable to go even even a couple of days, without using my drug of choice in some way, shape or form.
Rodney Olsen 
You're mentioning that it's very common. Society would like to tell us that this means that it's normal. And of course, it becomes more and more normalized as we go on. And I think probably around the 80s, and especially into the 90s. And after that it became even more normal, where even in our television shows if there wasn't something pornographic in there. There was mention of it, there was a lot of mentioning just some fairly standard comedies on TV where they're constantly talking about use of pornography as if it's a very normal thing. Do you think that this has been one of those things that has supposedly normalized it in our society and stopped people from getting help when they need it?
Damon Covert 
Absolutely. It's sort of a chicken versus the egg conundrum. Which came first? Is it art imitating life? Or is it life imitating art? Or are we now just sort of stuck in this cycle of life imitating art imitating life imitating art? And and I think that it definitely has been normalized. And we've seen that across the board. And unfortunately, it's it's a slow progression as well, we're seeing more and more deviation from what used to be normal, normal no longer means much anymore, because we have overuse that word. There's a commonality in terms of our internal struggles and the way we deal with things as human beings. In the United States. We have an estimate of about 30 million Americans who are struggling with some form of sexual addiction, you know, it's 68% of our population, I honestly do the numbers a lot higher, because, you know, it's a very touchy subject, nobody wants to really admit that they have the sort of problem. But I do think that absolutely the the media have created this the sort of standard that it's perfectly normal to, to view pornography and act out on a on a regular basis, you know, alone or with others. And that's just how it is. Somehow celibacy is fatal. You know, I've never met anyone who died of celibacy. And you won't, because, you know, when I was in college, I was taught in psychology class that, you know, sex was a basic human need, you know, you had food, water, shelter, and sex. And that's just not true. It's just not true. We have a sexual element to our personalities, God created us as sexual beings. But there is a stewardship that should go along with that I never really took seriously. I mean, I did initially because I wanted to do the right thing. I wanted to be pure. I was anything but but you know, I, since I technically had not lost my virginity, yet, I still thought of myself as a pure person. And honestly, I was weird even back then for that, yes, I didn't grow up in the, in the, the new Victorian 1950s in America, where you didn't say the word pregnant on television, and people slept in separate beds on TV. You know, I grew up watching, I Love Lucy and Dick Van Dyke and all the reruns from, you know, the 50s, and so forth, where you didn't see, you know, husband and wife, even sleeping in the same bed now, you know, somebody goes out to a bar, and they meet somebody on a TV show, and the next scene, they're in bed together. So it is it is definitely a problem where this is normalized for our kids. This is normalized for young adults who are trying to discover, you know, what it means to be alive here in these modern times.
Rodney Olsen 
And you're talking about the tricks that we play in our own minds. They're about thinking, Well, I haven't actually slept with anyone. So therefore, I'm still pure. I'm still sexually abstaining. And yet we see that there are these tricks that we play. And there, of course, was the famous one some years back where one of your presidents said I did not have sexual relations with that woman, because he decided what was going to be under that heading and what wasn't?
Damon Covert 
Yeah, I had a feeling you were headed there Rodney. And I was I was going right there, too. I do. I do have to blame our one of our former presidents, but it's not just him. You know, it's it's been like that we've been trying to redefine things for so long. You know, if we don't like the way a word is used, we'll just redefine what it means. And we're seeing that more and more and more. And, and it's just to suit a certain narrative. So that we can feel like, you know, everything's okay. It's a control thing. I think we have people that are there. Basically, we're addicted to self, we want to feel better than we feel. If we don't feel accepted, if we don't feel loved. We're going to redefine what love means. And actually, I mean, that's the the the other point I'd like to make is that too often, I mean, we are trying to equate love and sex. Sex is sex and love is love. There's a certain movement where you know, you'll see this, the words Love is love, and that that's true. But sex is sex. You know, sex is not equal Love, love is greater than sex. Going back to the books, we read the shows, we watch the music, you know, the words love and sex are used interchangeably. And I think it's just because we have been for so long, we've been redefining what words mean, we're, we're redefining things where they now have no meaning. And we're seeing that go. In the United States where we're seeing that go to an extreme. We're just assigning the gender really isn't even a thing. And I know that's a very touchy topic. But, you know, we've we've gone and taken some steps here in the United States, and it still hasn't played out completely, but we are D gendering our legislation. And I do think too, and a lot of ways these gender issues, these are addictive thought patterns. You know, this is a way of exercising control a, here's how I want to be seen, here's how I want to be, you know, addressed. Here's how I want to physically dress, here's what I want my body to look like, and we just make these changes, whether it's, you know, some sort of implants to make us look more attractive. Or if it's, if it's just more radical modification of bodies. There's there's there's a whole rabbit trail of things that can come out of this, this idea that you know, our identity our sexual identity is paramount in our lives.
Rodney Olsen 
I'm interested that you bring up the the whole point of the love is love campaign that we've seen, which is designed to say well, anything goes because They use love as as an attraction rather than defining it as that self giving love that that we might understand it to be. So when I say love is love, I have to agree. But first you've got to determine what the terms mean that you're actually talking about.
Damon Covert 
The Greeks actually have as you probably know, there are at least six or seven different words for love. It's it's sort of like the American Eskimo or illusion, people's, you know, words for snow, they have all of these different types of snow. And they have a special word for each one. And, you know, in in the Greek language, you know, people are maybe familiar with the term agape love, which is sort of that all encompassing, accepting altruistic love, but then you know, you have philia, which is a love of friendship. And again, there, there's an interesting, we're not going to touch on a really touchy topic here. But when we talk about pedophilia, for example, and when you tell somebody you have a sexual addiction, I think their mind in a lot of cases wants to go to the worst possible place. They want to assume that you're some sort of pedophile that you know, you have a problem with sexual attraction to children. I praise God that my situation didn't get to that point. But it is a progression. So it is something to be very, very careful about because, again, the mind wants something different all the time. And the media will feed you whatever filth you want, they will provide that for you ad nauseum. I don't like the word pedophilia, only because I don't think that really fits the definition. a pedophile is a Laker of children. I think that we should if we're going to create a word for that that type of aberrant behavior or attitude, it should be a little more accurate. This is we're talking about erotic love, or physical love. You know, the Greek word arrows. You know, again, it's a way of softening that word. Well, I just like kids, you know, when when Penn State University in my home state of Pennsylvania, a number of years ago, there was the Jerry Sandusky scandal. And Jerry Sandusky, for example. He just said, Well, you know, I just I like kids. I love kids. But yeah, not in the right way. Jerry, I'm sorry, you know that there's, there's no point at which a child should be subjected to the sexual advances of an adult. And I think most people would agree with that. But we are gradually heading toward as you said, anything goes? The logic could be well, that's just my sexual expression. You don't have the right to tell me that that's not okay. I think right now, the majority of people would say, absolutely not, this is totally off limits, and never should be okay. But I think we are going to see a Fabian progression, start to blur those lines. And we do see that, where I'm where I'm broadcasting from right now, in the state of Maryland, we have a law that says if it is cultural, that a minor can be married to a much older adult with parental consent. So if it is cultural, you know, out of specific religious belief. And we have a 14 year old girl whose parents are okay with this 45 year old man being her husband, that's legal. And again, as you said, it's we're headed toward a situation where anything goes where there's this this concept of pansexuality, you know, anybody anything anytime, as so long as I can feel better about me. And that's really what addiction is all about.
Rodney Olsen 
We were talking about the fact that you became hooked in your adolescence. But where did it go from there? Where did it become such a problem for you?
Damon Covert 
You know, when you're young, and you're single, and you're unattached, and you think, well, this is no big deal. You know, first of all, sounds like all my friends are doing the same sorts of things. It's not a problem. But it becomes a problem when you're especially when you're impacting another person directly. Now, I think there's there's a concept in a lot of people's minds that pornography is a victimless crime. It's not. Because you know, we have we can demonstrate the direct connection between human trafficking and pornography, and the the so called sex trades and pornography. Where it became a problem for me was relationally. One of the one of the things about a sexual addict is typically when they will want to find someone who's willing to to be with them and kind of satisfy their physical needs or desires. A lot of times, immediately after that there's a rejection because of the shame But the addict feels, and they will often push that person away. And this would this was my problem, too, I was keeping people at arm's length, I was desperate and hungry for intimacy. And the physical intimacy did not provide what I wanted. I was not I do not feel necessarily accepted, simply because I was with someone physically. And so I kept trying to go back to that. And a lot of times that, you know, there is a cycle where you'll go to someone you know, is going to say yes to whatever it is you want to do. But immediately after, there's almost always a rejection, well, look at the time I've got to go. And, you know, we see that played out in the media, too, that there is there is some truth to it. I mean, that's the the really attractive thing about any lie is a grain of truth, that rings, you know, with, with other people in resonates with them and say, Oh, yeah, I've experienced that, where it really hit home for me, I wish I could say that this was not part of my story. Out of my addiction, and, and out of a lack of caution. One of the young ladies that I got involved with got pregnant. You know, we were panicked, we were scared, and we were young, it was a terrible time for either one of us to try to start a family. And because we didn't know what else to do, we had an abortion. I am every bit as responsible as the young lady involved, I still deal with the feelings about that. I mean, I think about that almost every day of my life. And it's easily by far the worst thing I ever did. And again, here, here's society, saying this really isn't a big deal. You know, we don't even call it a baby anymore. We're not we're not, you know, terminating a baby, it's a pregnancy, we're just terminating the pregnancy, the condition of being pregnant. That was my first real rock bottom moment, where I thought, Oh, my goodness, you know, this disease that I have, has driven me to the point where I have taken someone's life. In terms of the other ways it affected me. I carried it into my marriage, I you know, I eventually met a wonderful woman got married. And, you know, we were pretty happy at first or so I thought I still had my my secret sin, you know, ever since I bought a computer and was hooked up to the internet, I could access that. Anytime I had a little privacy. And that has, you know, I was going on for a long time. And, again, it wasn't a problem until it was a problem that kept fueling my my desire for that intimacy that I was searching for, which again, was never gonna be satisfied by pornography, or by physically acting out, you know, so this was going on, the entire time I was I was married, I would be okay, for a couple days, maybe, or I would try to quit. And maybe I'd make it a couple of weeks sort of white knuckling my way through recovery. And I wasn't involved in a recovery program at the time. So I was just doing it on my own, which by the way, never works. But eventually, because of the other stresses and strains on my marriage, I had emotional affairs, a couple of these in a short period of time. And then my wife found out she asked the right questions, and I was honest with her, and things hit the fan. And I really felt like, you know, my marriage was over, my family was over. And, you know, this was this was the next rock bottom for me. But by the grace of God, my wife took me back. And we've worked things out. And here we are, you know, 15 plus years on the far side of this stuff. Our marriage is not perfect, but it's good. And we work on it, you know, we actually have true intimacy, I can talk to my wife about some of my issues, and, and I have accountability and so forth.
Rodney Olsen 
I'm interested, first of all about that term of an emotional affair, because this comes back to the whole idea that we can justify certain things Hey, look, I didn't go very far with it. It was just a sort of a connection for those that that perhaps don't understand what we're talking about. What would you classify as an emotional affair?
Damon Covert 
I would say it's any relationship that you wouldn't want your spouse or girlfriend or boyfriend to know about. We have these relationships, whether it's someone at work, or someone we know socially, or an online relationship. So I think anything that you would want to keep a secret, when truth is our secrets keep us I was as nervous as a cat in a room full of rocking chairs, as they say, I just always worried that one of those rocking chairs was going to come down on my tail. It's any kind of relationship that you would not want your significant other to know about. I termed these emotional affairs because they did stop short of sex. But there was a physical element. You know, there was a physical affection element to these relationships, but just because they didn't actually involve intercourse. That doesn't make it right. We have to put up boundaries in our lives to be safe. You know, because Because it's it's very easy to get into a conversation and feeling an emotional connection with someone. And again, if you are an addict mindset, you can find a little touchstone with just about anybody. But it's just very dangerous. And it doesn't end well Trust me.
Rodney Olsen 
So you've come to your own rock bottom, what was it that turned things around for you? How did you start to claw your way back to where you should have been?
Damon Covert 
I can't take a lot of credit for that. I think that in a lot of times, a lot of situations like this, we have to be broken, very, very few people will wake up and just change because, okay, you know, I realized I'm in a bad way. For me, and let me just speak from my experience, I had to have those Wake Up Calls, you know, that was I had to suffer the consequences. And again, this is something we like, we want to have our, you know, our cake and eat it too. We don't want to have the consequences of our actions. And so I had to feel that sting. And I had to realize that, you know, the pain of continuing in my current way of thinking, My current mode of operation is greater than the pain of dealing with my stuff. And so after the disclosure of these emotional affairs, and the fallout from all of that, there was a long road, the spiritual connection really was, was what started that for me, I began to realize that I could not help myself, I needed a power greater than myself. And until that point, the God of my understanding was me. Again, I grew up in a in a nominally Christian home, I had heard the name of Jesus, I knew, you know that God loved me. But I didn't really comprehend that. I didn't really get that until I realized, I have nowhere else to go, and God will still take me back. I was the Prodigal Son, you know, I had been given all these great things, and I squandered them. And yet, my father not only took me back, but ran out to meet me. That was the point for me where it turned around, I realized that I was isolated, and shows isolation, as a way of protecting myself and my lifestyle. But I got plugged in to a church. And in my case, I'm a musician. So plugging into our worship team was was a logical step. And I served in any capacity, I told the worship leader, I said, I'll do whatever you whatever you need, you know, I ran the soundboard. I wasn't on platform for a while. I just did whatever they needed. And that helped me and I met some real friends, I met people that I can actually talk to. And I remember very clearly a number of years later, you know, finally opening up to one of my buddies on the worship team and telling him I had a long way to go in terms of my sexual purity. I remember that night with crystal clarity. And that was the beginning for me. And then our church started a Celebrate Recovery ministry. I started attending that because I knew they needed a worship leader for their their program. And I thought I'd go help those people, only to find out I was those people. And I needed to be there for me. For the last several years I've been I've been involved in some capacity with Celebrate Recovery. And then I heard about another fellowship that was geared towards sexual addiction. I started attending that as another layer of accountability. And, you know, I found a sponsor and people that understood my specific issues, although I have found and what I love about CR is that it is basically everything, you know, I mean, you can you have shopaholics there, you have gambling addicts, you have people who struggle with drugs and alcohol, you have people who struggle with codependency and sexual issues, it's across the board, we can get hooked on anything, to try to medicate that emotional pain
Rodney Olsen 
Before we talk about the this ministry that you've begun. And I want to find out about that, and how we can hook people into that. But I want to go back to some of the things that you were saying before you were talking about pornography and those that it affects. And it's not just those who are consuming pornography, but those who are involved in it in the first place. And I heard a statistic somewhere that it's around 70 to 80% of the people that we see in those images have been forced there that have been trafficked there in some way. And, and I'd suggest that their number would probably be even higher.
Damon Covert 
I'm sure it is Rodney, and you cannot prove consentuality even if there's some affidavit on the website that says everybody's 18 is here of their own free will. There's just no way of knowing that for sure. I don't want to be part of that problem. I got better for myself, and you have to want to get better for yourself. You have to be, I guess more miserable. You know, again, realizing that that point of your own pain is greater to continue in what you're doing then to make a change and start owning up to your stuff but You know, socially and culturally, there there is a greater mandate to not be part of the problem. I was definitely part of the problem. And I think you're right, I think that the the numbers are probably much higher. I actually had the privilege and blessing of hearing a woman speak her name is harmony Grillo, she was pimped out as a dancer by one of her former boyfriends. But she got out of that got away from this guy and went to school. Now she's got a master's degree, I think she might have two master's degrees. And she actually has her own ministry in her own organization that helps women get out of the sex trades. Over 80% of people that are working in the adult industry, women in particular, say they would rather not be some of the like, they don't have any financial choice. This is just, you know, the only only marketable skill they think they have. They also get into these situations where it's it's a promise of some some degree of fame and notoriety. I actually sat on a plane with a young lady. I was visiting my brother in Atlanta. God has a sense of humor, he puts the sex addict next to the aspiring playboy model. This young lady was probably 20 college age. I just felt like God was saying, you know, you should talk to this young lady, but it was not in a creepy way. It was just Hey, let's there's something going on here. Let's find out what what her story is. And so I started talking to her and I found out she was actually flying to Atlanta to do a swimsuit, shoot. This is how it starts, it starts out as Okay, well, we're going to bring you in, we're going to take some some pictures of you and your bathing suit next to a car and the setting, I think for some sort of advertisement. But then hey, what if we did this? And what if we did that? And hey, if we gave you a little bit more money, or let's let's have a couple drinks, or have some some, you know, have some drugs and try something else. And people get duped into this fraud, coercion and force? And yes, absolutely. I think the numbers are shockingly and terribly high. And it needs to stop. But we have to stop the demand. And the demand is within each one of us on some level. Even if you're just buying a dimestore novel, book, something that has graphic descriptions of you know, these these sexual conquests with these guys in a loincloth and tearing some lady's dress on the cover. This is porn. This is pornography. I had a pastor friend, retired pastor challenged me said, Well, how do you define pornography? I said, Well, you know, I had to think about it, because the old definition was you knew it when you saw it. Unfortunately, we don't know it when we see it anymore. So I would say that we should redefine pornography. Anything that triggers you to sexual lust is pornographic. Whether it's a book, you're reading a magazine, you're looking at a video, you're watching the music, you're listening to the way someone is talking to you or the way you're talking to somebody else. All of these things can be pornographic, it does not have to be an image. It does not have to be a video, we have to stop that demand in our hearts. We have to stop looking to fill ourselves up by taking from somebody else
Rodney Olsen 
And stop redefining things. Stop calling something like 'ethical porn', when there's no way that it can be. We've got to stop redefining it to make ourselves feel comfortable, I guess.
Damon Covert 
Absolutely. Yeah. And actually, there's a there's a fantastic but disturbing TED Talk. Lady talks about the so called ethical porn and some of these issues. And that the titles, the most popular titles, and the things that people search for are absolutely shocking. It's you know, whether or not that's actually what's being depicted, or whether it's just this is a scene we're setting for you. It is very disturbing. But again, it's disturbing, because this is somehow in some way it is relating back to an unresolved trauma, or unresolved issues in your past that caused you to seek out certain things. It is common, but it's not normal. There are other ways to process this, instead of just giving in and saying, I'm going to look at this, that or the other thing, I'm going to seek this stuff out and as you pointed out, it's you don't have to seek it out. It will find you and your phone and your TV, your TV's watching you. I don't think people realize this. But you know, George Orwell was right. He just didn't get the timeline quite right. You know, we're well past 1984. But we have black screens hanging on our walls listening to us watching us. Your TV has a camera, your phone has a camera. My computer has a camera, my iPad has a camera. There are microphones and there are things going on where I will have a conversation with my wife about, I don't know, paper towels or something. Sure enough, the next time I'm on social media, I get an ad for paper towels. So if we are, again, sort of letting these sort of things come out of our mouths, certain words, certain phrases, things like that. Then our phone is feeding us what we want. AI is behind all of that stuff, you can have an argument with your spouse, or your your boyfriend or your girlfriend, and it, you know, he may not even be specific to sex. But now, big brother knows your relationships a little rocky, Hey, remember this old girlfriend, you know, remember this thing that maybe you haven't seen this before? You know, take a look at this. And unfortunately, it's meant to divide. It's meant to undermine the the safety and security of our relationships and our families.
Rodney Olsen 
It takes a lot of courage to come out to the world and say, this is where I was, these are the issues that I faced. But you've gone beyond that. And you've started up an opportunity for others who are caught in these addictions, to actually make a change in their own lives. Tell me about that.
Damon Covert 
This actually was born out of my own recovery. And again, I'll give Celebrate Recovery, a little plug here, because that was that those were the rooms that I started to get well in and continue to work with other men and women toward getting better. And actually, the ministry is called principle eight. And it is based on the eighth principle of Celebrate Recovery, which mimics the 12 step of you know, and any other a program, whether it's, you know, Narcotics Anonymous or Alcoholics Anonymous or Overeaters Anonymous or what have you. And that is to share the message, I consider myself a hope dealer. For me, Jesus is the hope, but I want to make the introduction, I used to be a certain way, and now I'm not. And the difference for me was my higher power, the highest power that I can can think of, and that's, that's Jesus Christ. So I want to share that message. But a lot of people are skeptical of the church, they've been hurt by the church, they've been hurt by somebody in the church, you know, they think of religion versus relationship with God. And, you know, maybe they grew up in a certain type of Christian church or, or they just have certain baggage attached with the way someone treated them. So they won't necessarily come to a church, they won't necessarily come to a recovery meeting that's held in the church. I know when I was in my active addiction, I thought, Man, I'm going to walk through the the threshold of that church and I'm going to burst into flames, God is going to smite me right there, I thought I had to get cleaned up. So I was good enough to present to God. And that's not the case. God says, Come to me, I will get you cleaned up. I want to be able to take this message out to college campuses, where we have hookup and date rape culture, and wild promiscuity. I want to take this into jails where you know, not everybody is there for a sexual offense. But there There certainly is a great deal of difficulty behind bars, and certainly, people medicating their emotional pain, sexually speaking, I think we need to start talking about this in church, you know, some pastors are brave enough to actually bring these things up. But it's usually one Sunday, a month, or maybe an occasional allusion to pornography or something like that. I'm actually really proud of my home church pastor, because he does bring this up on a regular basis. And we're very recovery friendly. Because I think recovery is God's plan. It's the same sort of thing. Look, you can't do this, I can turn it over, let's work on this together and get better. But I want to be able to take this message out to coffee houses, campgrounds, basically any place where I can gently ambush somebody with a message. And I do that through music, I write original recovery based and faith based songs. And somewhere in that language, maybe something's going to resonate with somebody, and they may not even fully understand why. But it's an introduction to a conversation. And a little explanation, then after the fact, might might help them, you know, want to seek out certain resources. And we're developing our own curriculum. But we also recognize that there's a lot of great work that's already been done. And we can refer people out to different organizations and different resources to help them on their journey.
Rodney Olsen 
I'm sure there are some people who would feel that you're just another one of those Christians trying to tell others how to live. But in the meantime, I'm sure that there are so many people that you come into contact with who are saying, this is something that I need, I need this to break free from what is holding me back, as you said before, it started out as me wanting control. And now this thing controls me. I want out. So there must be a number of people that you've met with that are just so thankful that you were there for them.
Damon Covert 
Well, it is a blessing to hear that somehow your story is helping somebody else. Because I have had people come up and say, You told my story or at least a part of and we say in the rooms of recovery, that if you you know come here long enough and you listen to enough testimonies, eventually you're going to hear your story, or at least something very much like it. You know, there is that again. It may Be not normal, but there is a commonality that exists. And, you know, just hearing that and knowing that you are not the only person who is struggling with this right now, you know, when we think about pornography, even in terms of whether it's a gender specific problem, it's not. It is a male and female problem. Sometimes it manifests in different ways, with men and women, but it is a it is a human problem. And acknowledging our commonality, our common struggles are common, you know, we suffer no temptation, except that which is common demand, it says right in the Scripture, and that is the truth that we do have these issues. We don't know how to solve them. But yes, talking to people and saying, Man, I really appreciate that you actually came out. And I mean, I started out by sharing a very, very detailed testimony in front of 150 strangers at a men's conference at my church, and I was terrified. But I was met with acceptance and gratitude. And it was a beautiful thing, to be able to share these deep, dark secrets and not be kept by them anymore. It was like, like nothing else, you know, it's just being accepted for who I was. And that's what that's what I was shown the love of God that way. You know what I want to show the love of God other people that way, regardless of what you done, no matter how far down that that spectrum, you slid. And again, it's not about comparison, everybody's rock bottom is going to be a little different. But boy, I would have loved a wake up call earlier, the alarm was going off, I just, I just kept hitting snooze, I wasn't listening,
Rodney Olsen 
I know that you've come to that point where you can share what you've been through. But I'm sure that there are people listening right now who say, Look, I'm not at that point, I need to reach out. But this needs to remain something private, until I'm ready to share it is there hope for people like that,
Damon Covert 
I wouldn't just encourage them to find one safe person that they can talk to. And that can be difficult. You know, it might not be your pastor, it might not be. It's probably not your spouse or your partner right now. Because again, they they are on the receiving end of this. And we have to be very sensitive that we have heard other people that there is there is absolutely hope. There are lots of great programs, many of them are geared toward anonymity, it is just a firm understanding and requirement when you walk through the door. The people you see the things that you hear, they stay in that room. And so you know, there, there are safe places. But even your most trusted friend might not be the best person because it might be your so called drinking buddy that you always, you know, hung around with and gotten into trouble with. So you need to find someone who looks like they have what you've got and then spend some time with that person, you know, find out if they're they're the real deal. Do they really walk the walk? Or are they just another, you know, person dressing up and shining up for Sunday.
Rodney Olsen 
If people want to find out a little bit more about principle eight ministries or to contact you where's the best place to find you?
Damon Covert 
Start with our website. It's www.principal8ministries.org. There are some resources there to help you get started on your recovery journey. Really, the vision for the ministry is to be able to go wherever God calls and whatever way God provides. So it is a vision driven, mobile, global multimedia ministry. And we exist to engage, encourage, equip, and empower people who are struggling with or affected by sexual addiction. That's the 15 second elevator speech for you right there. So yeah, check out www.principal8ministries.org And you can find out more about what we do and how we do it.
Rodney Olsen 
And I'll put links in the show notes at bleedingdaylight.net, so that you'll be able to find the details there. But Damon, it's been great talking to you. We've covered a lot of ground. I want to thank you for your openness, for your honesty in sharing about this issue. And I'm hoping that it's going to bring a lot of help, and a lot of healing to some of our listeners today. Thank you for your time on Bleeding Daylight.
Damon Covert 
Amen, Rodney. Thank you so much. It's been a blessing.
Emily Olsen 
Thank you for listening to Bleeding Daylight. Please help us to shine more light into the darkness by sharing this episode with others. For further details and more episodes, please visit bleedingdaylight.net