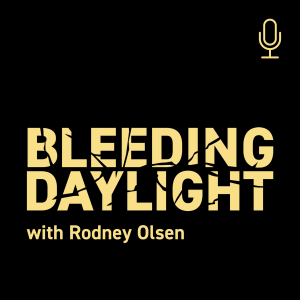 Monday Apr 26, 2021
John Simmons - Invisible Addiction
John Simmons battled an invisible addiction that plunged him into debt and deep depression. He was living a life that was totally out of control and the very thing that was pushing him closer and closer to destruction was the thing he thought would solve the issues he was facing. It was a downward spiral that almost cost him his life. Things are very different now. These days, John is bringing hope into the lives of others through his ministry, Testimony House.
https://www.youtube.com/c/TestimonyHouse 
https://www.facebook.com/testimonyhouses/
https://www.instagram.com/testimonyhouse/
(This transcript is intended as a guide only. It may not be 100% correct.)
Emily Olsen 
Wherever there are shadows, there are people ready to kick out the darkness until it bleeds daylight. This is Bleeding Daylight with your host Rodney Olsen.
Rodney Olsen 
Thanks for listening. You can follow Bleeding Daylight wherever you find podcasts and never miss an episode. Please connect with Bleeding Daylight on Facebook, Instagram and Twitter, and please share this and other episodes with others.
Today's guest battled an invisible addiction that plunged him into debt and deep depression. We'll hear about his remarkable transformation in just a few moments.
My guest today was living a life that was totally out of control and sinking him further and further into debt. His problem was that the very thing that was pushing him closer and closer to destruction was the thing he thought would solve the issues he was facing. It was a downward spiral that almost cost him his life. Things are very different now. These days, John Simmons is bringing hope into the lives of others through his ministry, Testimony House. It's a privilege to speak to him today to hear more about his story, John, thank you for joining me on Bleeding Daylight.
John Simmons 
Thanks, Rodney, for having me on the program. So excited to share my testimony today with you.
Rodney Olsen 
We're going to talk about what it was that threatened to wreck your life completely but before we do, tell me what life was like beforehand.
John Simmons 
Before I got wrecked? Well, I grew up here in St. Louis, Missouri, in the States and normal life, two parents, until I was 12 years old, my dad passed away. And that was the genesis of my destructive life, essentially, because I had been attending church I had some nice, godly friends, I had thought I had accepted Jesus into my heart. But I prayed the night before my father died that I wanted to not go to school the next day, because I had a project to and it wasn't finished. And so I woke up the next morning, and it was 9am. And school started at eight. School was out of session, and I wasn't there. And I was so excited. But then a few moments later, my mom walked in and she said, we lost your dad last night. And for 20 years, Rodney, I thought that I had prayed. And I'd always heard a church when I was a little boy, I God answers prayers in a way that's unusual, or more than you can ask or think or imagine. And I'd heard these sorts of things. And so I put those things that I'd heard together and thought that I prayed for a day off school, and instead the God that I was praying to had killed my dad for me, and I was just so devastated. I was like, well, that's how you answer prayers, I'm never gonna pray to you again. And that was, that was life before I started gambling, I just sort of live in my own way away from God.
Rodney Olsen 
That's a very heavy burden for you to have to carry to feel that your prayers had actually killed your father. And even the fact that it then tainted your picture of God to say that, well, he will go out and kill someone. For me. That's another burden that you're having to carry. Was your dad. Ill for a long time before that, or was this totally unexpected?
John Simmons 
All this was sudden he had a massive heart attack and passed away the we had had floodwaters and before our basement was flooded, he was downstairs trying to deal with we had about three inches of water in our basement, and he was trying to get it out and deal with it. And he had just 3am just had a heart attack and die whenever the last thing I said to him was would you take the dog out? You know, and so it's just no one knew what was coming.
Rodney Olsen 
And you mentioned there that the problem that really caused all the issues that you were facing was that gambling. So between that 12 year old boy and the time he started gambling, how much time was there? When was it that you started to go down this track of gambling,
John Simmons 
I started gambling when I was 18 years old on line, we had a poker website called bet us calm or something like that. And it had just poker tournaments. And I was led there by my brother who I was living with at the time. And he said, You know what, they play these $5 tournaments. And so I remember getting online, and playing $5 tournaments with him and a couple other friends who we knew he had more recreational money. But I had actually started working a bunch of part time jobs, I loved having money in my pocket. It was, I mean, the love of money was in my heart deep from an early age. By the time I was 18 years old, I was working three part time jobs. And so I was working 40 to 60 hours a week, as soon as I turned 17 different jobs around where I lived. And so I started to accumulate some actual money in my bank account at a young age. And since I didn't have any rent to pay, and I had no bills, I started just put my money online. Eventually, I graduated from $5 tournaments, to $100 buy ins to cash games, which are a lot different than poker tournaments, if no one's familiar, you know, a tournament is one set buy in and you go in and you play for you know until you're out of chips or till the time is over. And you know, going in how much money you might win or lose. A cash game is a lot different. You go in with your money and at anytime you can reload and put more of your money on the table. You can lose all of your money in a moment's notice. And there's no set limits of how much you can win or lose.
Rodney Olsen 
Was this something that you started to get good at as you started to understand how it all worked? Was it something that made you think, Hey, this is something that I could do more full time?
John Simmons 
Yeah, I absolutely thought I was the world's best poker player. There's no doubt about that the origin of why I thought I could do this stems from ESPN. And they had started running these programs called the World Series of Poker and it was highlighting these poker tournaments that took place in Las Vegas. And this man in 2002 named Chris Moneymaker What an awesome name right? And he had bought into a tournament like it About a $40 online tournament and want to see in this tournament that cost $10,000 to enter, and he won that tournament. So he won't, he turned $40 into $2 million. And I was like, Well, I have $40, I can go do that. And so I bought every book I could on Poker. So I was trying my best to do as good as I could. The problem that I found out Rodney, and this is, is that no matter how good you are, when you're in addiction, you have no off switch. And that was the issue for me is the reason that I lost so much money, the reason that I couldn't stop and I went on for so long, and it became such a burden to my life is because no matter how much I won that day, I would go back the next day, and I would continue until it was all all gone.
Rodney Olsen 
And I'm sure that even then you had this idea that there were some losers out there who wouldn't know what they were doing. And they would gamble their money away. But you were clued up, you were reading up and and you must have felt, you know what my turn is going to come because I'm getting educated about this. And I know what I'm doing.
John Simmons 
Yeah, I thought that there was any moment I was due to hit one of these jackpots that they offered or win a big tournament or get a place in the next tournament. And I really thought that the suckers at the table that I would win from some days had nothing to do with me, and that I actually wasn't part of their world. You know, I didn't see myself as someone who was behind the eight ball, so to speak, in terms of my skill level or my winning level. It wasn't until a few years later, when things started to really, it doesn't take long for you to lose money, even no matter how long you've been working to save it up when you have a consistent gambling habit. And so for me, it just started to overwhelm my finances to the point where I had to start doing payday loans and credit cards to fund my habit. And that's really when I started to be like, ooh, maybe maybe I'm not as good as I thought or, you know, I didn't recognize it as a problem. But I definitely started to have questions about what's going on,
Rodney Olsen 
Tell me about the first time that you actually walked into a real game, because you've started out on these online games. And it's easy enough to switch that off at the end, although, as you say, you're being drawn in and spending more time there. What about the first time that you walked into an actual game with people around the table?
John Simmons 
Yeah, I'd love to tell you about that because it happened the weekend of my 21st birthday, which is the legal gambling age in America. And I'm so excited because I'm like, oh, finally, I've been playing poker online for three years. But I'm in a room by myself clicking buttons, and I'd seen all the tournaments on on TV, I'd saw Chris Moneymaker won this tournament, and he's in Las Vegas. And I'm like, maybe I'll run into some of these guys I've seen on TV. I'm so excited. You know, these older guys, they were all smoking cigarettes or cigars at the table, and they all had sunglasses on inside, it was just so much like a movie or you picture it. This like gangster vibe, you know, I was just like, this is great. I love it. And cash is flying around the table. And I think I lost $100 my first time. So I don't have this, like I want a million dollars. And that's why I kept going story. But for me, it was the atmosphere. It was the culture. I just wanted to keep going. I played in a dozen tournaments that weekend. I didn't leave with much money in my pocket. But I just had the greatest time. And I just went home saying I want to do this. I want to play cards like this a lot. And I remember someone who I was working with at the time I said, Well, you know, there's poker rooms in St. Louis and, and there's a couple local casinos, but I'd never been in them. I wasn't gambling age. And I didn't realize what was behind those doors. But they were like, yeah, and so I drove up there. As soon as I got back from Las Vegas, I went to a local casino here where I live, sat down at a game and it was the same thing I experienced in Las Vegas. But now it was a mile down the street from me. And so it led me to a pattern where I would just continue to go to the casino whenever it was open. And until that money started to run out.
Rodney Olsen 
And this is starting to become less of a pastime and more of a lifestyle that you're being drawn into. And it seems like a very attractive lifestyle for you at this stage.
John Simmons 
For me, yeah, I was wanting to be near it. I wanted to surround myself with it. So much so that I was working in radio at the time. I had gone to school for radio, I had this passion to be a radio host. I was so lured in that eventually I left my job at the radio station and took a job at the casino dealing poker. So now that I was able to work at the casino, I was able to play the casino. And then if I wasn't doing those two things I was sleeping. And so this was a pattern of rinse and repeat for me for years, years and years. And eventually I had to sign myself off the casino to get away from it. My lifestyle would become too oppressive on my actual life and the things that I was dealing with the results of my gambling.
Rodney Olsen 
Tell me about the sorts of losses that you are going through at this stage. When did it start to mount up and you started to realize all this is going a bit far?
John Simmons 
When I turned 21 and I started playing cash games more regularly. That's when it really started to dwindle and quickly. And so after school I was working two full time jobs. I was trying to play catch up with my losses, but it never happened. The biggest losses occurred when I lost all of my working income and started getting credit cards. And so I would get, you know, a $25,000 limit credit card, or I would get payday loans from across the city where I would, you know, basically barter my paycheck for extra money. And so I'd have dozens of these types of loans. And so by the time I was 23, I had accumulated over $200,000 of debt, I had to go file bankruptcy, because eventually I lost my credit, you know, these creditors weren't issuing me any credit, I wasn't paying these bills back. Obviously, gambling addiction is one of the ones where you can be an addict, and no one can notice, you know, I'm not walking in my, my speeches and slurred, I'm not hunched over, I'm not drunk at a wheel, you know, I act and look normal. But on the inside, Everything's going haywire. And that was the first time I told my family and friends that I had an issue was the first time that I had to confront when I was dealing with and everyone was telling me that all these problems that I had, and I needed to get help, and they all had their suggestions and ended up with me being in counseling sessions, and I had to get give over my money. But that was the first time that I lost a lot of money, but it wasn't the last.
Rodney Olsen 
And so often we hear these stories of people who have run up huge gambling debts and to be down $200,000 at the age of 23 is massive. And so often the thing that people think is, well, why didn't they walk away when they noticed that they were starting to lose money? Maybe you can talk us through that help us to understand what it is that keeps driving you back to that, even though it's it seems to be quite plain to everyone else outside of it, that this is a losing game.
John Simmons 
There was no doubt that people thought that I was dealing a losing game. And I would consistently be taught Johnny, why don't you just stop, you know, you just quit this. It's ruining your life for some people were as bold enough to be like, Johnny, you're a loser, quit. Just stop right now. And I just remember thinking, you guys don't understand if I just win this jackpot. If I just win this tournament, just like Chris Moneymaker, if I do any of those things, and all of a sudden, I have a million dollars in my bank account. I'm not a loser anymore. I'm not stupid for keeping going. You're going to envy the life that I have. And that was really a driving motivating force for my thought life at that period of time. I was just like, no, they just don't get it. They don't get it. Because they're there. They don't realize that if I win this, everything's fine. all my problems are erased, all the problems that they see are gone. Once this money shows up in my bank account. I don't have an issue anymore. But that was far from the case.
Rodney Olsen 
And now I mentioned those that are offering these opportunities to gamble, such as the casinos and poker houses. They're doing their very best to make you think that the next big win is just around the corner too, aren't they?
John Simmons 
Yeah, they put signs on the wall that will say jackpot. It'll say $250,000 and you hit this jackpot. If you hit a certain hand in poker, or if you get beaten in a certain way they call it a bad beat. And so they have jackpots listed on the walls, they offer you playing, you know, perks, if you play long enough, you get free meals. And so I was like, Well, if it's just like getting free lunch, sometimes I would think, you know, take my $200 up there, and I'm gonna get a free lunch, but you're not gonna just take in $5 up to the store and bought a sandwich. But that was not my mindset. My mindset was like, how can I keep going in these casinos certainly make it attractive. If you if you buy in for a certain amount, we'll match it today. And those types of offers. They came quite often.
Rodney Olsen 
And you mentioned that this was the first time that you tried to address this issue. And you've talked to counselors. And yet it didn't stop there. What happened at that point?
John Simmons 
In these counseling sessions, I wasn't really trying. I was just going through the motions trying to get out of that session and get myself back in a place financially stable, and then I could gamble again. And so that's what I did, you know, I would just constantly do the things people wanted me to do to try and appease them. And then I would go back to the counselors or back to GA meetings which Gamblers Anonymous, and take these types of steps to try and get help. For my problem. Even though I didn't think that I had a problem. It wasn't till years later that I finally woke up one day and was like, yeah, this is me. This is not going to happen when I woke up at 30 years old. And I was thinking, this isn't the life that I imagined having as a child. You know, when I was a child, I had these big dreams and aspirations and things that I wanted to do and be in radio and be a musician and all these different things that had filled my hopes up as a young boy. But as an adult, I realized that my hopes had all been dashed from all the losses in the gambling and I was hopeless. I was depressed. I was severely depressed. By the time I got into this addiction for 10 years and long after I really got into a point where I was betting sports and doing other things to try and hide and mask some of my losses from family and friends by using a different method of gambling in order to keep the thrill of you know that adrenaline those things going in my life.
Rodney Olsen 
Where was the money coming from at this stage because that initial time weighing you down $200,000, you've gone to counseling, you've declared yourself bankrupt. So what is actually funding this habit at this stage?
John Simmons 
That's a great question. They passed a law that said poker dealers essentially could keep their own wages, their own tips. And before that, we had done a pooling system where all the tips that came into the room were shared equally among 50, or 60, poker dealers that were at this particular casino that I worked at. And in that year, that they created that new law, I was one of the better dealers, I dealt really fast, and I worked fast. And so a lot of the players like me, the regulars appreciated my speed and accuracy of doing the games quickly, so they could keep that thing going faster. And so I made about $90,000, in my first year of making my own tips, and I did that for several years. And so this was able to fund them keep me going and sustain through those years of of high income losses,
Rodney Olsen 
The whole time that you're there dealing and doing the very best that you can to get all the tips coming in, it must have been just rolling around in your mind, well, once I finished this, today, I'm going to go to the table myself and start to bet some of this money, it must have been that drawer for you.
John Simmons 
It was payday and I had two days off work, I would have to drive hours, I'm talking minimum of four hours away to the nearest casino where I was legally allowed into because when you sign yourself off to Casino in my state, if you go inside, it's illegal and it's considered trespassing, you can be arrested and go to jail. And so I would have to find new ways to gamble and play cards. So I would drive to casinos around America trying to find a place, you know, in a two or three day span where I can get to there and I can gamble for two days straight, I wouldn't sleep, I would be exhausted afterwards. A lot of times I would leave without any money in my pocket at all. I remember having to float bad checks to try and just get gas money to get home. Those are those results of me trying to chase these losses.
Rodney Olsen 
And initially you went in and there's this great romantic sense of this lifestyle that's happening and these people around the table that the sunglasses that the cigars, the cigarettes and all of this is drawing you in. How's it feeling? Now, at this point, when you're having to use bad checks when you're having to drive all these miles just to find another casino? Was there any of that thrill left at all?
John Simmons 
The thrill was always there when you're at the table. Because when you're at the table, you're not concerned with any of those other things, you're still in that culture in that atmosphere, you're you're still a moment away from that jackpot, that tournament win. And so when you're at the table, you lose connection to the rest of the world, you're not there anymore. The thrill of it was always there on days that I had cash in my pocket on the days that I didn't, it was miserable. I mean, I was completely frustrated and angry at my life, I would spend as much time as I could asleep or working to try and make more money to try and pay back some of my debts to the people who needed it the most. A lot of times that was my bookie for years who would you know, call or text me every, every so often, john, Where's my money? Where's my money, and that was a stressful situation. And so at one point, I do remember thinking, maybe it's not going to happen. And that's when I finally realized, you know what, maybe I need to get help. And that's when I finally entered a rehab center on my own. Well, for the first time I was 29 years old. And I was looking to find that hope that I never had.
Rodney Olsen 
There's this thrill when you're at the table but as soon as you walk away, things are vastly different and you touched on the depression that you felt had they did that go?
John Simmons 
Well, the war, the mind the Bible describes is that my mental thought life was completely different than anything I've ever experienced. And that is something I never would ever want to go back to the pressures that I was under financially would not allow my mind to rest. And so I was constantly thinking about what I owe this guy money, I owe these 10 places money, this war of my mind would start and then the devil would come in and say, well, let's let's go to the casino with that $2,000. And maybe you can double it up. Or maybe you can triple it up and you can have everybody paid off by the end of the weekend. But of course the money would usually be gone by the end of the weekend. Because even if I would win if I win if I win a tournament and like there was a weekend that I want a jackpot and a tournament the same weekend, and I had $10,000 in my pocket. But two months later that money was gone. It started off by me just sort of pulling myself back from others and just sort of like wanting to be alone. And I would spend so much time alone that my friendships would suffer, my relationships would suffer. And then eventually, when I got really bad, I started to blame my friends and those closest to me, I kicked my best friend out of my apartment because I blamed his party for not being able to sustain my happy life. And but the truth was, is that I'd stolen and gambled his rent money I didn't want him to know, I was engaged in that relationship was broken off and I never got married to her. You know, my my brother. He hasn't trusted me ever since. And, you know, there's a lot of different fractured relationships throughout my life all stemming from the fact that first I pulled away I got depressed. I got angry, I got bitter. I got frustrated. I'm taking it out on the people closest to me and the rest that I could never find in my mind, the only time I could ever seem to have any peace in those situations was when I was sleeping. So I slept a lot on days that I didn't have money to gamble. Because if I had money to gamble, I was at the casino, or I was watching sports betting on them. But the days that I didn't, I would fall asleep as best as I can, I'll take medicine to fall asleep. And the only relief that I could find in as soon as I would wake up, those thoughts would flood back into my mind and making every waking moment as miserable as possible.
Rodney Olsen 
In the end, you mentioned that you checked yourself into rehab, give us a bit of an understanding of what happened in that process.
John Simmons 
So I was 29 years old, I woke up one day basically was reflecting on the life that I was living in how much money I've lost and how many relationships I broke in and how miserable I was and how alone I was in this little, you know, one bedroom apartment, and I didn't talk to anybody unless I was at work and the work was causing me to, you know, be in a culture and an atmosphere of continuing to do the same things over and over again, I was in this bad cycle. And I wanted out. This wasn't the life that I thought I was meant to have. As a young boy, I just thought I was gonna do all these things. And to have lost all those dreams was really upsetting to me, when I finally woke up at 29 and realized that I hadn't reached them. They weren't even in the distance. It wasn't even like I was in just a few years on my get it No, they were gone. They were long gone. And that was really that was upsetting to me in a major way. And so I went into this rehab facility in town. It's a joke anyway, because the rehab facility that I call to get put into is run by the government that also runs the casinos. So it's like having the the people who make the cigarettes make the cigarette recovery material. They make money either way. So the system's not really built for creating successful support. When you go into these programs, though, there's a couple different things you can do. They recommend going to GA Gamblers Anonymous meetings where you meet with other problem gamblers and you share swap, bad beat stories. And commiserate essentially, is what I believe were happening in those meetings. And some people walk the steps, but I was seeing the same people in these meetings that I saw there years ago. And so no one that I noticed was even getting the help they needed. I went in and I started to have counseling sessions and group sessions, trying to stay clean, and I was trying hard. I'm going to do this, I'm going to do this. And I remember it 30 days I've gone 30 days sober. And that was probably the first time I'd gone 30 days sober in a decade, one of my counselors handed me this pin and it was like 30 days clean. And everybody clapped. And then john, great job, you did an awesome job. You're so awesome, good job. And I remember feeling pride in myself for the first time in a long time. And I hadn't experienced that and so long that I created that I was like, Oh, I'm gonna keep doing this. Like I couldn't have pinpointed why that was happening. But I was definitely feeling that I wanted to chase that high. And that was a new high essentially, of this recognition of the things that I had accomplished in life, when really all I had done is not done this bad thing for 30 days. So I went 60 days clean, and I went 90 days clean in both sessions. The party happened to get a good job, john, you did a great job. Great, great, great. And then my counselor said at the end of 90 days, and this is the thing that set me on a path to change my life. He said the next time we'll celebrate your win as a year, and we only celebrate years after 90 days. And I go what Wait, why? I was like, I need this. I need you to continue to like encourage and support me and like I need a goal to drive through because the desire to gamble has never left my heart. Every single day for 90 days. My thought life had been gamble, gamble, gamble, let's go to the casino and gamble, let's go to placing gamble, let's but like that was my thought life. I was doing everything I could to stop myself from doing those things. I would overeat I gained over 100 pounds during the season in my life, from constant overeating. I would smoke 100 cigarettes a day, you know, I would do anything that I could to either try and take my mind off, I go to the movie theaters to take my mind off of these things or to just avoid it altogether. I had no one to spend time with no one to be around me. So I'm isolated. And I'm trying to get fixed. And I was so upset when my counselor said that I wasn't going to get any affirmation anymore. And I realized that the desire to gamble hadn't gone away. I asked him in that session, I said, Well, this sucks. I said, this is rehab, you're supposed to fix me. Why aren't you fixing me? And he's just basically like, well, we don't fix you was his response. We don't fix you. He said you have to learn to live one day at a time, or 15 minutes at a time. And they quoted the Serenity Prayer at me again. And I was just like, no, this is ridiculous. This isn't working for me. And so I left that session. I called my bookie I put all the money that I'd saved up in 90 days on a bunch of bets and I went on this eight day bender and I just spent anything that wasn't tied down on my part it went to the pawn shop. Everything went out the door any money I had was gone. At the end of it. That's when I finally was like this is it. I guess this is I've I've placed myself in a hopeless situation. There's nowhere left to go.
Rodney Olsen 
And what was it that then brought about the change. You've gone through the counselling and that didn't work, you're really just going through the motions, you've gone through the rehab, expecting to feel fixed and for that desire to go away and found out. No, that's not what we do here. So you've gone on another bender, and that hasn't helped, what actually turn things around for you?
John Simmons 
Well, at the end of the bender, I was just beside myself crying in my dark one bedroom apartment. That's when the the legitimate thoughts of suicide can remind for the first time, I was thinking about taking my car and driving it into a wall, or jumping off a bridge, which I'd seen one of my other poker friends do a few years earlier. And he had killed himself because he was in a similar situation. started about taking the pills in my apartment, and I had serious thoughts about taking my own life that night. And in a like, just a, oh my gosh, what's happening to me moment, I was just like, oh, maybe I'll maybe I'll pray. I've heard people talk about prayer before. I haven't talked to God. In a long time since that prayer that I thought killed my father. I know that now that that's not what he did. So I sat on the edge of my bed, and I sort of just looked up at the ceiling. And these are the words that I said, and I didn't really know how or what to pray. But I said, God, if you're real, I need you to show me a future and a hope for my life because I just don't see one anymore and in that moment, I started to hear the words repeat in my head, The kingdom of heaven is upon you. The kingdom of heaven is upon you. And it just started getting louder. And I honestly thought, Rodney, that I had gone crazy that I was finally hearing voices because the kingdom of heaven is upon you was not a phrase that I was not even not familiar with, but I didn't even understand it. And so I thought weird things were happening. I ran out of my bedroom, and I ran into the living room. And I noticed my dad's Bible, it was the one thing from my dad passing away that was given to me. I didn't have any of his clothes. I had no articles to remember him. I didn't even hardly have any pictures. But they'd given me his Bible after he passed away. Apparently, he was a he was a believer. He taught Bible school years ago, he never talked to me about Jesus any any point. But I opened up his Bible, I felt compelled to, I don't know really wide carried it for 20 years, he'd been dead for 17 years at that point. And I had never opened it. It is collected dust on the shelf. And I didn't really know what to look at. But I felt like I had to start reading it. And I opened it up to the New Testament because I knew from my brief experience in church that Jesus was in the New Testament, I was just like, I think I need to read about Jesus. And so I opened up to the first page of the book of Matthew and a couple paragraphs into this reading. It says, Repent, for the kingdom of heaven is upon you. And I froze. I just stared at that sentence for a few minutes. And I felt this warmth on my body. And I just, I remember, choking up and in that moment, I realized God's real. I think he's talking to me. I just kept reading that book of Matthew that night a couple times. And I had this revelation that night. That all the words in this Bible that everybody told me for my whole life. And I agreed with a lot of the opinions of the world that the books of the Bible are for old people. They're just a list of rules. They're hard to understand, no one really gets it. It's a bunch of contradictions and all these things. And I believed all that, but I was having a different experience. In this moment. I was reading the book of Matthew and I was reading about the life of Jesus. And these words, were jumping off the page and into my heart. I realized in that moment that this guy had come. And he had lived a life for me. And he died on the cross without doing anything wrong, so that I could find forgiveness. And so I got down on my knees. I didn't know what to do. But I was just like, God, I messed up. I've just lived a life that's dirty. I don't even I don't even know what the prayer was. But I remember just, it all came out. God help me I need your help. This is not something I want to carry anymore. I don't even know what to do I owe all this money in Lord just forgive me, just please forgive me. I don't want to do this anymore. And it was just, and I felt all the weight of the world fall off my shoulders. In that moment, it was the best relief that I've ever experienced. It was physical, in the sense that I literally felt like a pressure and a weight had been lifted off of my body. But in that moment, I realized that life was about to get different for me. How different did it become because you're still a person who has this enormous debt that you're having to pay back. You're still in the same situation. But as you're saying, there's this weight that feels it's been lifted from you. So
Rodney Olsen 
How did that change start to manifest in your life?
John Simmons 
For me, it tarted with daily Bible reading. I was I was so thirsty for God's word that in that early days that I wouldn't leave without my Bible. I'd go to work with my Bible. I'd read my Bible in the in the break room at work or in the car and I listened to sermon messages on the radio on the drive to work or when I got home, I would watch Christian sermons on TV and I was just trying to fill myself with all these new ideas and things from the Bible and trying to learn more about who God was and his love for me and how to make my life different. Not really applying much of it yet. At one point I remember somebody asked me if I wanted to go to church with them. And I was like, No, I don't need church. All they do is take your money. And I just was like, I don't want to go there. I've got my Bible. That's all I need. And, of course, I was wrong. I needed that community, the community that I hadn't had in my life for so long. Eventually, I find myself in a church service for the first time and the pastor. He had a series on vision and he said, if you're a Christian, you need to find God's plan for your life. And you find it by praying for it. And this was revelation knowledge to me, I'd never prayed for anything except my food at that point. And so I was like, Okay, well, if God's got a plan for me, I want to plan for my life. I'm aimless, I have nowhere to go, I have no word. I don't know what to do. I'm working at this casino. I obviously want to get away from this gambling addiction, which didn't come off right away. I start praying for six months, every day, every minute that I can think to pray, God, show me your vision for my life, God, show me your vision for my life. So for six months, all I prayed for was food and a vision. And as I was doing that, I was continuing to study God's word and go to church more often I got involved in the parking lot ministry waving at people as they came into church in the mornings. And I was excited where my life was, but I still had the issues and the results of my sin, you know, the debt that had piled up and I was still smoking a lot. And I was still drinking and some of these things, and God started one by one. taking those things out of my life. The first time that had happened was with my cigarettes, and I was trying to lose weight. And on a walk, I was smoking cigarettes. And I just remember the holy spirit being like, how are you ever going to get healthy if you're doing that? I tried quitting smoking a dozen times before I was saved pills, patches, gums and all that and never worked. But in that one conviction note, I threw that pack of cigarettes in the in the dumpster near me, and I never smoked again. And it was this just deliverance moment. For me. That happened a few times later, it happened again with my drinking. And then eventually, with my gambling, I placed my last bet a few months after I'd gotten born again. And I got back into the casino for the last time and I had this not this huge knot in my stomach. It felt like there was weights on my ankles as well. And I just remember the physical manifestation of like, john, you should not go in there. John, you need to get out of here. And so that was the last I walked in there. And I played for about five minutes. My stomach hurts so bad from being in there that I left. And I cried on the way home and I was just like, oh, gosh, what you know, why do I feel like this and, but that was him breaking that off me. And so I never made another bet again, of course, you still have to deal with the issue of the money. And so I stayed at the casino until May of the following year when God gave me the vision for Testimony House. after praying for six months, God revealed to me that I would start a ministry, I knew it was God talking to me because I didn't really know what a ministry was. I was like a ministry, the only ministry I'd ever heard of at that point was the parking lot ministry. at my church, I was thinking, you want me to go wave at people like I don't know what that is, or how that's a job. But that's what I saw, I knew that it was him talking to me. And a few hours later, he gave me a download. And I've never experienced anything like this before since and he said, john, you're going to start a ministry, it's going to be called Testimony House, I was in the middle of dealing a poker hand at work, I stopped basically stopped the hand and everybody's just sort of looking at me and I take a pen that was sitting next to me and I start writing on my hand Testimony House, it's going to be a Christian Learning Center. And all these words are Greek to me, I don't know what Testimony House is as that's not something I've dreamed of, or thought of, or, you know, I had aspirations to be a musician, or maybe you play Christian music, if he was going to give me a plan. Those are my plans. His plan was for me to share my testimony, and start a ministry where we share the testimony of others. And I write books where I'm inspiring and encouraging others to walk out and find God's plan for the life. And that's those are the types of things that I'm writing down here on my hand and this poker table, because I don't want to forget what he's saying to me, I get home and I put them all in a Word document. And it's about 20 pages long. I've never done anything like this. And I start sharing it with some of the people from church and they're like this must be from God, because you're, you're too dumb to have thought of any of this basically, is the gist of their conversation to be like, and so it was such eye opening that oh my gosh, I found the vision that I've been praying for for six months. I don't know what it looks like, I don't know what's going to happen. But over the course of those six months, God had delivered me from the afflictions in my life. God had given me a new a new vision to walk towards in my life, I still had to pay down debt. You're right, Rodney, and it took me years of that. And you know, it wasn't until, in fact, the summer of last year that I finally became debt free. And so now I'm debt free walking in fullness of what God has for me in ministry. And in life. I have a family and a wife and three kids,
Rodney Olsen 
There's a couple of things. I just want to touch on there that you've talked about. And the first is the fact that you prayed constantly for six months. God give me a vision. And I'm wondering, firstly, do you think that people give up way too soon when they're praying for something that they might pray for a couple of days, maybe a few weeks? If they're being really persistent, it might be a month, but then it's like, well, God's not bringing it. And the other thing is the fact that the Holy Spirit was actually touching you on the shoulder and saying, Hey, this is time to give this up and then giving you the power to do that. Do you think so often We try and take the place of the Holy Spirit by telling people what they should and shouldn't be doing.
John Simmons 
Yeah, I'll start with that question first. So the Holy Spirit thing is it was so unique to me, because I remember having to ask people like, Is this normal? Like, it was so unusual for me to, like, hear that internal monologue that I knew wasn't my voice? And that's how I experienced the Holy Spirit, you know, these these just little phrases? Usually, it's a question like, why are you doing that, and these sorts of things. And so for us, we're just like, well, to stop gaming, why can't like I've tried, I'm saying that I still can't stop. Like, I need the Holy Spirit to show up and convict me and, you know, speak to me in a way that my mind needs to grasp the reality of the situation that I'm in. And it was so awesome for me to experience that I would encourage anybody who's like trying to hear the voice of the Holy Spirit to just like, what, usually when it's telling you to do something, you know, you shouldn't be doing that's probably him. And you just listen to some of that walk into instead of trying to like, self correct, because I self corrected for 10 years, Rodney, and nothing seemed to work, you know, my family tried to give me a self correct I was sent, I was one time sent to a psychiatrist where I was prescribed pills to stop me from gambling, and they definitely worked. But I also didn't want to leave my couch or work or live or do anything else. So they didn't really work as in terms of being able to correct my life. So all these things that I had done, none of them worked as good as is partnering with the Holy Spirit to walk in what he wanted me to do with my life. As far as the vision goes, I absolutely believe that a vision is the number one thing. This is my own personal opinion, a vision is the number one thing that can help someone in any issue of their life. Whether it is you know, you're sick, and you need to find a vision to be healed, or someone in your family, or whether it's a you're an addict, and you need to have a vision of not being an addict. And you need to figure out what God's plan is for your life so that you could walk further in that. And for me, the desire to pray was well, first off, it came because I didn't know what else to pray. No one had taught me how to pray for anything besides vision and food. And so I was like, well, these are the things that I pray for. But it was such a hunger for me because I had nothing else. I had nothing else in my life. And I was so desperate for it. And you see this often in the Bible, the stories of the people who are like Daniel, fasting, fasting, fasting, fasting, and praying, fasting and praying, and he was so desperate to get out of his situation. And so many times you see this in other Bible people, that's what I was experiencing, I was so desperate to find what God had for me because Jesus died on the cross for me. And I recognize that now, I asked for forgiveness of my sins. But he was asking for more he was asking us to take up our cross and walk with he's asking us to walk in love and demonstrate the power of the Holy Spirit. And all these different things in the Bible were talks about like your next steps. I was like, I want to do that for him. He died for me, I want to give my life to Him. And so for me, I was like, I'm gonna find it, I'm going to go chase this vision, I'm gonna pray for it everyday, I'm going to believe for it, I started writing things down. And in the midst of all that, I will let you know that I I stepped out on my own a couple times trying to be like, well, maybe this is what he wants me to do. And so I tried a series of things, including trying to be a stand up Christian comedian, including trying to write Christian music and starting a Christian band. I tried to start a Christian podcast, and I did all these things that I thought was God speaking to me. But it wasn't, it was me trying to fill in from God, when you hit when I heard from God, I knew it was God, it was something way bigger than anything I could have planned for myself. That's how you know it's him, because you're going to need help from others to do it. The other thing is going to be probably be something you don't necessarily want to do in a million years, I would have never expected to be brought in, sit in a ministry and lead a ministry. Now that I'm in it, I realized that Oh, my goodness, I have been made and created and designed specifically for this. And I got when I finally read Ephesians 2:10 and said, You are God's handiwork created to be used by God for great things. Through Jesus Christ. I was just like, this is what I've been created to do like this, is it? I know that this is it. And so for people who are giving up on their visions, yes, I absolutely would agree with you that so many of us, we don't see it overnight. And that as time passes, it becomes so easy to let go of the things that are important to you. Because you're just not seeing any fruit in that area. We give up so often on vision. But if you just press and you say God, I want this so bad and you don't give up and you don't let those prayers go. Imagine the moment you can have where God gives you a revelation where this is the answer to your prayer. This is the healing you've been praying praying for this is the vision of a career that you've been praying for this is the vision of unlocking the salvation for your child has been such a trouble and hasn't been able to get saved or set free from the damage they've done in their own lives. All of these things can happen if you just don't give up Never give up on that prayer.
Rodney Olsen 
I know that there are several different aspects to Testimony House so the ministry that God asked you to set up maybe you can give us a thumbnail sketch of what Testimony House is all about.
John Simmons 
Testimony House we call it a Christian Learning Center. Our Our objective is twofold. One is to lead the loss to Christ and we believe we're doing that mainly through creating testimonial videos and books and doing podcasts like this where I either either share my testimony or Share the testimony of others. We do long form testimonial videos. We do short form testimonial videos, we do books that have testimonies in them. All these things are to encourage someone who doesn't know Jesus to find Jesus, someone who is dealing with something and wants to have an aspiration of faith and their own heart. They can overcome or get through or find Jesus in those types of moments for themselves. The second part of our ministry is that we wanted, we call it finding God's sentence for your life. But most people would say, your discipleship, or they would say, finding God's plan and purpose for your life. So we want people to get saved, and then we want them to find what God has for them. We created in the last two years, a studio here in my house where we create live stream content, we invite other ministries to come in and share the messages that God has put on their heart. We do videos, I've written several books, one book's called Finding Faith, and that articulates my path from gambling addict to being born again. And the one called God Has a Sentence for Your Life where I describe how you are step by step guide on finding God's plan for your life after you get born again. And so mostly what we're doing is online videos right now. And we would like to do more events and things in the future. I am sure that there are people listening right now, who want to find out more about this, where's the easiest place for people to track you down? testimonyhouse.org is the website where you can take a 12 question quiz and find out where you are on your path to writing God's sentence. If you want to see any of our video resources, we've merged everything into YouTube, all of our videos, all of our content that has been currently distributed as on our YouTube channel, it's youtube.com/testimonyhouseorg
Rodney Olsen 
So there's a couple of easy ways to find you. And we will put links to those URLs in the show notes at bleedingdaylight.net, so people can find them there. But John it has been a delight to speak to you to hear about the transformation that you have you experienced, there can be no doubt that something amazing has happened in your life, and you're continuing to share that to so many people. So I want to thank you for spending some time sharing that story here on Bleeding Daylight,
John Simmons 
Been a pleasure and honor I thank you so much, Rodney, for having me on today.
Emily Olsen 
Thank you for listening to Bleeding Daylight. Please help us to shine more light into the darkness by sharing this episode with others. For further details and more episodes, please visit bleedingdaylight.net