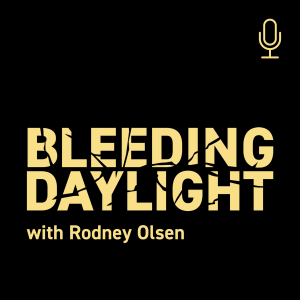 Monday Apr 19, 2021
Lori Morrison - The Unlovely Truth
In recent years, we've seen a growing interest in what many refer to as true crime. There are blogs, books, podcasts, television shows, and more dedicated to delving into the details of real crimes, and in many cases seeking resolution for previously unsolved crime. Lori Morrison takes us deep into the world of true crime. Lori is a paralegal and a licensed private investigator. Her podcast, The Unlovely Truth, is dedicated to exploring the intersection of faith and true crime.
https://www.theunlovelytruth.com/
https://www.facebook.com/theUnlovelyTruth
https://www.instagram.com/theunlovelytruthpodcast/
(This transcript is intended as a guide only. It may not be 100% correct.)
Emily Olsen 
Wherever there are shadows, there are people ready to kick out the darkness until it bleeds daylight. This is Bleeding Daylight with your host Rodney Olsen.
Rodney Olsen 
Thanks for listening. Please connect with Bleeding Daylight on Facebook, Instagram and Twitter, and please share this and other episodes with others.
Our guest today takes us deep into the world of true crime. As a private investigator she's seen the best and worst of people. I'll introduce you in just a moment.
In recent years, we've seen a growing interest in what many refer to as true crime. There are blogs, books, podcasts, television shows, and more dedicated to delving into the details of real crimes, and in many cases seeking resolution for previously unsolved crime. My guest on Bleeding Daylight today is Lori Morrison, a paralegal and a licensed private investigator. Her podcast, The Unlovely Truth is dedicated to exploring the intersection of faith and true crime. Lori, thank you for your time today.
Lori Morrison 
Well, it's a pleasure to be here, Rodney.
Rodney Olsen 
I want to explore the reasons that people seem so fascinated by the dark world of crime and maybe the best place to start is asking, what is it about crime that actually fascinates you?
Lori Morrison 
That is a great question. I cannot remember a time when I wasn't interested in mysteries. You know, I started out with the little kid mysteries, the Encyclopedia Browns, and the Nancy, Drews and all that and then got into more literary I guess, if you will more adult things with Earl Stanley Gardner and Agatha Christie, and those just always fascinated me as puzzles. And when you look at true crime, I think that puzzle factor is still there. And the whole psychological aspect of what could possibly drive a person to behave this way.
Rodney Olsen 
So you think there's something in there that makes us wonder, what's going on in that person's mind? Am I someone who could actively carry out a crime like that? Is there something deep within me, do you think that there's something of that, in the whole sense of of wanting to tune into true crime?
Lori Morrison 
Exactly. Because at our core, we want to think, why I'm different from that person, I could never do that. Or that could never happen to me. You know, we're all the same. We all have a broken nature. And you know, the Bible tells us that our hearts are all dark. And without God, there's nothing good in us.
Rodney Olsen 
Do you think sometimes it becomes a little bit morbid for people that they're wanting to find too many details? Or is that part of the the interest that we have into wanting to know it all?
Lori Morrison 
I think it can get too morbid. I know that I have worked a case where people have publicly shared autopsy photos and that's absolutely no one needs to see that, you know, the family really didn't even want to see that you're at your absolute most vulnerable at that point. You know, what, what's left of you here on earth. And so, you know, people using that to hurt other people, or to be sensationalistic or to just have clickbait to get people to look at things, you know, really appealing at the darkest aspects of our nature. I really try to stay away from that type of thing. I want to talk about the issues that are important to understanding why things happened. Understanding, is there a way we can protect ourselves and our loved ones? And is there an avenue of service that we can be involved in? to help prevent these things from happening? Again,
Rodney Olsen 
There are a lot of people delving into True Crime through a range of podcasts these days and I wonder how many of those people are actually reaching out to the victims of the crimes to the families and seeking permission or just going here? And this comes down to that question that you're mentioning, of how much should we share?
Lori Morrison 
I agree. And I I've done a mix of both if, of course, my podcast is based on true crime books, because I just I love books. And I thought that would be an interesting way to choose issues to talk about. And I have had victim's family members on my podcast, you know, you have to think about what is your motivation? Why are you doing what you're doing? And I actually had started out, I was just gonna do a little True Crime book review, you know, this one is balanced and victim centric, this one's exploitative, and kind of tried to steer people that way. But a very good friend of mine, we were talking about how I was getting things set up. And she said, You know, there's a lot of noise out there in the true crime world. And there certainly is, like you said in your introduction, TV shows, documentaries, movies, podcasts, books, it's everywhere. And she said, the thing that makes you different Lori, and that would bring a unique perspective is your faith. And she was exactly right. And so I pivoted just a little bit. I still use the books because I just I love the books. But I tried to just kind of summarize a story, because we were a people that love stories. And that's how Jesus taught as well. And I tried to pull out larger themes, whether it be forgiveness, retaliation, whatever that book really highlights, and talk about how that can apply to our lives in any area of our lives, because most of us, thank goodness are not going to run into a serial killer in our lives. Most of us are only going to meet maybe touched, kind of at the edge of something. And so I wanted to give people that sense of again, how do you make sense of this? How do you maybe protect yourself and your loved ones. But I want people to understand that there are simple things they can do to be of service, I call it being a true crime hero. You can do things that help victims that help maybe prevent some future victimization, and even help maybe, and this is a hard one to swallow the perpetrators. Because God loves them. He doesn't love what they did. But he loves them in the same way he loves us. And we're all created in his image.
Rodney Olsen 
There's so much he there that I want to draw around. And maybe before we go there, I'll ask this question. We see so many programs, there's CSI programs, and all sorts of other things that we've seen on TV over various years, NCIS, and all these different things which are about solving crimes, and even back in the day of just good old fashioned murder mystery, which are fiction. Do you think sometimes the lines blur and so when we're actually getting involved in something that happened to someone that we blur the line, because we're so used to these mysteries as entertainment,
Lori Morrison 
I think that can definitely happen. And of course, it's it's pretty well known the CSI effect. It's even affecting juries, everybody expects that there are going to be fingerprints and DNA, and surveillance camera footage and that's just not always the case. fingerprints in usable form, aren't that easy to recover, they get smudged, they get smeared. If it's a potential offender who has been around that victim, maybe they live in the same house, their friends they visited, of course, there's going to be fingerprints, DNA is only going to help you if you have a sample to compare it against. It's not as easy to solve a lot of these crimes as people think. But then on the flip side, some of them are a little easier to understand what probably happened, but difficult to prove in court. And I think that frustrates people, you know, the rules in our justice system, where certain things are admissible, certain things aren't. And I get that frustration, I really do. But you've got to protect the rights of the accused. Because someday that might be you.
Rodney Olsen 
How do you as a person of faith, managed to continue to surround yourself by this darkness of true crimes and some fairly despicable things happening to other people to victims? And yet hold on to your faith? How do you surround yourself with all of this darkness, and yet still talk about the light,
Lori Morrison 
You do have to be very intentional about working that through. So I make sure I'm staying in the Word, I'm having my time with God, staying in community that is very, very important, having other believers around you that they're bringing other perspectives into your life. And I think for me, what really helps is something that a victim's mother said to me, I was interviewing her, she was telling me her daughter's story. And she had actually become a victims advocate she was working with and for other families who had gone through similar situations. And I asked her, how difficult is that for you? Does that just constantly bring up your own pain and your own tragedy? You know, how do you do that? And she said, Oh, it heals my heart. I was so blown away with that amazing perspective. But she's right. In any type of situation, when we get too involved in self, that darkness is going to stay as a cloud around us. But it's by stepping out. It's by helping others. It's by focusing on other's needs. Because the darkness never leaves on its own. The light has to come in and drive it away. And so I try to remind myself, that that's what I'm doing. It's not about being stuck in the darkness. It's about needing to go there because without me bringing the light into it. It's not going to go anywhere.
Rodney Olsen 
You mentioned that there are some of these television shows that have changed our perception What really happens and so we expect there to be perfect sets of fingerprints everywhere, and DNA that automatically matches and and it's in the system. But of course, one of those other areas where we have got a wrong perception at times I'm sure is that of the private investigator, there are magic life that that is tell us what it's really like,
Lori Morrison 
Well, it's definitely not like Magnum PI, he kind of want to blend in, you don't want to be driving the flashy car and wearing the the loud, bright clothes. So you know, that's fun to watch on TV. But I try to really, really blend in. I try to be unmemorable, if you will. And it's not glamorous, I've I've done surveillance before where you sit, and you sit, sit for long periods of time, waiting for something to happen. Because you can't always predict when people are going to do what it is you want them to do. The hardest thing for me is, if you're interviewing an individual, it really depends on your circumstances. But a lot of times you're trying to get information from individuals, and you don't really necessarily want them to know why you want it. And so you come up with what we call a pretext, you give them a reason to talk about something that's slightly different from your, your actual motive, and trying to be sympathetic and warm and draw information out of people that you feel may have done some fairly horrible things. That's not always easy. But I think you see on TV, you know, people are coming in, and they're being really aggressive, and they're demanding answers, and the people fold and give it to them. I have not really found that that works. Well. I think you come in with a softer approach. You're sympathetic, I apologize a lot. I'm so sorry to be bothering you really try to put people at ease. Sometimes in an unguarded moment, they'll tell you something that they don't really realize, has given something away.
Rodney Olsen 
I do remember being a jury in a court case quite some time ago, and watching the prosecution talking to to the witness who was the defendant. And it was quite interesting to see just some of the almost, you know, passing by kind of questions that were asked, and I just kept thinking that's gonna come back and most of the time it did. So I imagine it is the same as you say that you're asking questions, that the person that you're talking to isn't necessarily imagining that this is going to be a key piece of evidence.
Lori Morrison 
Right. It's interesting, though, I did have one person that the minute they said something, they realized that they shouldn't have said it. And their body language and their facial expression, and even a quick intake of breath. You knew, okay, that information is important, because she just realized she should not have shared that, from her perspective,
Rodney Olsen 
As a person of faith. you're wanting to do the right thing to to be an honest person, obviously. So where do you draw the line with the ends justifying the means? So you're having to come up with a pretext, which is not necessarily what you're really there for? How do you draw that line for yourself as a person of faith?
Lori Morrison 
That's a great question. And nobody has ever actually asked me that. So I'm glad you did. I try very hard not to lie. Because just from a practical standpoint, when you start telling lies, you have to remember what you told who. And the truth is just always easier to remember, what I tend to do is make kind of open ended statements, and allow people to interpret them the way they want to. And then as you see that they're thinking that the conversation is coming from a certain point of view, you just, you just kind of roll with that. If I actually have to tell something that is not entirely true. Again, I try to stay as close to the truth as I possibly can. But I also try to remember Rahab, you know, she missed directed the soldiers away from the spies. And that was credited to her as righteousness, because her larger purpose was God's work and having God's justice be done. And not that I am some agent of God and in some kind of, you know, overblown way, but God uses people that is how he often does his work in our world. and so I just tried to remember the bigger picture of what I'm trying to do, and why I'm trying to do it and who I'm doing it for not only my clients, who are victims, but also a God who loves justice.
Rodney Olsen 
Again, to contrast the wonderful world of television, which is where most of us get our information on these things. In the real world, of course, on the TV, the cases that private investigators take are always involving a millionaire and, and there are all these hard cases to crack, I would imagine that the sort of cases that you have to take on a quite different to that what would an everyday case be that you would need to take on as an investigator?
Lori Morrison 
Well, I have yet to work with any millionaires. So we can dispel that myth pretty quickly. Unfortunately, a lot of people that I'm working with are folks that are just broken, because they feel like the system has let them down. Maybe someone whose loved one has passed, and there was no real investigation, they just quickly said, Oh, this is a suicide, we don't really need to look into things. And the family says, but when I look at the circumstances, and I know my loved one, I just I don't believe that's true. So sometimes it's families that are just wanting more information, to either confirm that determination, or if that determination is not correct, they want justice for their loved one. And they want to take back a narrative that was false. So I've done a lot of work in that area. Sometimes I'm working with attorneys in civil suits. So that's a little bit of the more mundane, where you might have some surveillance, that kind of thing. So it's a pretty mixed bag, but it's not ever really movie worthy from a Hollywood standpoint. Now, from a human standpoint, I think these stories are incredibly compelling, and actually would make good documentary type series again, to to educate people on if your loved one has been a victim of a crime. Here's some things that you need to be doing, to make sure that an investigation is staying on track, and doing everything that needs to be done. Because you know, police departments can get overwhelmed, they just don't have the time to devote to every case that comes their way. It could be a type of crime, that doesn't happen in that jurisdiction very often. And you just don't have officers with the training and experience to look into that particular type of incident. Just a lot of different factors. A lot of times, it's just helping families walk through this and get answers that they are wanting.
Rodney Olsen 
So let's take those examples you're talking about. Sometimes if if a client comes to you and says, look, the police have said that my loved one has suicided below, I believe that there's something more in it, or a case like that, and you're trying to exonerate the person who has passed away from what they've been accused of doing. Oftentimes, I'm sure that you're able to come up with that evidence. And that's a great relief for the client. But there's obviously other times where the evidence that presents actually confirms the police's case, how do you comfort a client when you come to them and say, Look, I'm sorry, but this is how it happened.
Lori Morrison 
That's a tough one. I've had my my arms around clients while they cried. And you just, you just have to be there for them. There's, there's really nothing you can do in that moment, that's going to fix anything. And I think a lot of us are fixers, we want to be able to step in and do something to make it better for them. And if we don't think that we can, then we tend to shy away and not do anything. What I've found with a lot of these families is they just want to be heard, they want to be told that they're not crazy for thinking what they thought, even if things are are looking like they were wrong, because that's going to be most families natural tendency. You know, my loved one didn't do this. You know, you just you have to be willing to sit with them while they absorb that. You have to be willing to just let them talk, let them cry, let them do whatever they need to do. And let them know that they're not alone.
Rodney Olsen 
A lot of the trouble that people find themselves in, as we have said, or what more mundane than the sorts of things that that we might imagine even coming down to the fact that there are disputes between neighbors. And we hear about this all the time. Have you ever had to intervene in that sort of a case,
Lori Morrison 
Actually a couple and one of them was quite scary because the neighbor had a family member that lived with them that we weren't certain was entirely stable, and they had access to a lot of weapons, and routinely liked to just shoot those weapons kind of wherever they were. The neighbors felt very He threatened certain actions that had happened, I understood why they felt threatened. And so drying to step in law enforcement was getting a little tired of being called out, didn't really see this as a problem. And so just just working with them to maybe almost be a go between. And of course, civil litigation is always a good opportunity to let cooler heads decide what should be done. Because a lot of times, people wait until things just get so heated, that the parties themselves really have no good way of working out their differences. But if you can say, you know, look, there's been this type of civil wrong, let's see how the system handles it. And then we will live by whatever is decided in that venue. And sometimes even if somebody thinks criminal behavior has been possibly involved, and the police have not uncovered what they think is enough to move forward in that direction. civil litigation can help there as well. If you have McCollum torts and civil litigation a civil wrong as opposed to a criminal wrong. If you have a tort, you think you can prove a lot of times if you can get that into civil court, that gives you the opportunity to explore other investigative avenues, you can serve subpoenas for documents, or you can hold depositions where you're able to compel sworn testimony. So that venue is very, very helpful. And so with my background as a paralegal, also, I do work with attorneys. And hopefully I can help again, kind of bridge that gap between them and their client. And also maybe save the client some money, litigation can be very expensive. And it's very unfortunate that families would have to pay out of their own pocket to do things that they felt like the authorities maybe should have done. And so if I can do some of kind of the heavy lifting, and then the, the attorney supervises it all and does all the final work on it, that can often help families in that way. And I'm glad that I'm able to do that as well.
Rodney Olsen 
Social media these days, has really cracked open the world to us in seeing what people's immediate reactions to things are. So we're not just having conversations with like minded people where we're seeing the whole thing broken open. And whenever we see a crime or reporting of a crime in social media, there is an overwhelming sense in the comments of just throw the book at them, they deserve this. And yet, you earlier mentioned that as people of faith, we need to be offering some sort of hope, or some sort of love to the perpetrators. How do we do that? How do we keep that balance between bringing justice in a situation, and yet still honoring and loving someone who has done the wrong thing?
Lori Morrison 
I will admit that that is very hard for me. Because when you're working with clients, you get emotionally attached to them. And so someone that has wronged them, it is very hard to to have warm and compassionate feelings for that person. So again, I think that's one of those things that you have to be very intentional about, you have to cultivate that mindset, because I don't think it's a natural mindset for most of us, because we do like vengeance and making things right and punishing bad people and rewarding good people. And it's just hardly ever that neat and tidy. You know, life is messy and when you're talking about criminal behavior, it gets even messier still. And so just remembering that, again, like we said before, deep down in all of us, is that broken nature, that sin nature that we all have that little darkness in us that were we to make a series of disastrous choices could lead us to some pretty dark places where we are really capable of doing things that we don't like to admit we're capable of doing. And so just trying to remember, this person is a dearly loved child of God, no less than I am. I may have made some better choices than this person did. But you know, sin is sin. There are issues in my life that God is highly displeased with. And so, just trying to remember that you're not better than that person, that you're maybe just making some better choices right now. your priorities are more aligned with God's and At the moment than this person, but you're not better, you're not more loved. So just being super, super intentional about remembering that it's, it's just the mindset that we bring to what we're doing. And it's hard.
Rodney Olsen 
You talk a lot about choices there. And I know that as you investigate cases, and as you say, You've become quite close to some of the clients and someone has done them wrong, or they times that you actually investigate, but you can start to see the circumstances that have led them to this dark place.
Lori Morrison 
Oh, for sure. And not that ever excuses what anybody does. I don't want people to think that I'm doing that. And it's never about blaming the victim, you know, you shouldn't have been involved with this person, or you shouldn't have been in this place. Nobody wakes up in the morning and says, I'm going to make a series of choices that will lead me to be a victim. Nobody does that. So I don't want people to think that victim blaming is ever appropriate. And typically, I find it so interesting, because we would never blame someone whose house got broken into. Well, why did you have that nice TV? Well, why did you not have a security system? We wouldn't do that. But especially sexual assault, physical assault, and homicide. There are times when we say, Well, you know, if you wouldn't have been there, if you wouldn't have done that. But like you said, on the flip side, you can start looking at these perpetrators. And you can say, okay, you made a lot of bad choices. But some of these choices were made for you, whether it was in your childhood, or whatever. And again, I don't want to say, you know, if you had a bad childhood, you get a free pass on whatever you do. But you can see where kind of the foundation of that was, was laid. And so one thing I like to really encourage people to do is, if you are someone that really likes the true crime genre, you want to make a difference in people's lives. But you don't want to do something crazy, like I did and go out and become a PI, I already take that kind of leap, mentor at risk youth. Those kids don't always have someone that is showing them what the better choice is. And so if you can be that person, whether it's through sports, or scouting, or youth group at church, or whatever it happens to be, if you can help those kids learn that there's a better way, learn how intentional you have to be to stay on that path, then you are making a difference.
Rodney Olsen 
I know that in your job, you must put yourself into risky situations, and there's probably quite often danger there. What are some of the most dangerous situations that you found yourself in?
Lori Morrison 
I actually try to avoid danger every time I possibly can. I am certainly not someone. Yes, thank you. I'm not someone that courts that. So there are cases I've actually turned down. Because I think that the personal danger is really more than I'm equipped to take on. There may be other people that are there better that they should be doing that particular case, probably the most dangerous one I've ever been involved with. Didn't seem that dangerous to begin with. And I was very fortunate. I was working with a team of investigators. And so they were mostly more experienced than I. So I was able to just really soak in their knowledge and their experience. They were all extremely kind, very mentoring. But we were working a case that had been a determination of suicide, the family, for good reason, did not believe it. And so we were investigating and doing some interviews. And it turned out that we found some information that there was perhaps some official cover up maybe possibly even misconduct and ties to some human trafficking. And that is a very dangerous area to work in. And we did not pursue that angle because it really didn't bear too much on the case itself. It was just kind of peripherally a part of it. I was very glad to be in a group. I try not to do a lot of things. One on one, if there might be any, any way that things are gonna go sideways. I usually take another investigator with me. My husband's gone with me before he's not an investigator, but he's just there to be a person because there's you know, so At a numbers, there are dangerous situations. And I let people that are better equipped than I to handle those maybe people that are ex military, ex police, that kind of thing. I do a lot of document recovery, that kind of that kind of evidence recovery, interviewing of witnesses. And a lot of times just writing out timelines, people have given different accounts of what happened. And when you start laying everything out and just writing it out in linear fashion, you realize, okay, I can't tell who's lying, but somebody's lying here. Because this could not have all happened the way everybody is explaining that it did. And so again, just kind of putting that puzzle together. A lot of investigative work is kind of behind the scenes like that,
Rodney Olsen 
In the middle of everything that you're discussing here. There's this internal scream for justice, and I can't help but think that this is really a part of the Father's heart. So I imagine that as you do spend that time in Scripture, as you do spend that time with God, there is something there that renews you to go back in as difficult as it may seem to actually see justice happen.
Lori Morrison 
I think a lot about Micah 6:8, where the writer says, What does your God one of you, He wants you to do justice, love, mercy, and walk humbly with your God. And so I try to balance those things. That, yes, we're going to seek justice. And yes, we're going to try to temper that with mercy. But most of all, we're going to be humble and realize that God is on the throne and is in control. And we're just trying to work out his purposes. And I've also come to learn, the longer I do this, is that justice can have different meanings. Not every case is going to be able to be resolved with this was the perpetrator, we bring them to court, we get a conviction. And then we go on with our lives, you're never going to be able to put a victim back in the position they were in before the incident happened to them. That would be true justice, restore everybody to where they were. That's simply not possible. So then we can look at our system of justice in whatever society we live in. And again, for different reasons. It's just not always possible to achieve that measure of justice. But some families find justice in knowing the truth. And again, being able to reclaim the narrative of what happened. If it's been put out there in a way that the family feels is false, or dishonouring.
Rodney Olsen 
We've tackled a lot of heavy stuff here. But I imagine that there are occasions when there is a lighter side to this investigation, or the humorous moments amongst all of the heaviness.
Lori Morrison 
Oh, sure. One of my favorites, the case that I talked about, where I worked with a group of investigators, we were from different parts of the country and media company had wanted to do a story on this. And so we volunteered our time, but they paid our expenses to come in and do this. And so we were all staying together at a giant Airbnb. And I remember, everybody came in different times of the evening, because we were coming from different places. And so the next morning, the first morning, we were all there together. We sat up in the dining room to kind of have a war room a little bit. We had already planned out what we were going to do. But we're just going over last minute things and did anything need to change and who was doing what and all that. And one of the investigators who is a security expert, he pulls a big like Rubbermaid tub out from under this table and sets it up on top and says, Okay, what does everybody want? And he pulls the lid off. And he said, I've got 22s, I've got this. And I'm thinking, I've never been to a staff meeting where they armed you. That was fascinating to me. And so I didn't carry anything my job in that particular operation was to kind of be the, the head of the nerve center, the operation center. So as people were going out, when they needed information, I was pulling information for them if they couldn't locate someone and they needed an alternate address. I was finding that for them and and keeping track of where everybody was because, you know, we were dealing with what we felt was criminal activity. And so you won't keep tabs on everybody. So that was my job. Kind of command central. But I did kind of geek out a little bit. And as we were going back to the airport, when everything was over, this particular investigator shared one of our rental cars back because his flight was at about the same time that ours was. And so I said, Can I carry one of the gun cases into the airport? Because I just want to be able to say that I did that. And he's like, Okay, if that makes you happy? Sure. And so I learned that when you take a gun into an airport, you immediately go to security, and declare, here's my gun, you take it, you know, there, there are little, little moments like that, that keep you sane.
Rodney Olsen 
Now, we've talked a lot about your work as an investigator, but coming right back to where we started, was talking about your podcast, and your your podcast is all about true crime and started out, as you mentioned, as really a book review of true crime books, and it's, it's gone from there. But I know that it's been very helpful for people, it hasn't just been something to entertain. But it's been something that has helped people along the way as well.
Lori Morrison 
Well, that is certainly my hope. And it's, it's so wonderful. When I hear from a listener, which I did, just a couple of weeks ago, I had done an episode about fraud. And the the crime itself was a man who not only committed fraud after fraud, but he was the first known person to use the internet, to lure victims, he was a serial killer as well. And so you know, we think of most serial killers as being kind of the roaming person that's out there looking for victims, he was just sitting at home, drawing them to himself through the internet. And so I interviewed a fellow PI, and she was also a fraud expert. And so like I said, before, you know, not many of us are going to encounter serial killers in our lives, hopefully. And so we talked about the fraud aspect for the listeners, what they could do to recognize fraud, protect themselves. And I had a listener, reach out to me over social media and said, Oh, I listened to that episode. And someone had tried to scam me. And now I know where I can go, to get resources to protect myself. That is what it's all about protecting ourselves protecting our loved ones. And I also try to encourage people again, step up and get involved, there are so many ways that you can make a difference in victims lives, or in heading off people, hopefully, being a victim, that are easy, they're safe, and they involve skills you already have. And so trying to encourage people, making them aware of wonderful nonprofits that they might be able to get involved with. And even something just as simple as sharing a podcast episode. I do highlight unsolved crimes, from time to time. And just sometimes getting that information out in the public. Someone who knows something, may say, oh, gosh, I didn't even realize that was still unsolved. Maybe I should tell the police this. Or maybe it's been a cold case where you were close with the perpetrator. And so you know, some things well, now that relationship has soured, you're not so close, maybe you're ready to talk. You know, I don't want it to be just entertainment. And I hate to even use that word, but I want the entertainment value, the knowledge value of the stories, to bring people in to listen. And then I want to bring in a mix of wonderful guests who have all this knowledge and all the the resources that I don't have, that we can share with people.
Rodney Olsen 
And I'm sure that talking to a lot of the people that you do on the podcast, is actually helping you to sharpen your skills as an investigator as well.
Lori Morrison 
Oh, for sure. One of the favorite sayings I have is, we're all smarter together than any of us are by ourselves. And so I love a team approach in almost everything. These type of cases almost always take a team approach, the lone wolf PI, who can do it all by themselves. That is very rare, because I'm certainly not a ballistics expert. I'm not a forensic expert. I'm not a statement analysis expert. I'm learning just enough about all of these things. That when a case I have needs someone like that, I know who to go to.
Rodney Olsen 
If people are wanting to find The Unlovely Truth, your podcast, where's the easiest place for them to go?
Lori Morrison 
It's on Podbean, Apple, Stitcher. Most of your your major podcast hosts have picked it up. You can find it there. You can go to my website, theunlovelytruth.com. The episodes are all there. You can also email me, lori@heunlovelytruth.com or you can find me on Facebook at The Unlovely Truth or Instagram, The Unlovely Truth Podcast.
Rodney Olsen 
And Lori we will put links to those various places to get in touch with you in the show notes at bleedingdaylight.net. But I've got to say it has been an absolute delight to speak to you to get some of your knowledge of places that most of us don't go. But thank you so much for your time today.
Lori Morrison 
Thank you and thank you for your podcast. You have had some fascinating guests on that are educating people in all kinds of different areas. So you're doing a real public service and I appreciate it.
Emily Olsen 
Thank you for listening to Bleeding Daylight. Please help us to shine more light into the darkness by sharing this episode with others. For further details and more episodes, please visit bleedingdaylight.net