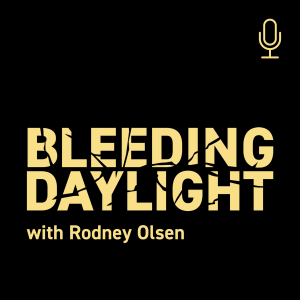 Monday Mar 08, 2021
Sharon Tedford - 61 Things
Do you run towards or away from change?
However you answer that question, this episode of Bleeding Daylight will be a real encouragement for you. It's the story of Sharon Tedford and her family's move across the world but it's so much more than that. Sharon is a singer/songwriter, artist, podcaster and so much more. You'll be inspired by her and motivated to make change in your own life.
https://www.facebook.com/61things
(This transcript is intended as a guide only. It may not be 100% correct.)
Emily Olsen 
Wherever there are shadows, there are people ready to kick out the darkness until it bleeds daylight. This is Bleeding Daylight with your host Rodney Olsen.
Rodney Olsen 
Do you run towards or away from change?
However you answer that question, this episode of Bleeding Daylight will be a real encouragement for you. It's the story of a family's move across the world but it's so much more than that. I know that you're going to connect with my guest as she honestly shares a message that will encourage and inspire you.
Please remember to share this inspiring story with others and connect with Bleeding Daylight on Facebook, Instagram and Twitter.
Make sure you don't miss future episodes by subscribing to Bleeding Daylight wherever you listen to podcasts.
Sharon Tedford is a singer songwriter who, like many of us, has never been a big fan of change. It's ironic then that her life is marked by so many large changes, including a move halfway across the world. She's even founded a ministry named 61 Things which aims to help people actively seek change in their own lives. It's my real pleasure to welcome her to Bleeding Daylight today. Thank you for your time.
Sharon Tedford 
Rodney, it's really good to meet you. I absolutely love this show. So I'm so excited to be on this side of the mic and not just have you in my ears.
Rodney Olsen 
Thank you very much. As we talk about change, let's begin with that big one. Where did you move from and to?
Sharon Tedford 
Well, we were living in a really pretty little village, just outside London in the county of Buckinghamshire, which is actually just north of Windsor Castle. So we could see Windsor Castle, in the far, far distance from the top of our road. So we moved from a little village where we knew many, many, many people to the outskirts of Dallas, where we knew nobody. So you know, it's a, it's a rural town where we live now, streets and it's very cityish, a completely different driving on the wrong side of the road. Speaking the wrong language. I know it's English but you and I both know, Texan is the greatest form of American. So there was lots for us to learn when we got here.
Rodney Olsen 
And what was the catalyst for such a big change?
Sharon Tedford 
Well, the short answer is God. The long answer is my husband took redundancy from his company, which gave him freedom and he was very clear in saying, Let's allow God to take us wherever he wants us and so he was looking at jobs all over the world and Texas was the winner.
Rodney Olsen 
And I suspect that he's someone that doesn't mind change as much as you did back then. So what was the difference in the dynamic there with him saying, hey, let's go everywhere? Were you thinking, Oh, please? No,
Sharon Tedford 
That's a really good point. He's an engineer. So things are very linear for him. So it seemed like the obvious next step for him like, there literally was a spreadsheet of we could do this, then this is the outcome. If we do this, then that is the outcome. So I think he had stuff much more controlled in his brain. And also, to be fair, for him, the change was obvious. And he knew he went from one job to another job from one set of co workers or colleagues, to another set of colleagues, and actually some of the people that he even knew, because he'd worked with them previously. So for him, it was a much easier step. It wasn't easy. It was easier. Whereas for me, it was completely unknown. I was moving, obviously, with my husband and our children. So a family unit together, not completely alone. But you know, they went to school and work and then I was home alone with our four year old, twiddling my thumbs, and staring at the walls.
Rodney Olsen 
So you had three children, and you're moving across the world with three children. That can't have been easy to start with.
Sharon Tedford 
It wasn't easy. They were excited. God is very good, isn't he? The Christmas before we moved here, we knew that my husband Gareth, his name, is Gareth, was going to be taking the redundancy package and that he would be leaving his company. And before we left, we decided to go on holiday with our family and actually bringing my parents with us because we wanted to go to SeaWorld. So we thought over Christmas, we'll go to SeaWorld in Florida, get some sunshine, won't that be lovely but the flights was fully booked and it was really expensive. And then a friend of ours said, Well, actually, there's a SeaWorld in Texas in San Antonio. And strange but true. My dad actually used to live in San Antonio when he was a child. He and his parents emigrated to America. And my grandma got TB, so they didn't stay they couldn't afford the medical. My dad lived here for I think three or five years I forget how long. So we brought him with us to San Antonio. And we had this wonderful experience through his eyes as a child and my children just lapped it up. So we went to see his old house, we went to see his old elementary school, and they let us in, which was just incredible. So the children had a bit of a taste. And my my dad told them all about how he lived in the 40s and early 50s on a ranch with his own horse and a gun and how they used to ride around and shoot black birds and bunnies and all the stuff that other just the dream of boys and girls with the horses. So when we moved here, we told the children look, God's calling us to Texas, we're going to go and live there. I'm glad that you've had an experience of it. The first thing our eldest son said was, can I have a gun? And the first thing our daughter said was Can I have a horse? Because they both thought that's what you do in Texas.
Rodney Olsen 
And I know that there were some moments where you realize just how much you didn't like change. Was that something that you knew back then when you're back in England, that change isn't something that I'm really comfortable With or was it those moments in Texas that made you realize, you know what change is not a big thing for me,
Sharon Tedford 
I think that I had had an inkling of it right before we left, we had put an offer on a house in an adjacent village to move from one village to the next so that we were actually closer to a school that would be better for one of our children, to have our kids have learning differences. And so this school had a unit, specifically for children who have dyslexia and other needs. And so we really wanted to be in that village. And we have sold our house. But I don't know what it's like where you live, but you have to be in a chain in the UK to be able to move from this house to the next house. And on the day that we were packing up and about to exchange, our house was all in boxes. The day that we went to exchange, our buyer pulled out because they'd said they had the money, but they never did. They never did. So that whole thing, when that fell through, we were all devastated. It was really difficult. But actually, even in that moment, I felt like God had been preparing me for change in a much bigger way that move from one village to the next village. I had found that difficult, we wanted to be closer to the school. And my friends in my village, we're going to be, I don't know, four miles away really nothing really, really nothing. But I'd struggled with that. Until I felt like no, this is what God's calling us to do. So I think that obedience of Okay, we'll move four miles down the road, was the catalyst for God saying, Okay, look, you didn't die. Let's do the next step and it was bigger.
Rodney Olsen 
A much bigger step. And maybe you can talk us through some of that you arrive in the US how quickly did you have to try and organize what we might call a normal life there in Texas.
Sharon Tedford 
Oh, my goodness, it was crazy. My wonderful husband had actually been working here in Dallas since May. So he's done about five months worth of work here while we were still living in the UK. And the company very kindly moved us. So we put everything of ours into a shipping container and sent it out four weeks before we came because it takes four weeks to get here. And we spent four weeks traveling around the UK saying goodbye to our family and friends. My husband is Irish. So we spent some time in Ireland. And some time in the south coast of England, I come from a seaside town Weymouth in Dorset. So I spent some time there, and homeschooling the kids while we traveled around. So when we arrived, our shipping container wasn't ready. And we had to live one month in an apartment in an adjacent town to where we are now. And we literally just had this is a bit embarrassing the 14 suitcases that we brought with us because we used every piece of luggage allowance that we could, because the kids were little and you know what it's like traveling with younger children, you need, my goodness, you need everything. So we had just that luggage and what was already in the furnished apartment. And I had to drive the children from one town to the next. And you know, in many areas that would be no difficulty. But this is in the Metroplex, I had to drive on roads that have seven lanes. And they were doing roadworks and it rained for the first time in October for they were saying it was something like the worst rain they'd had for 50 years. And you couldn't see the line markings. I can tell you, that's really good for your prayer life because I was driving on the wrong side of the road, with cars all over the place in seven lanes and you have to cut across so many lanes to get off to get to school, don't miss it, you're going to end up in another town that you don't even know. So it was all very, like I say very good for my prayer life. But pretty stressful. And I did have many the word with God about what are you doing? Why are we here? And you know, registering the kids for school. Everything was just so different. It was a big leap.
Rodney Olsen 
And I believe that there was even this moment when it came down to such a simple thing as painting a room in your house.
Sharon Tedford 
Yes, that is so true. We moved into our home, which is lovely, and great. But the people before us had painted the main living areas in orange. And we were like, yeah, this is not really us. And so we knew that we wanted to change it but at the beginning, that's expensive. We just moved across the world that was expensive enough. So we waited maybe two years, maybe three years and then we had the money to do it. And so my husband's like, Okay, what color do you want and we decided on green, but then you know you go to the local store to buy, you know the little pots of paint. So we had like three or four different kinds of green and we painted big splats on the wall. But those flats stayed there for about six months because my husband wanted to move This choice with me together in a partnership. But I could not make a decision. I just couldn't do it. I didn't like the orange. But I couldn't choose the green. It's just it was so ridiculous. And after the six months, or whatever it was, my husband said, Okay, look, we can't just keep looking at these splats on the wall. Let's pick one. And I said, No, look, I'm done. I can't do this. There's been so much change. I hate change. I can't do this. You pick it. And so he kindly did, and we moved on and painted it and it was lovely. But in that moment, when I said, I hate change. God just rattled that around in my head for days afterwards for days afterwards. And one day I stopped. And I looked at that phrase that I'd said, and I asked God, why is this still rattling around in my head? I hate change. And God who is very kind and gracious, spoke so sweetly to me and said, If you hate change, how can you become like me? And in that moment, everything started to change. Even now, as I say that, it gives me goosebumps because it was one of those ebeneezer moments for me that I have laid down the stone of remembrance, because that was like, Samuel. That was a victory moment for me.
Rodney Olsen 
Did you feel a little bit shortchanged in that? Moses got a burning bush that wasn't being consumed, and you got paint splits?
Sharon Tedford 
Yeah, I never thought of that. Yeah, I should have had a burning bush. And I actually know we don't like burning bridges in Texas, because they're turned into raging fires. So paint splatter, okay.
Rodney Olsen 
And all around this time as this is going on, are you starting to fit into the lifestyle there? Are you connecting with people connecting into a new church and getting to know people?
Sharon Tedford 
We did, and we didn't, I'm sure that any of your people who are listening who have sifted between cultures, know how difficult that is. I'm pretty friendly. And I like to chat to anyone. But it's difficult to go deep with people. People in Texas are renowned for being friendly. They, they really are friendly. But it's hard to then find people who have space in their life for you and who want to go deep with you. We did manage to find a church that we loved. And God was very kind that we were in that church by the December having moved here in October because my husband had actually already been church hunting before the family arrived. Before we arrived. I was actually invited to lead worship at the ladies Bible study. After my very first day there. It turned out that somebody in this mega church had a friend who I was leading their children in the Children's Choir in England, they used to run a church together in Hong Kong. When we arrived, she said, Oh my goodness, are you this family from this church? Oh, my goodness, my friends told us you were coming. And you're a worship leader. Can you do this? I was like, okay, so we were plugged in, we were in a small group. And there was many good things. But as the years went on, there was always something else that was new to learn. Because as our children grew, in the school system, particularly, there was a new way of testing, a new way of learning a new way of this and a new way of that, that we didn't know about. So it did kind of stay difficult. But because God had told me change is good, change is good, my heart was shifting towards allowing him to do these things, because His change brings us great strength. It makes us more like Him.
Rodney Olsen 
While you're having difficulty with some of these changes. How are the kids going? you saying that there's obvious differences in the learning and the testing and everything for them? But were they just adapting his kids so often do?
Sharon Tedford 
Yeah, rather embarrassingly, they did. Yeah. They made friends. And because of their British English accents, they made friends pretty quickly. The language thing was difficult. But we had some really funny stories about teachers being confused about what our children were asking for. My son left his outer garment in the classroom one afternoon and had to rush back in to get it before he caught the bus home. And he rushed into the classroom and burst in and said to the teacher, I left my jumper here, I can't find my jumper. And she just looked at him quizzically because a jumper is like a what a baby would wear a onesy you know, it's LinkedIn with your hands and your feet and just zip up the front. Because here they call it a sweater. So he had to then explain what a jumper is, you know, it's it's knitted, and you were on the outside to keep you warm. And she was like, Oh, you mean your sweater. So that, that and there were many of those? No, but the children really adapted fast. Our eldest got into American football, which was his joy and delight. And our middle daughter made friends with lots of American girls, which she'd always watched American TV at home in England. And so she was just lapping it up. And our little boy really was only four so he didn't know much different he loved the fact that we had such a big back garden and a swimming pool, which is very exciting.
Rodney Olsen 
So he you are in this brand new nation. You're you're learning all these things, but You're being very much accepted, and you're getting opportunities to lead worship, which is something that you did back home in England, is this giving you some sort of a certainty or some sort of a reminder that this is what God has called you to.
Sharon Tedford 
There were certainly steps that, that over and over again, we knew Yes, this is what God's called us to. Like I said, in our small group, those people became friends and family very quickly, once we found them, which was probably about eight months into us living here, one of our members, one of her brother, died very suddenly. And very tragically, he went to hospital with a headache. But it wasn't a headache. It was a brain aneurysm. And he passed away very quickly. And so we were able to gather around her. And in that kind of moment, you really know who your family is, we got very close to them. I had a hospital visit, I herniated two of my disks in my back, couldn't walk, I had to go to the hospital in the middle of the night. And it was one of these people that my husband called, and they came over, it was like midnight when the ambulance came to sleep here in our house. So that when the children woke up, they were with somebody who they knew and loved and trusted. So there's something really special about the family of God, that we can walk into a church pretty much anywhere. And know that because we love Jesus, we can love each other.
Rodney Olsen 
And all this time, you're still trying to deal with change, even though there are these little messages along the way that hey, Sharon, it's going to be okay. But I believe that there was a pivotal moment in 2014. Tell me about that.
Sharon Tedford 
Yes, that was incredible. I think as you say, God had just been reminding me over and over again, that changes, okay, changes, okay. And because of that little phrase, it was now rattling around in the back of my mind, it was in my mind. But it wasn't until 2014, as you say, it wasn't until then, that things started to come into focus. I went to a very large ladies event at a mega church just around the corner from where we live. And it was almost an accident. Of course, it wasn't an accident. But it felt like an accident that I went, a friend of mine called me the night before and said, The lady who I go to this conference with every year, mysteriously double booked herself. She doesn't know how she did it. But she's got to go to work. She was a cabin crew. So she couldn't back out of that. So I have a ticket Do you want to come? And I was very excited. So I went and my friend had booked seats, like you had to sit in row f seat three and four, whatever it was. And that's important in this story. So at lunchtime, there was there were probably I think 3000 women, there is a big conference, it was it was great. At lunchtime, we went out and had lunch and came back into the auditorium. And tucked into every single seat was a card. And on that card was a hand written word of prophecy. Now, you could say that those were placed randomly, well, the women and men who do that event, pray for an entire year. And ask the Lord for words of knowledge and prophecy and encouragement for the women who are coming to the conference. So as I said to you earlier, the seat that I was sitting in was meant for my friend's friend who wasn't able to go in, it suddenly became my seat. Well, this prophecy would never have fitted her friend. And when I opened it, and read it, I was absolutely gobsmacked. And I couldn't speak, which, you know, is unusual, as you can tell for me. And I was just crying. And when my friend read it, she started crying too, because it was so so onpoint, for what I've been through. You see, I haven't told you that. And part of our story was having been on this in this mega church and on the worship team and enjoying every second of it. In the middle of that we'd had some significant church hurt that had that we'd had to fight for, we'd had to fight for justice and truth. And this word of prophecy spoke to that almost word for word. And there's no way that anyone could have known that I was sitting in that seat and what had happened in my life. And that prophecy was based on Isaiah 61 verses one through four and that's what started my route to allowing change to be more than just for me,
Rodney Olsen 
And I'm sure that those verses have become more and more real for you. Maybe you can tell us what is encapsulated in those first four verses?
Sharon Tedford 
Yeah, actually, I did start off with the first four verses. And when I bought the prophecy home, I stuck it up on my wall and I was just Oh, it's amazing. It's wonderful. And I was just looking at the prophecy. And then one day I felt God say, you know, as it says in Scripture weigh it up, what does it mean? And so I got out the scripture behind this word of prophecy. And I said, Okay, God, let's dig and I sat down to write A couple of notes on these four verses. And after 58 pages of notes, I realized that God is doing something pretty special with this passage of Scripture. And as I've spent more and more time with it, I actually love the whole chapter. It's one of those chapters that should bring us all so much encouragement is actually the chapter that Jesus used in the temple in the New Testament in Luke, when he announced the beginning of his ministry, talking about the fact that every one of us is anointed. And then it gives us a great big list of what were anointed to do and every word, there are so many words of action. Through this passage of Scripture, I would love for you guys to just go ahead and sit down and read Isaiah 61, and pick out all the words of action, in this comfort, proclaim, bestow, you know, the Restore, rebuild, renew, all these things that God invites us to do in his name. And why can we do it, because as his people, we are all anointed by the powerful and loving Spirit of God,
Rodney Olsen 
I find it fascinating that throughout that chapter, and again, as you mentioned, now, Jesus picks it up in Luke, when he goes to the synagogue. But it's interesting that in this day and age where we're told to look out for number one, and number one is us, when we're told to seek our own highest good, that there's this chapter there. And it tells us that we're anointed to do all these things, which are basically, around serving, that's not a popular thing for a lot of a lot of people is it,
Sharon Tedford 
it's really not a popular thing. And here, there has become an attitude that if you stand on the stage, or you have a title, or you have an office at the church, it's your job to do that. And I'm going to pay you to do it. Don't expect me to get involved. And I think there's something really sad about that. And I believe that's why so many believers are weary, because we're not doing what we've been called to do. God has invited us to get involved because just as Jesus did, we need to serve, and we can serve with joy and it brings us joy to serve others. You know, there are so many ways that we can serve, it doesn't mean that you have to go and work in a soup kitchen. Unless that's what God's called you to do, then please go to that. But if God has called you to be a teacher, you are serving Him every day, in the way that you love those kids. If God has called you to sweep the streets, you are serving Him by maybe praying up and down the streets that you sweep, if God has called you to be a doctor, then you are able to reveal him through the way that you love and heal people through the gifts that he's given you. There is so much action, so much action in this chapter that we really need to step up. I want to invite people to think about how can you reveal God in your everyday What are you doing? How can you bring about change for others' good?
Rodney Olsen 
So you've gone now from this stance of I really don't like change, but I guess I'll have to go through it to our Yeah, changes probably good to now this point of versus coming alive to you and you realizing I need to seek change. Tell me about that change in your mind of going from I hate change to I need change.
Sharon Tedford 
It's difficult to really plot that, you know, I think because I didn't like change. God didn't make me change overnight, he didn't just snap his fingers and say you need to do this now. And sometimes he does that. There's nothing wrong with that. But for me, he knows me, spoiler, he made me so he knows all about me. And he just gradually drew me into more and more and more of this love, and search for change. And I think that as I've been able to share my story through concerts, and you know, writing whatever I've done, as I've shared my story, it has become more alive. To me. It's a little bit, like I just said, that's how God has called me to serve is to serve the church, to serve others to invite others up, to wake them up from being weary and afraid. And so as I've spoken that out loud, it almost puts it in front of me and becomes a mirror for me to see it myself. and that in turn, it just keeps the wheels turning. And it keeps me chasing after God in an excited way. I just love to see, people say I'm doing something new because I think God's invited me to this. I've been so blessed that every single one of my concerts, I can't think of one where this hasn't happened. My somebody will come up to me afterwards and say, Oh, I didn't realize that I could do that in God's name. I'm going to go and do that. Or I haven't led worship for years because something awful happened to me at church. I'm going to go back and serve my church in a new way or it has woken somebody up to what God is calling them to do and if it's just one at a time. That's enough for me.
Rodney Olsen 
It is remarkable. The change that God can bring into our lives when we are resistant to it, but then we we walk toward it. And I just want to pause for a moment. And I want to actually read those first four verses. And I know that you now say that you, you want to embrace that whole chapter and, and everything that goes along with it. But let me just read. The Spirit of the Lord GOD is upon me,  because the LORD has anointed me to bring good news to the poor;  he has sent me to bind up the brokenhearted, to proclaim liberty to the captives, and the opening of the prison to those who are bound;  to proclaim the year of the LORD's favor,  and the day of vengeance of our God; to comfort all who mourn; to grant to those who mourn in Zion—  to give them a beautiful headdress instead of ashes, the oil of gladness instead of mourning, the garment of praise instead of a faint spirit; that they may be called oaks of righteousness, the planting of the LORD, that he may be glorified.  They shall build up the ancient ruins;     they shall raise up the former devastations; they shall repair the ruined cities, the devastations of many generations.  That's purely inspirational, isn't it?
Sharon Tedford 
Isn't it just it makes me want to cheer? It really does. I want to shout and say yes, come on, let's restore, rebuild, renew, we can all do that. We have like five or six different decorations of trees around the house, because we say that to each other, and to the children, you're an oak of righteousness, God has planted you exactly where you are because he wants to display his splendor through you and it doesn't matter what season you're in. God wants to display his splendor through you. You know, we've just been through a crazy snowstorm. And the trees are beautiful in the snow. In the springtime, here, the trees are vibrant colors, because our springtime is very short. And so that forces the leaves to grow quickly. In the summertime, the leaves offer us shade. And you know the whole seasons. And in the autumn when the when the leaves fall. And of course, the colors change again. And it's really beautiful. In all seasons, those trees are displaying the splendor of Jesus. And that's what we need to do, no matter what our season is. Even if things are really difficult around us. We can still display the righteousness that comes from God, we can still display the goodness that comes from Jesus.
Rodney Olsen 
A lot of the people that you're trying to reach out to, and to minister to those believers who are weary those who really need some kind of hope. When they're feeling worn out and feeling forgotten. We have such a life giving message of the gospel of Jesus Christ. Why do you think so many people end up feeling worn out,
Sharon Tedford 
I think we've put our trust in the wrong places. instead of allowing Jesus to use us as individuals, we have shifted our gaze to our leaders, and our pastors who we need and we love and we should support and we need to listen to them. But they shouldn't be doing it all for us. That makes us very, when we don't do what we're called to do. It makes us tired out, you know, action is invigorating and revitalizing. That's how you know if you have a little toddler who's like, I'm bored. I don't know what to do, then you find them something to do and life changes. That's what Jesus wants for us. He doesn't want us to just sit down and watch someone else working. He wants us to be doing what he's called us to. And maybe you're doing is to sit down and maybe just to sit with someone and listen to them pour out their heart or write emails of encouragement. I'm not saying that you have to go and do something huge in the world's eyes. We just need to respond to God's call, and then we won't feel weary, we will be revitalized by His Spirit. Because using his spirit, walking in his spirit, living out the life that he's called us to, is a way that we can be filled with joy and energy.
Rodney Olsen 
And those verses, you know, as I call us to stop looking inwardly and and start to look outwardly don't they?
Sharon Tedford 
Oh, without doubt, absolutely. Everything that this scripture talks about is about our neighbors. It's about drawing together our cities and our communities. All of us can say that our cities have a level of brokenness. It may be in the physical buildings, but it may also be in the hearts of the people around us. And God invites us to rebuild those ruins that you see people around you whose lives are ruined, how can you rebuild them, just invite them in for a cup of tea. That is a great way to rebuild someone's confidence. You know, we can see around us that maybe the whole the whole generation has been devastated. But that's why God's called calling us up, to reach out to those generations around us. We need to renew them, we need to rebuild, we need to restore the hope of Jesus, that people around us they are lost. We say that often that people around us are lost. But we can show them the way to the winning post, you know, to run the race and meet Jesus to meet Jesus here and now and have eternal hope.
Rodney Olsen 
As I mentioned earlier, you are a singer, songwriter. And you've touched on that as as we've chatted, and you've certainly had opportunity whilst in Texas to pursue that, to pursue your music to release a couple of albums. And I'm sure that that's incredibly satisfying. But often the music industry is a very self seeking industry, how do you ensure that you stay grounded within that? And that you continue that outward looking focus?
Sharon Tedford 
That's a very, very good question. I think for me, it has been intentionally gathering people around me, who I know will not blow smoke, and will speak truth to me. And who will keep me outwardly focused people on my American team and my UK team, that I mean, it's just small, it's just a small number of people, people who pray for me, people who I know would say to me, yeah, that's not really the right thing to do. I even have a friend who I've made since living here, who is an expert in social media marketing. And that has been a real struggle for me, because I have felt often I don't want to be doing social media about me, because it's not about me, it's about Jesus. And she's really helped me to recognize that actually, using social media can be a way of sharing the kingdom of God, if I do, indeed keep it about my audience and about Jesus, and not about me. So I have had people around me, who I know will keep my eyes focused on Jesus, even my producer, who is an incredible guy, a two time Grammy Award winner, he adores Jesus. And we never did any work in the studio without praying, and inviting Jesus to be present in the recording, which might sound a bit crazy to you. But we are asking God to be present in every area of our lives. And I asked him to be present in every area of my life, and I'm not perfect, I definitely fall over and hit my nose, flat on the pavement. But I my intention is to share Jesus with everyone who I meet, I really do want to reveal him through how I sing, and how I present my life and how I love my children. And how I serve when I'm out and about how I pray with the person who serves me lunch at a restaurant, I really want to be outward looking. And I pray that God will continue to keep that firmly in focus in my heart.
Rodney Olsen 
And it's not just about the music for you, I know that you released a devotional book alongside one of the albums. Tell me a little of the thinking behind that.
Sharon Tedford 
There's a bit of a funny story in that, in order to help your producer know how your song should sound, you go into a studio and you say, this is the story behind it. This is what happened. This is why I wrote it. And then I play it for him and say, I want this genre, this field is that editor. But one day, I think we were three songs in to the album. And I told him the story behind this particular song. And he just was like, stop, stop. And I thought, Oh, no, he hates it. He doesn't want this one, which he has every right to say. He said, okay, you are such a good storyteller. I need you to write that in a book. And I just looked at him and I said, john, Goodness me. We're making an album, there's a time for writing a book. And he said, No, I think it's a thing. You have to do it. So we finished the day I came home and it's best to record late at night. So I came home and crawled into bed next to my husband. And he was like, oh, how was your day in a sleepy voice? And I said, Oh, you'll never guess what john said today. He said, I should write a book about all the songs and the stories and scriptures behind the songs. And my husband, in all his wisdom said, Well, duh. Like, what do you mean well duh, because he was asleep, didn't want to wake up and chat about it then. But it became something really, that God put on my heart and actually on someone else, someone else said the same thing to me. They had one of the stories behind the song and said, You need to put this in a book, people need to hear the stories. The book is every chapter is the story and the scriptures behind each one of the songs. So you can sit and read the stories and hear from Jesus as He spoke to me through those stories, and then use the album to allow the song to minister to you. So you can have your own little time of worship as if I'm in the lounge with you or wherever you're sitting.
Rodney Olsen 
It's a wonderful concept. I believe you've also started your own ministry 61 Things tell us about how that began.
Sharon Tedford 
Again, it just kind of crept up on me a bit like the loving change. It started because of the album when the album was being released. As we talked about it with my team, it did become obvious that there was more than just releasing an album. Because I have been speaking and teaching the Bible bits and pieces around around the world now, for for many years. And obviously, as I said, leading worship as well, it seems like there was more than one string to my guitar coming along here, and that we needed to gather it all together under one umbrella. So that when I introduce myself to people or so that when people call on me to, so that I can serve them, they can see that it's more than just under I don't want to just come to sell my album, I want to come to encourage you to rise up and all of the stuff that we've just been saying.
Rodney Olsen 
And there's a podcast that goes along with that ministry. Tell us a little about that.
Sharon Tedford 
Yeah, that's one of the joys of lockdown. And my co producer is Gary Dowell, who's been in radio and TV production for many, many years. And he's actually on my UK team. And before he called me, for about a year, I felt like people say to me here, because of my English accent, which really I can do nothing about it is what it is. They say, Oh, I could listen to you read the phone book? Or would you? Would you call me up at nighttime and read me a bedtime story, I'll just give you a children's book to read to me. You know, lots of jokes like that. And so someone said, you know, you should do podcasts. And I was, I really felt like, God kept poking me with that thought. But I really don't like technology. I'm really not very good at it. I can plug in my microphone, and I know how to do bits and pieces. But at the time, when I started thinking about that, there was no way there was just I was just resistant. I kept saying to God, I do it. But I don't know how to do the technology. And then my co producer called and said, Look, Sharon, I don't want you to answer me now. I want you to pray about it. But I think I want to start a podcast. And I want to do all the technical stuff, because I love it and I want you to be the host. Well, I was just like grinning and crying all at the same time on zoom, because he lives in the UK. And I said, Gary, it's okay. I don't need to pray about it. God's already been poking me. Let's do this. And so through lockdown, we we spent five or six months working on it from across the ocean. And on October the sixth, which was my 50th birthday, we released Episode One of God In the Ordinary and it's been going great guns since I absolutely love it. It's so encouraging to hear people's stories and how they reveal God in their ordinary everyday lives.
Rodney Olsen 
I love the fact that you go for everyone's unique story. But there's also a common theme that runs through that you asked people to comment on maybe you can explain that, to me.
Sharon Tedford 
It was the concept of what we were going to do on our podcast came first. And then one day as Gary and I were chatting through the concept of God being revealed in people's ordinary everyday lives. They're not celebrity Christians. They're just regular people living their lives. It dawned on us that Oh, my goodness, this is what Isaiah 61 is. And so we put it all together it I mean, it seems really obvious. Now it's kind of embarrassing that we didn't see that at the very beginning. But here we are. And so what we do is we ask our guests to have a look through Isaiah 61. And see how they live that out in their own lives. And it has been so incredible. At the very beginning, Gary and I were like, oh, what happens by the time we get to Episode Six, someone's going to tell the same story, we're going to hear the same thing over and over again, know, every single guest. We're into the double digits now. Every single guest picks out something different. And God speaks to them differently through this passage. And isn't that just like our God, you know, His Word is living and active. And it's relevant for all of us. So I absolutely love it. When our guests come with, oh, this is how Isaiah 61 speaks to me, and how I use this scripture to reveal God in my everyday
Rodney Olsen 
if people are wanting to start listening to God In the Ordinary, or to even find the Ministry of 61 Things. Where can they discover you?
Sharon Tedford 
Well, you can find me at 61-things.com. And on my website, you can find there's a tab that takes you to God In the Ordinary. But the podcast is on pretty much every podcast platform. So you should be able to find us easy.
Rodney Olsen 
It's an easy one to find God In the Ordinary well worth listening to, as you say, different perspectives on that Isaiah 61 passage as well as exploring people's unique stories as they encounter God in the ordinariness of their lives. It's It's a great Listen, and I would encourage people to do that. We'll put a link to that in the show notes at bleeding daylight. dotnet. But Sharon, I just find it amazing that for someone who started their story, disliking change that you're now bringing change that you're bringing change, as you encourage people to bind up the brokenhearted, to proclaim liberty to captives to open the prison to those who are bound to continue to proclaim the year of the Lord's favor, that you're comforting those who mourn. You are bringing great change into other people's lives. And I just want to thank you for what you do. And thank you for spending some great time with us here on Bleeding Daylight.
Sharon Tedford 
 Rodney, that's so kind I've absolutely loved every second. Thank you so much for having me.
Emily Olsen 
Thank you for listening to Bleeding Daylight. Please help us to shine more light into the darkness by sharing this episode with others. For further details and more episodes, please visit bleedingdaylight.net