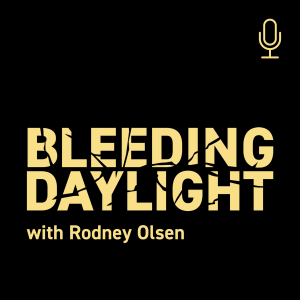 Monday Feb 15, 2021
Tammy Becker - Coming Back from a Coma
Tammy Becker slipped into a 6-day coma following surgery. Her doctors had no idea what was happening or how to bring her out of the coma. She thought she had dodged a childhood illness but several decades later, there was no way to dodge the surgery that went so horribly wrong. Since that time, Tammy has begun reaching out to help others.
https://www.facebook.com/groups/youministries


https://www.facebook.com/tammybeckercoaching
(This transcript is intended as a guide only. It may not be 100% correct.)
Emily Olsen 
Wherever there are shadows, there are people ready to kick out the darkness until it bleeds daylight. This is Bleeding Daylight with your host Rodney Olsen.
Rodney Olsen 
It's another episode of Bleeding Daylight and I'm so glad you're listening. Please subscribe to ensure that you don't miss an episode, share episodes with your friends, and make sure you connect with us on Facebook, Instagram and Twitter.
Today's guest slipped into a 6-day coma following surgery. Her doctors had no idea what was happening or how to bring her out of the coma. Her remarkable story in just a moment.
My guest today thought she had dodged a childhood illness but several decades later, there was no way to dodge surgery. That's when things went horribly wrong. Since that time, Tammy Becker has begun reaching out to help others. I'm looking forward to exploring her story on Bleeding Daylight. Tammy, thank you for your time.
Tammy Becker 
Thank you for having me.
Rodney Olsen 
To fully understand your story, we have to go back a number of years take us back to that young girl who loves sport describe your life in those days.
Tammy Becker 
Oh, yes, I was a sports enthusiast. Anything I could do and accomplish and move on to the next. That was me. If I felt like there, I had nothing else to learn in a sport, I was begging my mom to put me on something else. And so I was from one sport at age four from tap dancing into moved into ice skating. And then as I got into grade school, I began in track, a little bit of basketball. But that wasn't my thing. But just I experimented with all kinds of sports truly love sports.
Rodney Olsen 
What do you think it was back in those days that that caused you to continually challenge yourself? Where did that influence come from?
Tammy Becker 
Well, my father, I would say, My dad always instilled in me that no matter if I was a female, no matter how tall I was going to be, no matter anything, I could come my way in life that I could do anything that I set my mind to. So from a very young girl, a very young age, I had a perfect to me role model. I went out and I just explored life just like he told me to do.
Rodney Olsen 
That must have been incredibly comforting. Also, for your mom, knowing that there's a man in the house who believes that women can be what they want to be.
Tammy Becker 
Oh, absolutely, and she she was for it all the way. She encouraged me. Well, except when, you know, my dad helped me get a motorcycle for my first vehicle. My mom wasn't too keen about that.
Rodney Olsen 
Now, of course, you're growing up, and you're still just very young, or very young teenager. And I believe you had an accident when you were playing sport one day,
Tammy Becker 
What happened was, as I was doing the high jump at a five foot two is all that tall I am. So I was a high jumper, believe it or not, and I was high jumping and landed wrong on my neck and when I got up off the mat, I couldn't move my neck and I had extreme pain, just shooting down my spine, and just excruciating pain. So I went home that day, they sent me home, and my mom decided I better stay home, they better get me into the doctor, the doctor then suggested that I go to a chiropractor. And so we went into the chiropractor's office, and there was an X ray sitting up on the wall, and it was an X ray of somebody's back that looked like a backward S and my mom is just staring at this X ray. And I'm staring at the X ray. And my mom goes, Wow, she goes that that poor person with a back like that I can't imagine. So little bit later, you know, the doctor comes in. And he continues to talk to my mom and then said, Well, I see you can probably have been looking at this x ray, and this is Tammy's back. And all of a sudden, time stopped for me right at that moment. Did he say to me, I was thinking Did he say that's my back, everything went to a blur. Everything was in a big cloud. And I didn't know at age 13 what was happening. The next thing I remember hearing is surgery, and seeing a specialist. And so everything just became just a huge cloud over my head and I didn't know what to do. I looked over at my mom, my mom was crying. And basically from that day, that is the only thing I can remember about that diagnosis.
Rodney Olsen 
It's a fairly horrific diagnosis when you imagine this young girl who's so into sports and wanting to achieve everything to suddenly find that there's some some basic structural problems with your back. What did it actually mean for you, you say that the doctor was talking surgery. What happened from that point?
Tammy Becker 
Well, from that point, we did go to see a specialist. The chiropractor did fix my neck, by the way, but then we went on to go see a specialist and at the Phoenix Children's Hospital. I can remember my mom and dad were going in I remember them talking about surgery. When I go back and I read my mom's notes, I see that I had, I believe it was a 58 degree curve at that time on the top. And then the bottom curve was somewhere in the 50 range. So if you think of the backward S you go backwards on your back, so that top curve was 50, at the bottom was somewhere around 50. Those are major curves. So everything was scrunched together, they were talking to her about surgery. And at this time, the surgery technique was called putting a Harrington Rod in. And they called it that because the doctor that developed this process, his last name was Harrington. So they wanted to do a complete back surgery to straighten my spine out, put this pole to give you an idea, a long rod up and down my back and I would be in a cast body cast and in bed for a year. Now that was the process back then, you know, almost 40 years ago. So as you can imagine, I was talking to my parents, when we left, I was basically screaming to them and begging them and crying not to have me get the surgery. I said, How, how come you think I need the surgery, I can do all these sports. I don't have the pain that they're talking about. I don't want to be laid up in bed. I said, basically, I told my parents and I have a note to this day that I wrote them that I will not get the surgery, I will run away. And of course, that was the mindset of this very young girl. Because she felt like she was getting her whole entire life wiped out from her at that very moment. So my parents did a lot of praying to God. And I went to my parents at one day, and I says I just want to tell you guys something, I am a sound, mind and body. I know, I'm young. But I know my body. And I know I want to tell you that. Even though I'm young, Please don't make me get the surgery, I promise I will never hold it as your responsibility or hold it against you ever in my life, I will take full responsibility on my shoulders, knowing that I want to live my life going forward as I am today without that surgery. So they continue to pray about it. And one day, my dad just got a word from God, that everything was going to be okay. And that they were not going to make me have that surgery. And I did not have that surgery at that time.
Rodney Olsen 
It's an amazing story and you mentioned a couple of times there that your parents are praying. So obviously this is a home of faith. Did you have your own faith at that stage?
Tammy Becker 
I certainly did. I was brought up in church. So I was saved at the age of seven. And I remember I was in love with God and Jesus, my mom said that she knew something was going to be of me someday, because she would always find me every altar call going down to the altar and I would just cry and I would pray and I still love that so much. And I love that relationship with that whatever that I have with the Lord,
Rodney Olsen 
Going forward from this point, you've said, "Look, I am responsible, I do not want this surgery". What did you do to try and counteract that to keep yourself healthy going forward.
Tammy Becker 
So I dove even harder into exercise and nutrition. And I made a lifelong commitment that I was going to keep my bones strong, keep myself healthy with weight training. And I continued in sports. But you know, as I got older, I was a gymnast also. So I went in onto my own fitness center. I taught gymnastics, I taught weight training, I continued to stay healthy, continued to live a good clean life like clean, healthy foods, not really much of a drinker and little wine here and there never dabbled in the drug place. But that kind of a thing. I just dove in to making exercise the key importance in my life and kept God at the head of all of that keeping him in control and helping me stay on path with what my purpose was.
Rodney Olsen 
And where was life taking you at this stage? You mentioned, you started a gym and so you're busy with all these different things and, and staying healthy. What was happening in the rest of your life?
Tammy Becker 
In the rest of my life. I was having children I had two daughters. And I like I said I owned my own fitness center. I actually at that time. Back in the day. I applied for the fire department because my dad's a retired firefighter. So once again I was I want to do what my dad did, because he said I could do whatever I want. So at that time, it was a little bit on the sexist side, I was the only female that tested and I tested with a 98%. And I got a letter saying they took everybody with a 99%, I was pretty happy with my test score anyway, and I kind of knew what the whole thing was. So I just dove into everything that I loved and just continued to go forward and stay strong. And I kind of moved around the United States a little bit just to kind of like the thing, what I did with my exercise, I wanted to see the world I always wanted to make the most of everything in life and just felt like I had to take every moment and live it live every single moment of my life. And that's what I did.
Rodney Olsen 
So this point, it seems that that diagnosis all those years ago, is not going to trouble you going forward. But then what happened?
Tammy Becker 
Oh, so then 49 years old happened and I started getting some back pain and I totally forgot about my scoliosis. Now. I know that sounds probably like How could she forget about it? Well, because I never related pain that I had to my scoliosis. I always just thought it was I hurt myself or pulled my back out or something. I never related anything to my scoliosis because I never had pain throughout my life. But I was getting back pain. So I went to see my doctor, my regular doctor, and she told me that it was time that I better go see a back doctor, and I said, See a back doctor Why? She goes because your scoliosis and I said, Oh, well, I haven't messed with that since I was about 13. And she's like, well, she goes, the older you get, you really need to go and check at least have it checked out and make sure this isn't what's causing your pain. So I made that dreaded call to a specialist. And I went and saw him. And then I hear these dreaded words. Well, what happens is, in your fourth and fifth decade of life, scoliosis gives you other problems, you start getting degenerative disc disease, you start getting nerve damage, your bones start deteriorating because they're not aligned properly. And he went on and on with all of his things that he wanted to tell me. While again, I was sitting in a fog looking down going, this can't be happening. But it was, it was definitely happening again. And then the next thing I hear out of his mouth is you are a surgeon's dream. And I said, what I'm a surgeon's dream, he goes, yes, you have a virgin back. Nobody's messed with your back. So you're a back surgeon's dream? Well, if you can imagine somebody saying that to you, after you've spent like the last 40 years 40 something years fighting not to get the surgery, and then somebody saying, Well, yeah, like I want to get in there and work on your back rather than, like, get a second opinion. Let's try this. Let's try that. So I'm already my I completely shut him out. And I went on the assumption of like, all he wants us to do surgery on my back. And I'm not going to have that. I asked him just to send me to some physical therapy. And that's what he did. And I went and got some physical therapy. And I was talking to the physical therapist, and she said to me, this probably isn't going to help your back much. And I says, well, let's try. I said, I have exercised my whole life. I said it, let's give me something, something maybe I don't know. And she goes, but you do all these exercises just right, she goes, this, this really isn't going to help you you're going to need to see a surgeon and I said I just didn't like that surgeon i saw i said he went all he talked about was getting in and doing my back. And you know, without any other options. I said Do you have any other patients that have scoliosis that you could have them call me and talk to me and let me see, you know what happened with them? And oh, you know, I had all these questions. And they were just, I had no one to talk to nobody personally to talk to so she did find somebody she'd said I do have somebody I'll call her and I will ask if she'll call you and I said Oh perfect. And so I do get this call from a girl named Lily. And she went on to tell me that she just had a little surgery, but I sounded more like her friend Laurie. And I says Oh, and she goes Laurie has the same exact surgery. She went through the same thing. Only she had her surgery when she was a teenager when they diagnosed her But recently, she's had to have it fixed and she went back in and she has a really good surgeon who I also saw in Vegas and I says okay, well we you see if she'll call me, and Laurie. calls me and we instantly had a connection. And our connection was God. And immediately we both laughed and says, God makes no mistakes. God put us together. Actually, she goes, where do you live, and I told her where I live, and she goes, Oh, my goodness, she goes, boy, God doesn't make a mistake, I live right around the corner from you. So, you know, man, God is good. So we became the best of friends. And I did go to see her doctor in Las Vegas. And he told me the same thing that the other doctor did. And I was now faced with trying to decide if I wanted to do the surgery or not. So a long story short, I did not do the surgery at that moment, because I was still determined, I could fight it, because I'd fought it so long. So I went on, to throw myself in even more exercise. But what was happening is all those other things in my back were getting worse. And at this point, my husband and I had to make a move from Arizona to Montana. So I kind of just put my surgery on the back burner. And we came up to Montana, I sought out a chiropractor, I sought out a physical therapist, and I sought out another doctor that was a non surgical doctor. So she worked with me for the next year and a half. And till she says, you know, we've done everything we can we've given you injections, we've, there's just nothing else we can do. It's really, you've, you've exhausted all your options, you're killing your nerve and your left leg, you're going to end up not being able to walk anymore, you're going to end up in a wheelchair, and you're in excruciating pain all the time. It's time I went ahead, and I did some more research, and I called around to different doctors. And I went to see even another doctor in Denver, we sought out this doctor, and yes, she was telling me the very same thing. So I decided, well, I'll go ahead and get the surgery with this doctor because it was closer to home and we could drive me home after the surgery and everything would be closer for my husband. So we get everything prepared. We get everything ran through the insurance, we had everything set up. So we have a place to stay down there. And then I get up the next morning to go to my pre op, and I break out in shingles. They say I cannot have the surgery. Now they had already canceled once on me. So this was a second cancel. So they rescheduled. The third time I got I still have the shingles. So after three times, I decided I was not going to have that surgery with that doctor, because that was three strikes. And so I was back to thinking about Dr. McNulty again, in Las Vegas. So what I did is I decided to take a trip home a long way, in my vehicle, a soul searching trip, a trip, I would pray to God. And I prayed all the way home to Arizona to my parents house. And I was I knew I had to have the surgery and God said it's time he goes, but we will use this we will use this as a testimony for people. And so I trusted God and I set that I called Dr. McNulty and I set that appointment. So I had a month worth worth of tests before I had the surgery. surgery was scheduled for December 3 of 2018. And it's a two part surgery. So it would be the third and the fifth. On the third I went in. And that was where they opened me up from two inches above my belly button to my pelvic and they built a cage and inside, that was a seven hour surgery. On the fourth day I rested and the doctor rested and I don't remember a thing. On the fifth day. They went in to do my back portion which they opened my entire backup and he was fixing my back from T one down to the pelvic area. And that surgery ended up being 17 hours. That surgery I didn't wake up from that surgery left me in a coma for the next six days.
Rodney Olsen 
I want to talk more about what happened from that point on because this is where it did go terribly wrong. But even in the lead up to those surgeries, there must have been a battle for you. You're you're a woman of faith. You're calling out to God this whole time and God is saying, Hey, this is time. I'm gonna walk with you through that. But tell me about that tension between your strong Faith in God knowing that he has a purpose, that he's going to bring something out of it. But there's still that human fear. How did you deal with that battle?
Tammy Becker 
You know, God has a sense of humor. I, I truly believe this because I have what I call, I play tug of war with God quite a bit. Because I am human. And he understands me because he made me so sometimes I want to give things to God, and I want him to handle them for me. But then I take it back, instead of fully releasing it to him, and saying, it's in your hands, Father, you got it, I'm trusting you, I want to take it back. The human part of me, wants to take it back because of fear. Even though the Bible tells us we don't have to fear God has my whole life planned out for me. And I life would be so much simpler if I didn't play that tug of war with God, if I didn't allow that fear to step in, if I just let go of that human part of me, and just let go and let God as the cliche, you know, quotations say, but it isn't that easy. It isn't that easy. That's why you have to stay in the faith. Daily, you have to pray daily, you have to be in tune with God, because God will then tell you that you've got to let go, Tommy, you've got to let go in order for me to do the work that has to be done. You've got to let go and have faith in what I can do for you. Because until you can do that, I can't use you. I can't work with you. I can't use you to help other people. Because you're putting it all on you, instead of relying on me.
Rodney Olsen 
You're coming into a very scary part of this story. And the spoiler alert is that you did eventually come out of that coma. you're unaware of anything that's happening because of that coma. What about your family? What have they told you of that time?
Tammy Becker 
I have my sister and my husband were the two main people that went with me. I needed my sister there because she is my soul sister. She's my blood sister. She is my Christian sister. And we, I needed her there to pray for me to be with me. And so she was and what happened was is that she prayed for me before I went in before with both surgeries. But when I didn't wake up, things went into a panic. You know, everybody was panicking. My girls were not there. They didn't come for the surgery. So the first day there, everybody's wondering, why isn't she waking up? The doctors sending me for tests, like does she have a stroke? Did she have a heart attack? nobody really knew they were testing me for things. But everything was coming back like no, everything was okay. But I just wasn't waking up. And so you can imagine my husband's aunt is a nurse. So he's on the phone, apparently with her all the time questioning her and telling her all the meds they had me on and what they were doing with me each day. And then, you know, the second day came and my sister needed to go home. And she didn't want to go and she's just crying. Now I have two memories in the coma. This is one of them. I have a brief thing that I remember of like to my left, there was some kind of a door and I thought my sister was there saying she was leaving. And I thought I turned my head to her. Now she tells me I did that. I did exactly that. But they still said no, she's just has reflexes. And she's not away. And my second memory while I was in the coma is just is being cradled with God. And in his hands. Like if you took two cupped hands might look put my little body in his big hands, that he had everything under control. And that's those are the really the only two things, slight memories that I have. So my sister did leave, but she did come back, you know, the third day and john called her that's my husband and said she's not awake. She's not awake. And my sister said I am on my way. And she called my daughter Amanda and says, Be ready. I'm picking you up. Your mom's not waking up. She called my other daughter said you need to get to Vegas. Your mom's not waking up. It's been three days. She's in a coma. off they went they came back. So every day was something new. My sister prayed for me every day by the side of my bed. She would say prayers in my ears. She would play me songs that she knew christian songs that she knew I loved. She would tell me to wake up because I was going to be on the sid roth show and tell my testimony and she was telling me all these things and praying for me and I'm so blessed that I had her by my bedside. Meanwhile, my husband was the one fighting with The doctors and the nurses to get me off all the medication telling them that I never used painkillers because I don't like drugs and that they needed to wean me off of that stuff where I was never going to wake up because that's what his aunt had told him who's the nurse. He continued to get after him. Now we're in like to the fourth day, and he finally gets a shift of nurses during the day to start weaning me off these drugs. And by the evening, like he usually said he would leave around 10 o'clock at night. He said, I was almost weaned off of the drugs, I still hadn't woken up. He comes back in this is the fifth day. And the night nurses had me all drugged up again. And he was so upset that he really laid into everybody about getting me off of those drugs, because they said on the sixth day, if I did not wake up, they were going to have to take me and my husband, my family, none of them wanted them to do that for sure. So they were really on the nurses and this and that. So everybody went home. And then the next day was going to be the sixth day. My sister told me, she was praying to God that morning, and God said go down before everybody goes down, get down there and pray for your sister go down to the hospital before everybody goes. So she got up, told her husband, I'm going I need to go spend some alone time with my sister. And then she said, she kept telling me Tammy, you've got to wake up or they're going to trache you today. Please squeeze my hand, squeeze my hand. And she said I did squeeze her hand. And then she told the nurses and they said no, that's just a reflex. She goes, No Watch, watch. And she kept doing it. And I kept squeezing her hand. Now I don't remember any of this. This is just coming from my sister. So my sister called my husband and says you need to get down here. Tammy's waking up. So she didn't listen to the nurses. She listened to what God had told her to get down there. Pray for me, because I was going to wake up that day. And that's exactly what happened. I did wake up that day.
Rodney Olsen 
You mentioned a couple of times that if it had gone on to the next day that they would take you a tracheotomy. Tell me what that actually means.
Tammy Becker 
Because I was in a breathing apparatus, this during the whole coma, I was intubated, and I was on a breathing machine. And so they have to remove that breathing machine, because otherwise it starts growing and causing bacteria in your throat and windpipe and so they needed to get that out of there. And so they would kind of like drill a hole right in your throat, you know where your trachea is, and make a hole and put a little tube there where I could breathe out of that without having that whole tube down my throat and into my lungs. So so to say,
Rodney Olsen 
Tell me a bit about that experience of waking up, I know that you have some, some basic memory of that, that process of what happened. Tell me what you do. Remember,
Tammy Becker 
I remember before I actually opened my eyes, I really feel I had a little glimpse of heaven and a little glimpse of hell. And what I mean by that is in front of my eyes, because I know you know, they were closed, but I kept seeing a round dark circle. And it had two white eyes and I saw a white circle with two darker eyes. And I, I was scared. I was scared. I was terrifying. It was the most terrifying thing I have ever felt in my life. I felt like I was coming in one second, I was coming out of God's hands. And then like, I felt like I was experiencing like something evil. And I feel like the drugs played a big part of that what they had me in, but I also feel I got a glimpse of good and evil in heaven and hell, knowing that God always wins the battle. I am so thankful though, that I am God's girl that I am God's child that I have accepted. You know, Jesus in my heart because I can't imagine going through something like that and having to wake up not knowing, you know, that knowing my Savior. You know, God promised me he was with me. And he pulled me out of it. And when when I did realize where I was and with my family, it was comforting, but then, not 10 minutes later. I mean, it was so good to see everybody. I hear my sister go Tammy, do you know how long you've been asleep? And I'm like, no. And she says you've been asleep for six days. And I said no. She said Yeah, and I I just couldn't believe it. You You know there's no concept of time. You go in for surgery one day and then all of a sudden it's a week later. It's it's very bizarre. It's not like what's in the movies or anything that's for sure. It's not you wake up and you know exactly where you are what's going on, you wake up, very confused very, in in oblivion almost just really, really hard to describe to people how that felt.
Rodney Olsen 
You mentioned that, hey, you're on these drugs, and all, all of that would have fit into these visions that you had. And some people would say that that's all it was. It was just drugs, messing with your mind. But we who know God would believe that he uses those things. And he's used that as a way to say, I've got more in store for you. So tell me what's come out of that since?
Tammy Becker 
Yes, afterwards. I have hallucinations. But I can tell you, Rodney, there's a huge difference of hallucinations. And God being present in my life and talking to me are two totally different things. A hallucination is actually, I felt like I was having full on conversations and things were happening all around me. And my husband would say they weren't with God, it never leaves. It's always with me. It's his, he lives inside of me. So he's present all the time. But what's come out of all of this is, before I went into surgery, and God was giving me a vision, and this is before the drugs and everything, he gave me a vision with this whiteboard, because he was silent for a little while. And sometimes God gets silent in our life, when we're going to hit a new season. And I was getting ready to hit a new season for sure. But I saw this whiteboard, just think of like a whiteboard, like a dry erase board. And all of a sudden, a y would pop up and I'm talking about letters, a Y and then an O and then a U, and then YOU would pop out Y O U you you. And I kept thinking, Okay, Lord, You want me to work on me? Okay? Well, that's what I'm doing. Okay, I'm getting the surgery, we talked about this, I am going to do what you wanted me to do, and I'm going to get the surgery and you're going to take care of me. After the surgery, after the coma. After I got out of the hospital, 15 days later, God said, start a ministry. And it's going to be called while YOU Ministries. And so that surgery was the beginning of December, April 1, I opened the doors to my nonprofit while YOU Ministries. And that's where I am at today. I have several Bible studies, we do several Bible study groups that we do things online together, I'm going through the Bible in a year right now. So anybody can join us at any time and jump right in. I record episodes for that group, I have a website. And we do a lot of giving to the public, I do a lot of fundraisers to buy Bibles and get a Bible in people's hands that don't have them. Since I can't go into the homeless camps right now, which is something that I've loved to do as part of my mission work. I taken it upon myself to reach out to nursing homes because they can't see their loved ones. And while you ministries provided a Christmas for a 39 bed nursing home real close to me this Christmas, that included 39 Bibles, socks, scarves, gloves, books, all kinds of nice things for each and every person there. And so that's where I'm at today.
Rodney Olsen 
And that Y O U turned out to be something quite different to what you initially imagined it to be?
Tammy Becker 
It certainly did. I kept thinking, it was about me. And I kept wondering why God was so quiet about it. But he was just prepping me and giving me a piece of the information ahead of time to I would understand, after I got out of that coma and what needed to happen. Because I was told I have a purpose, and we all have a purpose. It's just a matter if we reach out to God, and find out what our purpose is. We're not here to just live and have a good time. We're here God made us for fellowship with Him. God made us to communicate with him. God made us with purpose. He takes all of us no matter what we've done in our life. In fact, he take look at Paul, he took Paul he was a murderer, all of the disciples, gambling, I mean, they all did something. But that's what he does is he takes normal people because how can other people relate to us? He doesn't take normal people that have done things in their life and use it for the good to glorify Him.
Rodney Olsen 
It's been an interesting journey that you've been on. And I would imagine that there would be people listening who are going through their own difficulty, and it might not be a medical issue as you faced, and that very serious time of being in the coma and family not knowing quite what was going on. But they're going through their own difficulty, what would you say to them? How can they reach out and make a difference in their life today?
Tammy Becker 
Well, first of all, I would say that the very first thing to do is pray is, is you just need to get down on your knees and pray. And if, if you're having difficulty and you don't know where to turn to, or you don't know how to do this, or to seek out your purpose, or you just need someone to pray with you. You can reach out to me at youministries.com. I have a place there for prayers. And you can send in a request to me for prayers, you can put your testimony in there. But I would love I am open at any time to mentor anybody that has questions or has difficulties in their life. I have I am an open book, I am willing to share anything that I've experienced in my life with others to help them through to make it easier to make their journey easier and to move forward in their life with purpose.
Rodney Olsen 
That's a great invitation and I'm hoping that people will take you up on that I will put details of how to contact you in the shownotes at bleeding daylight dotnet so people can head there. But Tammy, it has been a delight to speak to you to hear the way that God has continued to work through your life in very real situations and and the work that he has you doing now. So thank you so much for your time and for for spending their time with us on bleeding daylight.
Tammy Becker 
Thank you Rodney. It was a pleasure to be here. God bless you.
Emily Olsen 
Thank you for listening to Bleeding Daylight. Please help us to shine more light into the darkness by sharing this episode with others. For further details and more episodes, please visit bleedingdaylight.net