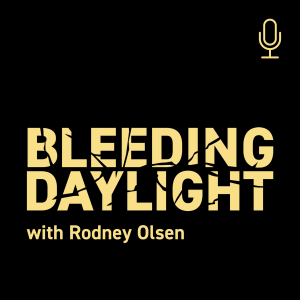 Monday Feb 22, 2021
Terry Nightingale - Looking Back to Move Forward
Terry Nightingale is a pastor and author. His new book focuses on how we deal with past failings, disappointments, and broken dreams. How can we be free of a damaged past and walk into a fruitful future? How do we use what has happened to move forward?
In a world that either demonizes past failings or tries to sweep them under the rug, Looking Back to Move Forward takes the more biblical approach of examining and learning from our mistakes to move forwards into a more fruitful future.
https://www.facebook.com/terry.nightingale.54 
https://www.facebook.com/bitesizechristiandevotions
https://www.amazon.com/Looking-Back-Move-Forward-Fruitfulness/dp/194627772X 
https://www.kharispublishing.com
(This transcript is intended as a guide only. It may not be 100% correct.)
Emily Olsen 
Wherever there are shadows, there are people ready to kick out the darkness until it bleeds daylight. This is Bleeding Daylight with your host Rodney Olsen.
Rodney Olsen 
Something a little different today on Bleeding Daylight as we talk to a pastor and author about his new book which focuses on how we deal with past failings, disappointments, and broken dreams.
How can we be free of a damaged past and walk into a fruitful future? How do we use what has happened to move forward?
Please subscribe to Bleeding Daylight to ensure that you don't miss an episode, share episodes with your friends, and make sure you connect with us on Facebook, Instagram and Twitter.
Most of us would have heard the saying everyone has a book in them. While that may or may not be true, I do know that not everyone has a good book in them. Thankfully, Terry Nightingale not only had a book in him, he had a good book in him and even better, he took the time to write that book. In a world that either demonizes past failings or tries to sweep them under the rug, Looking Back to Move Forward takes the more biblical approach of examining and learning from our mistakes to move forwards into a more fruitful future. Terry, welcome to Bleeding Daylight.
Terry Nightingale 
Hi, Rodney. Thanks for having me.
Rodney Olsen 
When did the idea of this book first start percolating in your mind?
Terry Nightingale 
Well, I guess I would say this book has been percolating for some time for some years, I have found through my Christian life, it hasn't been success followed by success followed by success followed by success. And I've often faced discouragements and setbacks, in ministry and in personal life as well, for really, a lot of that time, I have wanted to try and make sense of them. I haven't wanted to just sort of push things under the carpet and say, okay, you know, I just need to move on. Now, you know, the past is in the past. Let's just move on. I really wanted to say, Lord, you know, in praying, God, why did that happen? What am I meant to learn from this? In that sense, this book has been in my heart for a long, long time. But it was only really a couple of years ago that I started to write it down and put it on paper. Well, not really paper, but my computer. Yes.
Rodney Olsen 
If you're writing a book about embracing mistakes, and learning from them, you've got to be honest enough to admit that you do make a few mistakes and in the book, you do go through some of the things where you have fallen short, yeah. How hard is it to make those public?
Terry Nightingale 
When I was writing it, I didn't feel I was being particularly candid about some of my stories. But interestingly, at the moment, I'm listening to an audio version of the book, and I'm hearing some of the stories again, and I'm thinking to myself, Oh, my goodness, I can't believe I was that honest, when I when I wrote that. But I think it is important, to be honest, you know, I think if you're in ministry, or particularly if you're in leadership in some way, I don't think it's helpful to people to say, I've got it all together, I think what's maybe more helpful to people is, actually, I know what it's like to be really discouraged or to be really disappointed, or for things not to work out as I'd hoped, or, or that that dream hasn't come true yet. I think it's actually much more helpful to be able to say, Well, yeah, I really know what that feels like, too and this is how I started to cope with it.
Rodney Olsen 
I want to ask you about some of those failings in a moment. You can recount some stories for us. But there's a theme in some Christian circles, that we should be always living in victory, and we're constantly moving to another higher level. And we keep moving on in that way. Your book certainly encourages Christian growth. But it seems to admit that it's a lot more complicated than some would have us believe.
Terry Nightingale 
Yeah, well, I think you've only got to read the book of Psalms to see that that's true. If you track the Psalms, particularly David Psalms, David was not living in victory constantly. You know, there were many times that he had incredible victories. And of course, you know, his most famous one is his slaying of Goliath. But there are other times when Wow, he's going through a tough time. And a lot of his psalms are reflecting that, in fact, many of the lament psalms are David having a really bad day, telling God how he feels, but then coming to a place of faith.
Rodney Olsen 
And it is interesting that in our churches today, we don't tend to go there. The psalms are the songs that that could be sung. And yet we don't generally have these songs about Lord, you're so distant from me. Why? Why do you leave me in this pain? Why do you think that is? Is it just that we want to sort of shut that out? Is that what's going on?
Terry Nightingale 
There's a really good question. Maybe there is part of us that wants to shout that out. It's certainly easier to preach a message of victory and success, and everything will be fine. But I think in order to preach anything positive from the scriptures, we have to recognize where we're at sometimes. And sometimes we need we need to acknowledge, actually, things aren't fine today. And God, how do you want to get me through that?
Rodney Olsen 
And I suppose for some, that's the disconnect that they find with churches is that we hear about life is going to be wonderful. Well, I've tried it. I've tried to do this God thing, but it hasn't worked because I still have bad days. So is there an opportunity for us to be more honest within our churches?
Terry Nightingale 
I hope so. And I don't know, you know, maybe in our churches, we need to give that opportunity to be more honest by us as leaders being more honest. And there's a balance in that isn't there, you know, because nobody, nobody wants church leaders to sort of stand up in front of a microphone and then fall apart. You know, we still need to be those that are drawing on the Lord for the strength and wisdom that they need. But I think equally, somebody who is always sort of pretending that they've got life all together all the time, is equally not helpful to people.
Rodney Olsen 
Maybe you can help us with some of the stories in your book where things haven't gone quite to plan.
Terry Nightingale 
Well, I can remember a time when I was running an alpha course. Now people will tell from my accent that I'm from the UK. This was not long after Sue, and I came to Australia. And we were part of a church. And I was running in Alpha Course. So if people aren't familiar with Alpha, you know, it's a very accessible way of investigating the Christian faith. So perhaps for people who are not yet Christians, and I asked a person in the church who was a sort of a fairly youngest Christian, I guess. And so there were still areas of their life that God was working on. And one of the areas of the life of their life was was one in terms of honesty, with how they acquired some things in their life. Let's say they acquired some things not quite legally. There was one night when I couldn't attend the alpha course. So I said to my friend, would you be able to cover for me? Would you be able to do it? He said, Yes, he said, and we find that we find. So the evening went by, and by all accounts, it seemed to be a successful evening. And then I heard from some of the guests on the course, that this friend of mine had given away stolen goods to people on the alpha course. And I thought, Oh, no, here's the reason why I wrote about this is because my response wasn't very good. I was furious. I was angry with this guy. And the next opportunity, I had to talk to him, I took it. And I took it with both hands. And I went up to him. And I just told him when I thought, I thought, I was very upset. My response was so bad, in terms of lack of grace, you know, lack of kindness, really over the top that our friendship was effective, probably for two or three years. That time later, he and I met at a social somewhere, and we made up and I apologize for the way I've handled the situation. And he said this to me, he's now bearing in mind, this guy is huge, you know, now I'm five foot six, whatever that is, in metric. This guy was six foot monster, you know, he was enormous this guy. And and he looked at me, and he's, and he was very grateful that I apologize to him. But he said to me, if you hadn't been my pastor, I would have asked you where you stood. In other words, I'd been so rude to him. And I probably would have deserved that decking to be honest. But I had to go through a process with all of that, of looking at, well, you know, why did I react like that? You know, why did I? Why was I lacking in grace? You know, what is it God's wanting to teach me about handling difficult situations?
Rodney Olsen 
The interesting thing I find in that story is that it's very easy to justify your actions, because he shouldn't have been giving away stolen goods,
Terry Nightingale 
Right.
Rodney Olsen 
And so it's easy to say, Well, look, he got what's coming to him. And we hear this more and more, even in Christian circles of, well, they deserve it. There's, you know, they weren't asking for forgiveness. And so therefore, I can't forgive and, and they deserve everything that they get. But that's not what we're told to do. No,
Terry Nightingale 
That's right. And I think that's really important. And I think some of my experiences have been examples of that, where it would have been easy just to, to feel justified or reacted like that, because that person did that or said that. But I am always responsible for how I respond to a situation, you know, and I think whatever comes our way. And Gosh, I'm not saying I do this perfectly got I'm still very much on a learning curve here. But I am realizing that whatever happens, I am still responsible before God to handle that in a godly way. And that's that's sometimes where it's really tough.
Rodney Olsen 
We read through the book in and we see those examples where you've been honest enough to admit that, yeah, I messed it up, I got this one wrong. And sometimes it's taken you a moment to realize that and sometimes it's taking you longer. So I think that most of us can identify with that. But you don't just leave it there. It's not about personal experience, but you actually take his way back to the Old Testament in the Bible. Yeah. And share a story that says, hate looking back isn't a bad thing.
Terry Nightingale 
Yeah, so I've been really influenced by the book of Deuteronomy. And Moses is actually talking to the second generation Israelites after their 40 year wanderings in the wilderness. Were like flies on the wall listening to Moses, speak, speak to them. And and as Moses recants things have happened In the last 40 years, we travel back in their memory with them to relive some of those stories. And so I talk a lot about those stories. And it's interesting because the book of Deuteronomy really is a book called looking back in order that the children of Israel can move forward move forward into the promised land. Many will know the story, of course, that they would have taken the promised land Not long after they left Mount Sinai when they had the 10 commandments given to them. But as spies were sent into the land, then they came back with the report that there were giants in the land. And so the whole nation freaked out basically, and said, This is too big, we're frightened, we can't do this. And so because of their lack of faith, God's judgment on them was that that generation would pass away in the desert, and their kids will grow up, and their kids will enter the land 48 years, actually, 38 years later. And so what Moses does in the book of Deuteronomy is he gathered, gathers and more together. And he says, Let's relive some of these stories. And let's look at how your parents failed. Let's look at how leaders failed. Let's look at some of the mistakes that occurred in the past, let's let's look at what didn't work out. And let's meditate on those things for a moment. Let's also reflect on the greatness of God, and on the faithfulness of God. But until we do that, we're not going to move forward really, with God's blessing and and with the fruit that God wants to bear. So that story is had a big influence on me with all of this.
Rodney Olsen 
I do find it interesting that Moses here is talking to people who have no part in stopping them from from moving forward. And yet, he's saying we've got to own this collectively. And we can look to various instances, even in our own recent history, where people are saying, our people should just get over it and move on. And yet the Bible is saying something different. Why don't we embrace that message?
Terry Nightingale 
I don't know. I guess we don't like the the discomfort, do we? I really hear your point, actually, about the grown up children. They weren't actually the ones that failed. But actually they they put themselves in the same space. And they said, No, we're part of this too, you know, we need to almost repent on behalf of our parents, you know, it's a community thing reminds me of a story actually, of a class, I can't remember where this class was, I think it was in an African country somewhere where the children were studying for an exam. And all but one of the children pass the exam. And somebody was visiting the school and they were saying, congratulations, this is wonderful. But all of the children said, No, we failed. And they said, What do you mean, nearly all of you passed? And they said, No, because one of us failed. We all failed, we're in this together. And I thought that was powerful. In some ways, you know, I think it's easy to sort of apportion blame to people, isn't it and say, Oh, it was back then it was them, you know, but actually, we are God's people in a community. And we are responsible for each other and it's not about my personal ministry, or his personal ministry or her personal ministry, actually, we are called together to be the church,
Rodney Olsen 
I guess it's easy for us to dwell on the things in the past that haven't worked. How do we actually get ourselves out of that loop? For those that were sitting under Moses teaching? How did they resolve that issue? and decide to move forward?
Terry Nightingale 
Yeah, so I do talk about this. And I think one we invite God into that space when we are meditating on things from the past. So it's not just thinking about something and and and then feeling discouraged about what's what's happened. It's actually intentionally inviting the Lord into that into that space and say, God help me process this helped me to learn what I'm meant to be learning here. I believe if if we're doing that with an honest heart, you know, with a with a genuine heart, then then he will lead us to scriptures that are appropriate scriptures that will help us I talk about repentance. So for example, there's the story of Jonah and the whale, which we're all familiar with. And in chapter two of Jonah, we get a glimpse of Jonah's repentance, because he ran away rather than obeying God, but actually looking at his prayer takes us on a journey of, of a good way of praying through something that's happened in the past and how we deal with it so so journeys prayer is really, really useful. So it's inviting God in terms of the Word of God is inviting God in in terms of praying, for example, with Jonah, you know, he starts off basically telling telling God what a bad day is head, and maybe that's a good start point. A good start point sometimes is to say, God that happened, and it really sucks. I hate it. This is how I felt at the time. God I'm really struggling to make sense of this. Please help me. An honest expression of how I felt about something but Jonah moves from that and he moves actually to acknowledge Where he could have done better. And and he's eventually worshipping, you know, at the end of it he's worshiping. So it's going through that process with God really starting off. This is where I'm feeling God. But where God wants to lead us, I believe is where we are expressing trust in Him, and we're worshiping him. And he's enabling us to put it away, learn from it, and then move forward.
Rodney Olsen 
How do we get beyond I guess that the polar opposites of being caught up in this morose introspection, where we're constantly going back, and we're constantly beating ourselves up for past failures? Compare that with some who just say, I'll look that was in the past, that's forgiven, let's just move on and try and ignore it completely. How do we strike that balance?
Terry Nightingale 
Well, I think the balance is we do go back. But because we are going back, the intention is that we can leave it behind because God has taught us the things he wants to teach us. If we don't go back and evaluate things in the Lord's presence, then we we run the risk of not learning the things he wants to teach us, and then perhaps repeating the same mistakes, or finding the same things are happening to us. If we go back, and we just feel sorry for ourselves, but we don't actually learn what God wants to teach us, then then we're just having a pity party, really. I think God wants us to take us back so that we can learn the lessons, and then we can put them back when discouragements come or we're tempted to think about those things. Again, I think we can genuinely say, No, the Lord's dealt with that. And he's taught me the things. I'm not going to get down about that. Because I'm now going on with him, you know. So I think the Lord wants to bring us to where we can genuinely say the past is in the past. Now, forget about it.
Rodney Olsen 
You've written this book, but your day job is as a pastor. And so some of the examples that you're using in the book, as you've already explained with with one of them are examples of you in ministry, where there's been that failure, how have those things helped you? As you've gone forward? What are some of the lessons that you've learned from those mistakes that have helped you to, to go forward?
Terry Nightingale 
Interestingly, where as I was writing the book, there were some things that I experienced, that were happening at just the time I was writing a particular chapter. You know, it's amazing when the Holy Spirit does that. So I remember a particular time, when I think I was writing about prayer, and particularly about worship, and there was one day that I had an issue I had to deal with, that was a difficult issue. And I didn't know what to do, I think, a common prayer for pastors, sometimes his Lord, I don't know what to do. I think it's good sometimes for us to admit that we have days you know, where we genuinely come to God and say, Lord, I really have no idea how to handle this one. Well, I had one of those days, where I was just praying, Lord, I just do not know what to do. And actually, what I ended up doing was threw a CD on the turntable, and it was an old Chris Tomlin album, and I just started worshiping, and just started worshiping. And as I was worshiping, I had tears running down my face, I was just declaring the greatness of God. One of the songs was that wonderful song, indescribable, you know, just wondering, marveling at God's creation, and just all the songs really seemed to minister to me as I worshipped him. And I felt a real burden lift as I was just worshiping God, God gives us the gift of worship, sometimes just to get our perspective, right. You know, when we're worshiping, we're not, we're not staring at a problem, we're actually putting our eyes on God. Immediately after that time of worship, nothing had changed, but my heart was lighter. And I and I felt that I was trusting in God more. But interestingly, out of the blue, I had a phone call with somebody later that day, and that phone call was the beginning of the resolution of the problem.
Rodney Olsen 
So we have this opportunity, when we don't know where to go, that we can begin worshiping in whatever way that is meaningful for us to worship God, we can worship, and that will start to resolve issues, certainly for ourselves, and in this case, resolving the issue materially as well. I know that you share another story about being thankful, and about being grateful where again, you can be caught in a situation that leaves you feeling down, and yet we turn our eyes toward heaven and things start to change. Maybe you can share that story with us.
Terry Nightingale 
So is the story of when I was much younger Christian, a student in my summer vacation, and feeling very down one day, and very discouraged. I was being paid to weed a garden. You know, as a student, you take any job to earn a little bit of money. So I was weeding this garden. I was having a bad day. I was having a black cloud day and the Thought just hit me quite randomly give thanks. And I thought, where did that come from? So I started giving things I started thinking of things, I could be thankful for food on the table, this friend, that friend, the fact that I enjoy music, just random things, simple things, I started giving things. And I had this extraordinary experience of every time I thought of something to be thankful for. Other things started popping in my mind that I could be thankful for. It's like I pushed the door open. And then other doors were opening. And, and I was starting to think of lots and lots of things that I could be thankful for. Literally, five hours later, I was still thinking of new things to be thankful for. And I got on my bike at the end of the day, and I'm rode home on cloud nine, I was like, E.T. on the bike, you know, with that famous shot of him floating over the night sky. Again, that taught me something that there's power in being grateful, being thankful. And at times when we don't think things are going very well, actually, maybe they're the times to be giving thanks. And you know, God says, This is my will for you that you give thanks. in all circumstances, he says that in one Thessalonians, I believe he gives that to us, because he knows that that's good for us. It's good for us to be thankful.
Rodney Olsen 
If we are people of faith, if we are people who follow God, then we believe that things are going on, in a spiritual sense. Because we can try to come at past failures and, and improving going forward in all sorts of supposedly practical ways. But if we leave out the spiritual, then we're missing something. And a lot of what you're talking about here, is actually including that spiritual so there are practical steps, but they lead to things happening in the spiritual.
Terry Nightingale 
Yes, psychologists have found in their studies that people who are thankful in their demeanor in the way that they they do life, usually are stronger or more resilient people. The trouble with that is though, is who we giving thanks to, you know, we might have a diary of you know, I'm thankful for this. And that's a good thing to do. But actually, where where God comes in is when he's the one we give thanks to. And so as we give thanks to him, not just being faithful generally, but actually giving thanks to God, we are inviting the Holy Spirit into that, that space in our lives. And it's the same with worship, isn't it? You know, it's not just singing songs to make me feel better. It's actually singing songs to God and inviting him into where I am right now in this thing I'm going through.
Rodney Olsen 
But of course, if we were created to worship, if we were created to be thankful, then these are basic spiritual principles that will play out in our lives.
Terry Nightingale 
Yeah. Yeah. It's funny, isn't it? We know these things are in the scriptures. But how many of us actually do it? And I know, if I'm having a bad day, I still have to make myself do these things, because oftentimes is not natural.
Rodney Olsen 
What are some of the other areas where you found yourself failing, and yet, you've learned that lesson and moved forward from it.
Terry Nightingale 
One example would be if I felt that I've needed to say something to somebody that maybe a gentle challenge or something. So this is something that may be pastors or those in ministry would be familiar with, you know, something is sits inside of you that says, you know, I'm, I heard that person say this, or I heard that person do this. And I think perhaps, as part of my pastoral care, I probably should say something just to draw attention to the fact that that, that wasn't helpful to that person. Or, you know, sometimes we need to say things bring correction to people in a humble way. Well, some of the mistakes I've made in the past have been where I've, my example, with the very large young man who nearly knocked me out would be an example of that, where I've just reacted. And I found that if I have got any lack of peace in my heart, that is the wrong time to talk to somebody. So you know, if I'm aware that some somebody has done something, said something and I, I feel I should intervene in some way, if I have got any kind of anger or or whatever it is even lack of peace, it would be a mistake to go forward because I would be doing it out of my own self rather than out of God. So, so what I try to do now, and I'm still wearing big metal plates, but what I tried to do now is wait until I've got that peace, so that hopefully, anything I say is, is from God and not my own emotions.
Rodney Olsen 
If we grasp onto this idea that we should be looking back, we should be looking at where things haven't gone well, so that we can repent so that we can learn the lesson that God is trying to teach us through that, we could end up on a crusade to make sure That every one is a reminder of their past failings. But what you're saying is, it's still got to be done in love. If we are bringing something to someone's attention. If we're, as the Bible says, bringing something to a brother, it's still got to be done from the right heart, not just our desire to catch them out.
Terry Nightingale 
Exactly. I think a good prayer to pray is, you know, when we are in pastoral ministry, and we do have that biblical command to sometimes go to people and say, Come on, we need to talk about this. I think the first prayer to pray is actually Holy Spirit, would you do something in them? Almost that I don't need to do not I mean, I think that's the first thing is to, to pray that God does something. And, Lord, if you want me to say something, then I will but give me the right words and make it the right time. But if we are eager to say something to somebody, then maybe that's a sign that we shouldn't, if that makes sense. I remember seeing a brother many years ago, behaving in a way that wasn't appropriate. And, and I was a bit cross with him. And I was very eager to put him right. And so I prayed about it. I said, Lord, just give me an opportunity to talk to this person. And you know, God never gave me an opportunity. And and I think what he was saying to me is, Terry, you are the wrong one to do this, you know, your heart attitude is not right. You just want to tell him off and maybe look good in the process. But so, first step, I think, pray for the person. And maybe God will do something without you. But he usually does a better job.
Rodney Olsen 
You said that this book is a good one for those in leadership, to learn these principles and to be able to, I suppose, take their congregations through through learnings. Do you think that that is something that we sometimes need to do to have leadership's of churches or pastors to say, Okay, today, we're going to look back at some of the things that have gone on in order for our congregation to move forward.
Terry Nightingale 
Wow. Yeah, that's a really good question. I think yes. You know, repentance is not just a personal thing. Sometimes it can be a community thing. You know, maybe it can be a, you know, corporately, we made this decision. But you know, years on, we're not sure if we did make the right decision. Maybe as, as a body of people, we need to repent to the Lord together. Yes, it's a really good question. But I can't think of a of an example where where our church has done that.
Rodney Olsen 
And, of course, as you say, this is a book that is helpful for leaders for their own ministry moving forward. But I see throughout the book, that there are not only lessons for leaders that as you've taken on, but there are lessons for us personally, and a lot of those lessons that you've taken on personally. So this is a book, I would imagine that people, whether they're in leadership or not, are going to draw strength from and and find a way forward to be more fruitful.
Terry Nightingale 
I think my publisher was slightly frustrated with me, because they said, right, who we're going to target this to, you know, what's the target audience? And all I could come up with was, well, I think any Christian could benefit from this. So very vague and very broad. But I think you're right, I think, if we're a follower of Jesus, there are times when we don't get it right. Or there are times when we have questions. Or there are times when we have dreams that may not come true, or may not come true in the way that we hope they weren't, you know, all of these things happen to all Christians. So hopefully, there's a message message in there for everyone.
Rodney Olsen 
And you touched just there on those dreams that don't come true. And that's often the case for people that it's not really that they've done something in error is not something that they've messed up. But there are sometimes dreams that reside within us. And sometimes we feel this is a dream that has been planted by God. And yet it doesn't come to fruition. How do we actually reconcile that if we are to look back on that, in order to move forward in order to be more fruitful? How do we deal with that? Yeah,
Terry Nightingale 
This this is a biggie for me. I spent quite a lot of time thinking about this and writing about this. On one hand, absolutely. Let's be prayerful about asking God, God, what are the things you want me to do? I love Ephesians 210. You know, we're God's workmanship, created in Christ Jesus, to do good works that he prepared in advance for us to do. So. There are things that he places on our hearts, things he wants us to go for fantastic. But sometimes we can have an image in our head of this is the dream I'm going for. We set ourselves on a journey and God's in it. But sometimes things don't work out as we'd hoped. I talk a bit about dreams because I've certainly had some dreams that haven't come true. So for example, I was very into the Christian music scene as a younger man and did a lot of worship leading at different churches, and would write songs, worship songs, and some of those songs were sung in my local church, which was a real joy. But I had this dream that my songs were going to go on. All over the world, I was going to be the next Chris Tomlin before Chris Tomlin was even known. But that didn't that dream never came true, none of my songs got published. And I don't know why that's the case. But looking back on that it didn't stop me from writing. It didn't stop me from worshiping God with songs that he'd given me. It didn't stop me from encouraging others who have that gift and trying to help them. And in fact, that brings me on really to the next point, and which is that sometimes God does give us dreams, but is actually a dream that's not just for me. You know, in a relay race, we pass on the baton to someone else. And I think that, you know, we are created to be part of a faith community, you know, when God gives us dreams, they are personal dreams, but we are part of a community. And I think God has purposes for that community. And maybe the dream that God places on my heart is something that is going to come true. But maybe he's calling me to pass the baton on. In other words, because I have a love for music, because I have a love for creating worship songs. Maybe I'm passing that on to others. And maybe some of them will enjoy having songs going around the world. For example, my own son has sort of inherited that. And he is a very talented songwriter, maybe his son, they've just got a new baby, maybe his son will grow up to be a worship leader, maybe this his songs will go around, who knows? All I know is that I know God, please put something on my heart. But it may not be that I see the fruition of it. It may be that I'm passing the baton on.
Rodney Olsen 
And we certainly see that in the story of Moses that he had to pass the baton on, it probably would not have been his first choice. He wanted to get into the promised land, but that wasn't going to happen. And he he recognized that he was passing the baton on how much of that? Is there in that story? Yeah, so
Terry Nightingale 
I do use that as an illustration. It's really interesting, because Moses is quite reluctant at first, as you say, but you do you see him preparing Joshua to to lead the people into the land. And Joshua, of course, does a better job because Moses is not an army commander, you know, so God knows the best leader anyway. But Joshua is, you know, a much better person in leading a nation in battle. The other area that I found myself thinking about is what is the eternal perspective in all of this. It's not just about me, and my personal goals. And it is much more about me being part of a faith community. And it's even more about being part of eternity.
Rodney Olsen 
Your book, Looking Back to Move Forward hasn't been out for too long but I know that there's already been a few people that have been reading it around you guys. What has the reaction been so far?
Terry Nightingale 
Two nice comments have been made that have been said several times. One is easy to read, which is lovely. So I tried to avoid too many sort of long words in it, because I didn't really know that many long words. But I knew I was dealing with some theological concepts. And I didn't want to make too academic there, put it like that, really, I wanted it. I wanted it to be thorough in terms of biblical exegesis. But whatever knowledge people have of the Bible, I wanted to make it accessible to everybody. So people have kindly said that it's easy to read, which is good. And the other thing they've talked about is how, how candid I've been and how honest I've been and again, that's nice, nicer people to say. In fact, some of them are quite shocked by it, I think, saying, oh, my goodness, you're really honest about some of my family members have said that? Oh, that's honest. And I don't know, you know, me,
Rodney Olsen 
I think that term, easy to read can be deceptive. Because we think that that means that Oh, yeah, breeze through it. And there's nothing challenging in there. And while I would certainly agree that it's very accessible and easy to read from, from the language, being able to grab the concepts that you're putting out there, there is still a challenge in there, that if we are to take what you're writing seriously, that there is an opportunity to do business with God. Have you found anyone who's come back with with stories of saying, that kind of brought me on down? And I've, I've had to do business with God since?
Terry Nightingale 
Yeah, no, I haven't had anybody say that yet. One or two have said that it is challenging. But I guess, as you say, it's only been out a short while. So we'll see. I hope. I mean, at the end of the day, you know, that's why you write things. You write things in the hope that God uses it in some way. So I think that would probably be the best thing long term is if I'm hearing down the track, that people are saying, I just needed that at this time in my life, you know, that would be wonderful.
Rodney Olsen 
The book is available right around the world through places like Amazon, where people can pick it up as well as if they wanted to order a copy from you. I'm wondering if perhaps people are thinking yet sounds like I'd like to read it, but I would actually like to get to know you a little bit better. First you do write some bite sized pieces that might be give people an introduction, tell me a little about that
Terry Nightingale 
That's called The Best is Yet to Come. Nothing to do with American politics. Yeah, just call them bite sized devotions really takes four minutes to read them. And just really something to encourage people in their day. It usually got a little story in there or just look at a particular passage of scripture and just a few thoughts. And again, you know, easy to read, but there's a challenge there each time as well so designed to serve the busy Christian who perhaps needs a bit of help having a bit of time with God every day.
Rodney Olsen 
So if people are wanting to grab those bite sized pieces, or are wanting to look to get the book, where's the best place that they can go?
Terry Nightingale 
Okay, so the devotions, the bite sized devotions are on TerryNightingale.com. You can find out more about the book on the publishers website, which is Kharis Publishing. So that's kharispublishing.com. And there should be some information there but I think there's there's information on Amazon as well.
Rodney Olsen 
We'll put links to how to get in touch with Terry in the show notes at BleedingDaylight.net But, Terry, I want to thank you for your honesty. I want to thank you for your time and being part of Bleeding Daylight.
Terry Nightingale 
Thank you, Rodney. Thanks for having me.
Emily Olsen 
Thank you for listening to Bleeding Daylight. Please help us to shine more light into the darkness by sharing this episode with others. For further details and more episodes, please visit bleedingdaylight.net